Malaysia Airlines has officially rolled out the ability for its Enrich frequent flyer programme members to redeem their accumulated air miles into Lazada vouchers.
The airlines actually ran an offline campaign in from mid-July to August this year that allowed Enrich members to redeem RM50 Lazada vouchers using their Enrich air miles. However, this could only be done at the Malaysia Airlines Ticket Office in Nu Sentral – even though an online Google Forms claiming to be part of the campaign was widely circulated as well.
It appears the response has been good enough that Malaysia Airlines has now integrated it into its Enrich online portal – though again, it's for a limited time only. From now until 31 October, Enrich members can now redeem RM50 Lazada vouchers for 4,000 Enrich Miles, with a maximum of five vouchers per Enrich member.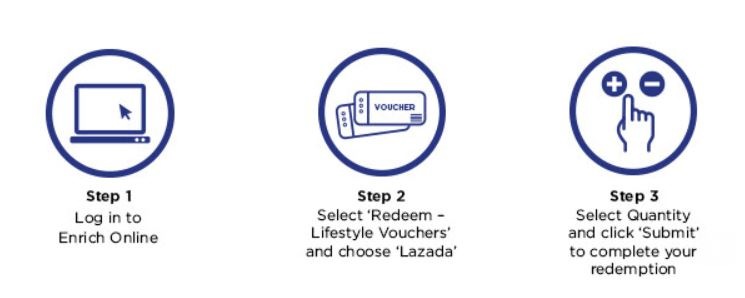 To redeem the RM50 Lazada voucher, Enrich members can log in to the Enrich website, and click "Redeem" on the left panel, and then click on "Lifestyle Vouchers". On the page, simply enter the number of RM50 Lazada vouchers you'd like to redeem, and click "Submit". The e-voucher codes will be sent to you via email.
In an EDM sent to Enrich members, it appears this voucher redemption is designed for members whose Enrich Miles are expiring. Of course, any Enrich member can redeem the vouchers, but let's take a look if it is worth doing so.
Is it worth redeeming 4,000 Enrich Miles for a RM50 Lazada Voucher?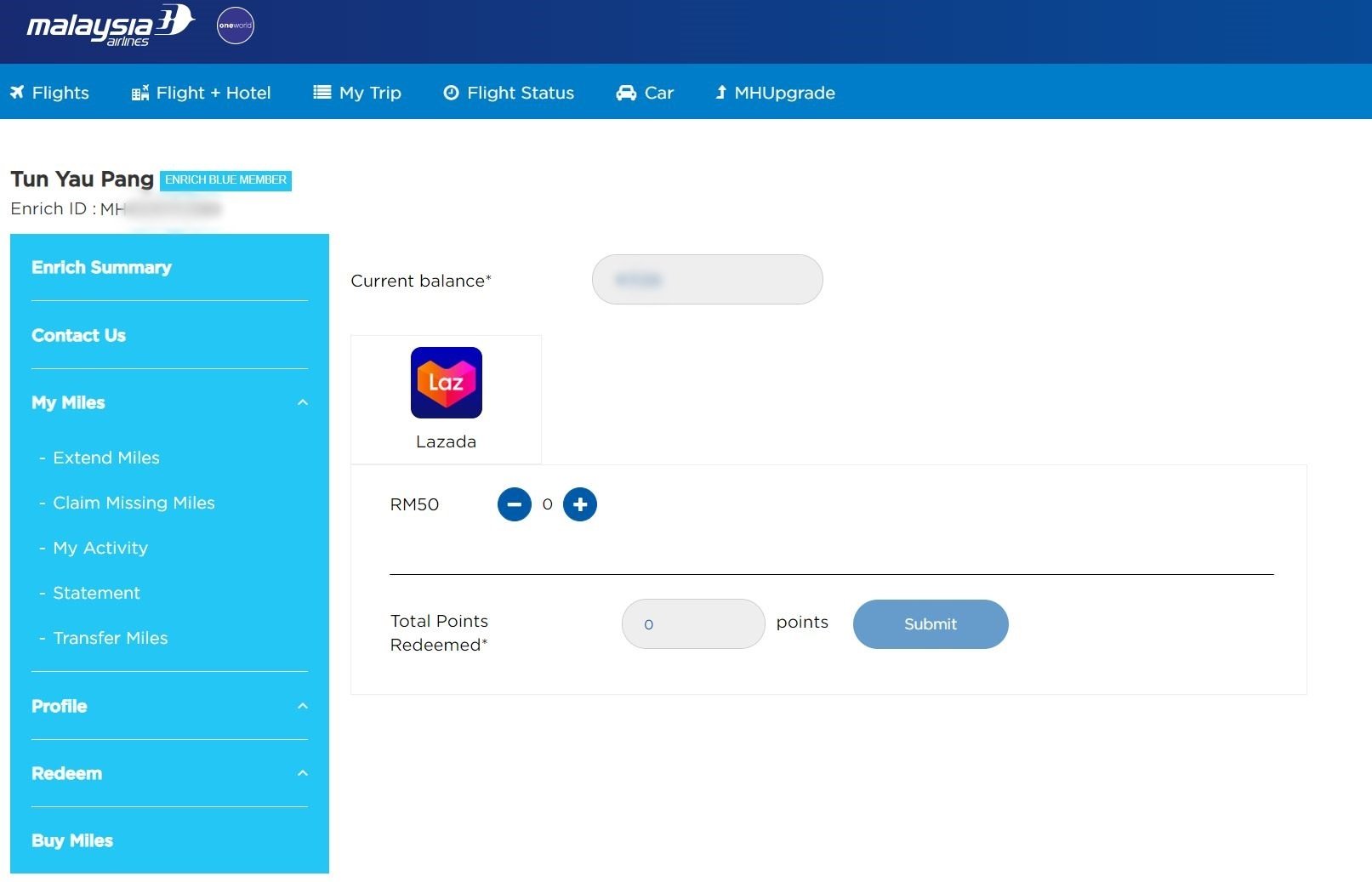 Besides redeeming flights, Enrich Miles can also be used to redeem Enrich RM50 vouchers that can be used in-flight to purchase duty-free items or the Serai group of restaurants. Miles can also be used to redeem access to the Golden Lounges in Malaysia and London ranging from 7,000 Miles to 20,000 Miles.
If you're not flying anytime soon and your Enrich Miles are expiring, the RM50 Lazada vouchers are the best option because the Enrich RM50 vouchers cost a total of 5,750 Enrich Miles to redeem (5,000 Miles + 750 Miles for processing fees). That's 43.75% more Enrich Miles for the same redemption value!
However, if your Miles are not expiring anytime soon and you are accumulating for a flight redemption in the near future, we suggest you continue accumulating your Miles as you'll unlock more than three times more value out of your Enrich Miles by redeeming a flight and not a stack of RM50 Lazada vouchers. Yes, more than three times.
Let's break it down by first determining how much value you gain from redeeming the Lazada voucher:
50 / 4000 = 0.0125
That means 1 Enrich Mile is worth 1.25 sen when redeeming the RM50 Lazada voucher.
Now, let's see how much 1 Enrich Mile is worth when redeeming a flight. We do this by taking a flight six months from today to a popular destination, and compare its flight ticket price and the amount of Enrich Miles required to redeem it.
Kuala Lumpur -> Osaka, 16 – 20 April 2020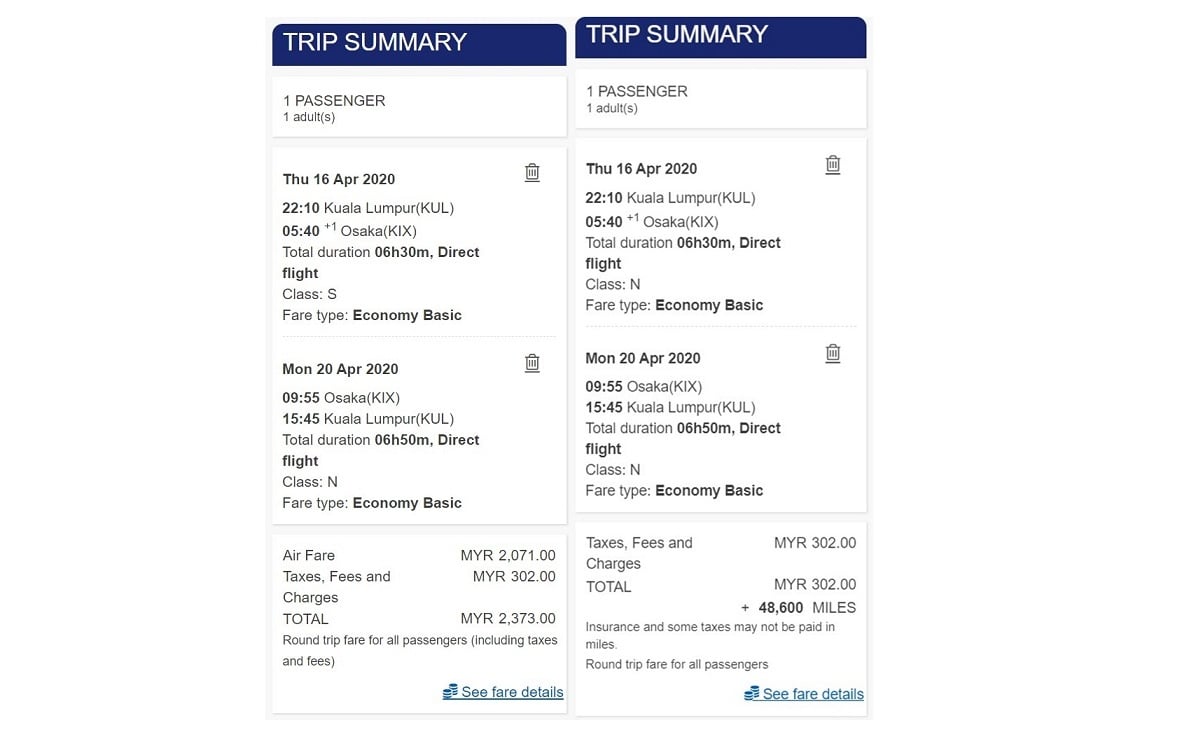 Therefore, RM2,071 can be redeemed for 48,600 Enrich Miles. Calculating the value of 1 Enrich Mile:
2071 / 48600 = 0.0426
That means 1 Enrich Mile is worth 4.26 sen when redeeming a flight on Malaysia Airlines – 3.41 times more value than redeeming a RM50 Lazada voucher.
So really, redeem the RM50 Lazada voucher only when your Enrich Miles are expiring – the Enrich website and statement will clearly state how many Miles will expire in the coming months. If you don't have any Miles expiring, keep it to redeem a flight – it's more than three times more worth it!
Beware the validity period
But here's a really weird clause: the e-vouchers redeemed expire on 31 October 2019, the same day the redemption campaign ends! Here's a screenshot of the promotion page (which is also visible on the EDM sent to Enrich members):

Clearly, it sounds a bit odd, so I reached out to Malaysia Airlines' customer service via Facebook – and they appear to confirm that the e-vouchers redeemed would indeed expire on 31 October 2019.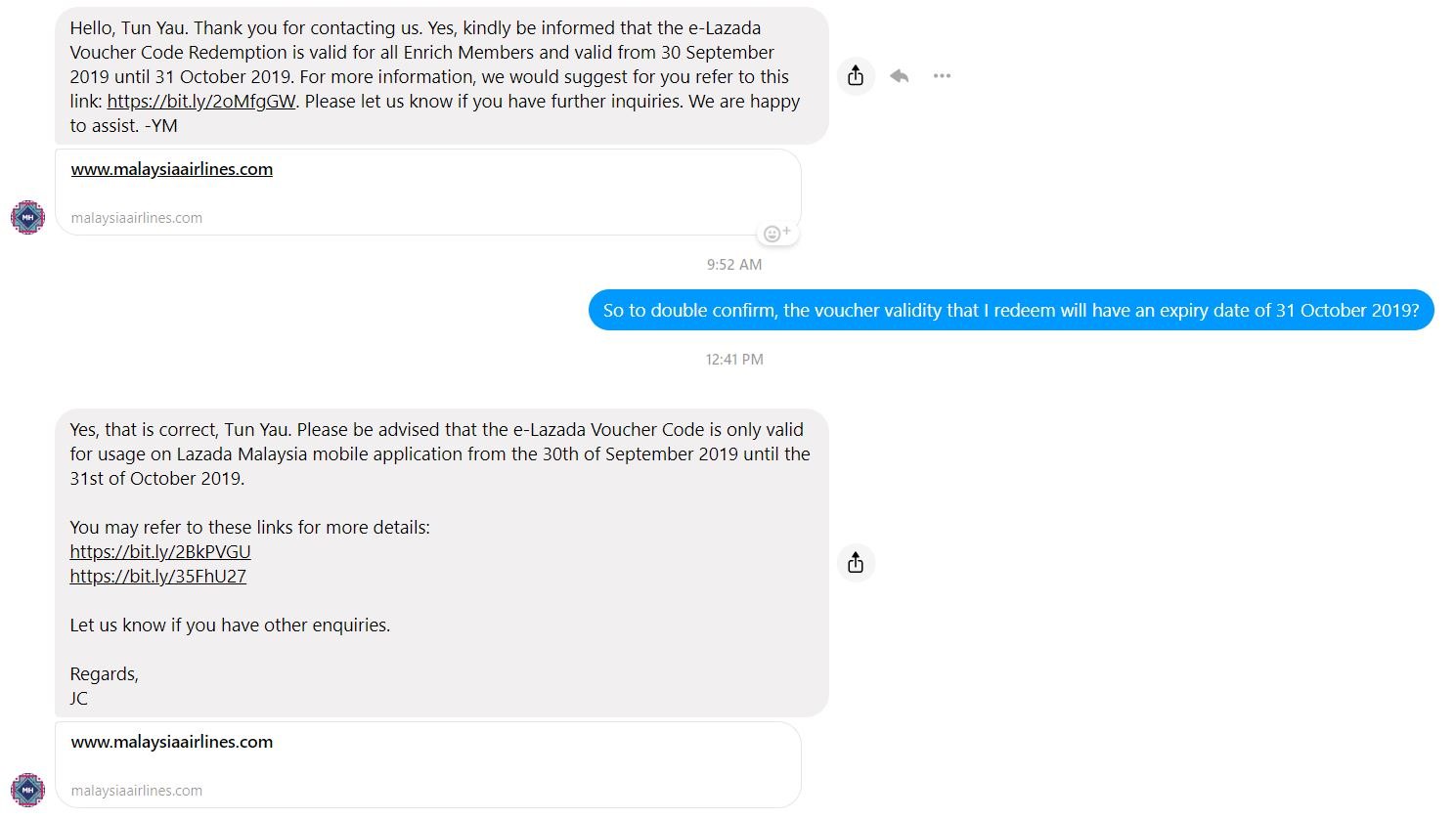 I'm sure there is some error and/or miscommunication on this, so since I have some Miles expiring, I decided to redeem an e-voucher.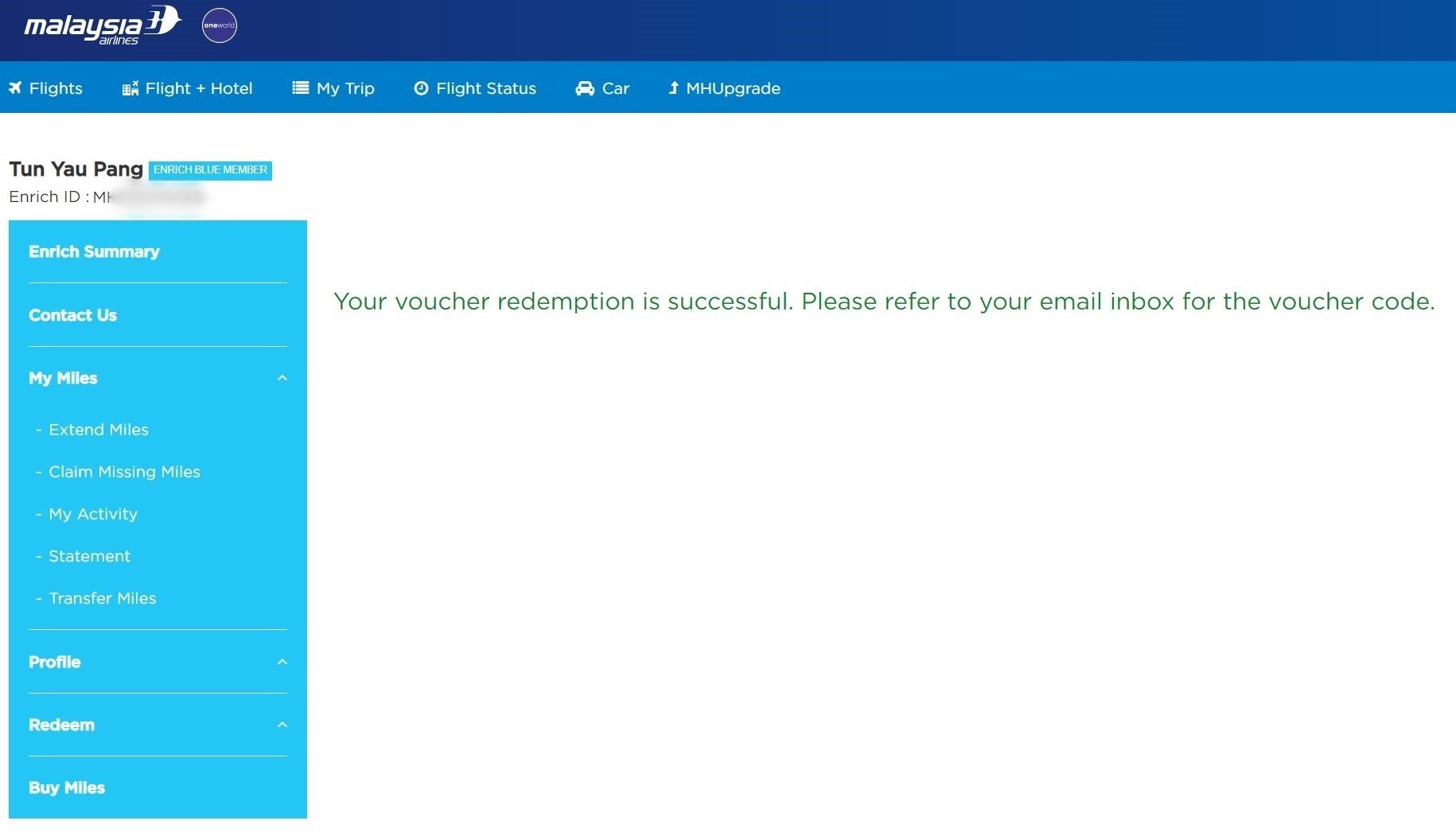 The process is instant, and the email was sent almost immediately (very impressive!) However, the email confirms that the e-voucher indeed expires on 31 October 2019. Yikes.
.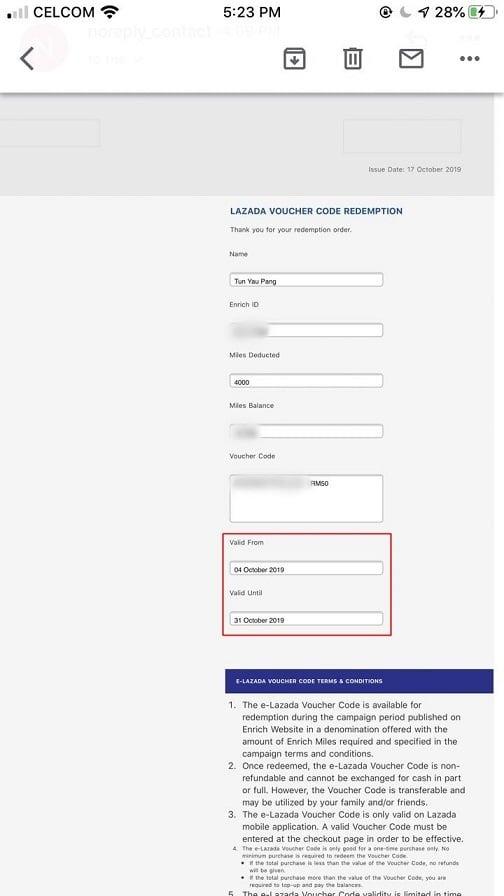 Now, here's where things get even more complicated. I found out a friend had also redeemed a voucher as his Enrich Miles was also expiring. Interestingly, his voucher expires on 21 October 2020 – a full year of validity.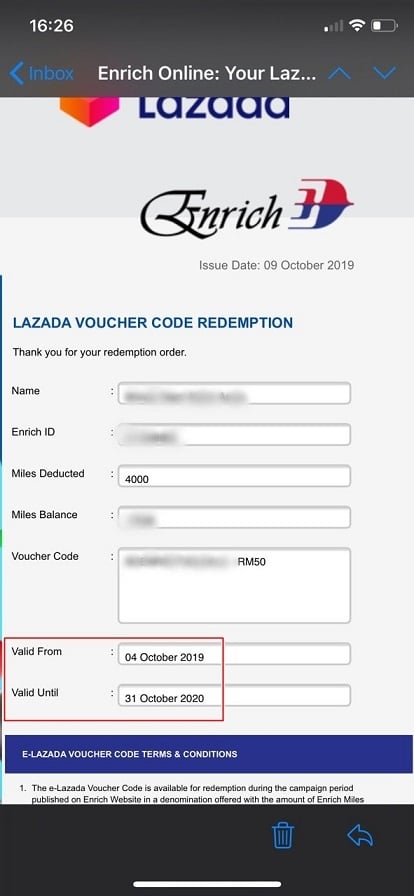 Thanks for the screenshot, Tekong!
Therefore, considering the inconsistent voucher validity period and the relatively low value you get from redeeming these vouchers, we really recommend doing this
only if you have Enrich Miles that are expiring and you don't have other uses for it.