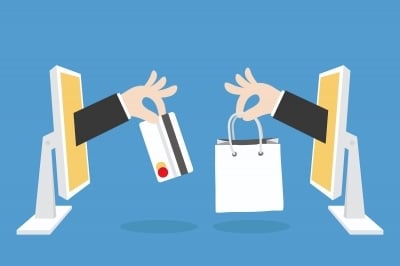 Getting rewarded just by spending is one of the nicest aspects of using a credit card: Which is why the reward point credit card is still going strong. While some banks still give you one point per Ringgit spent; there others willing to give you more incentives to swipe. If you play your cards right (excuse the pun!), you could earn up to 8 times the usual point award.
Here are three of the best reward credit cards in Malaysia today.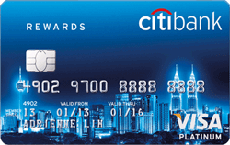 With five different categories to choose from, you can get 5x the reward points on the list of merchants under the category that you select, which ensures you get rewarded with the things that matter to you the most.
Reward Points: 5x
Points
Awarded on: Selected merchants based on the five categories available; Points will never expire
Annual Fee: Every category chosen will cost RM100; so if you have two categories, you will pay RM200. Fee waivers are given depending on the amount you spend per year. For example; you get one category fee waived by spending RM15000 a year. So the more you spend, the more waivers you earn.
There is also a calculator to help you figure out what rewards you will be receiving based on the amount spent in the selected category. For example, if your chosen categories are shopping and home, by spending RM3000 within these two categories, you can choose between the following gifts.
RM700 worth of Giant vouchers
RM750 worth of AirAsia vouchers
a Philips Immersive Sound Home Theatre
And these will also come with a 50% off Senheng and Topshop coupon.
You can use your Rewards points for instant rewards at Citibank's participating merchants, to offset purchases or redeem gifts, air tickets or cash vouchers via the Rewards Catalogue.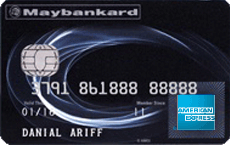 Applying for the Maybankard 2 will get you an American Express Platinum Credit Card and a Maybankard Platinum Master Card. However, the bonus 5x points will only apply to retail purchases made with the American Express card in the package. The MasterCard will unfortunately, only give you the regular 1x.
Reward Points: 5x (for American Express card).
Points Awarded on: All payments made in Malaysia or anywhere else in the world except for Government Bodies, Education Institutions and Insurance Provider. These points will expire in 3 years
Annual Fee: Lifetime fee waiver for Principal and Supplementary Cards
Seeing as you get points for all payments, say you spend RM3000 on the card and as such, have accumulated 15,000 TreatsPoints. You have a choice of redeeming items such as:
X-Prime Cooling Pad with special art designs
HCF Migo Summer Tote
Barbantia Can Opener & Cap Opener
Giant RM50 voucher
Focus Point RM50 voucher
Poh Kong RM50 voucher
These are just some of the items you can get with 15,000 points. You can redeem these items and more on the spot through selected retail outlets or via mail or fax order where they will be mailed to you.
The American Express card also gives you 5% cashback on weekend spending on top of the point accumulation.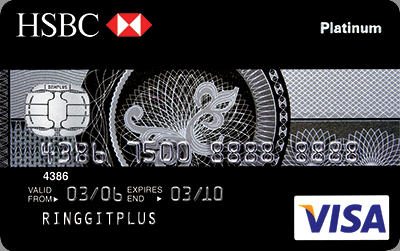 If shopping malls are your second home, this card offers you 8x reward points with every Ringgit you spend with this credit card in Mid Valley and The Gardens Mall. You can also earn 5x points in other participating shopping malls in Malaysia (for a full list of participating malls, check HSBC's website).
Reward Points: 8x, 5x
Points
Awarded on: Any spending made in the over 30 selected malls available. These points will expire in 3 years.
Annual Fee: RM240 for Primary and RM120 for supplementary
It isn't hard to rack up points if you consider grocery and all other shopping at malls that a family does. For a monthly spend of RM3000, you would have earned 24,000 points (at 8x), which is a tidy sum. Here are some of the items you can redeem with that amount:
Vidal Sassoon Pink Angel Compact 25mm Ceramic Straightener
Caresens Blood Glucose Monitor
Pendrive USB Drive Click-Co 32GB
Morgan Blender
Panasonic Coffee Maker
Pensonic Mini Thermo Pot
You can redeem these items online or by calling HSBC.
Choosing the Right Rewards Credit Card
Like all credit cards, the right credit card for you depends on the lifestyle you lead and the amount of money you spend on certain items yearly. Also take note of any limitations to rewards accumulation such as time of spend or category. Couple this with the fee you are required to pay to get a good idea of whether you should be getting the card in question. Sometimes, a high fee can negate any reward so do ensure that your spending gives you the best deal.
Choose your card wisely and you can reap the benefits of having all those extra points.