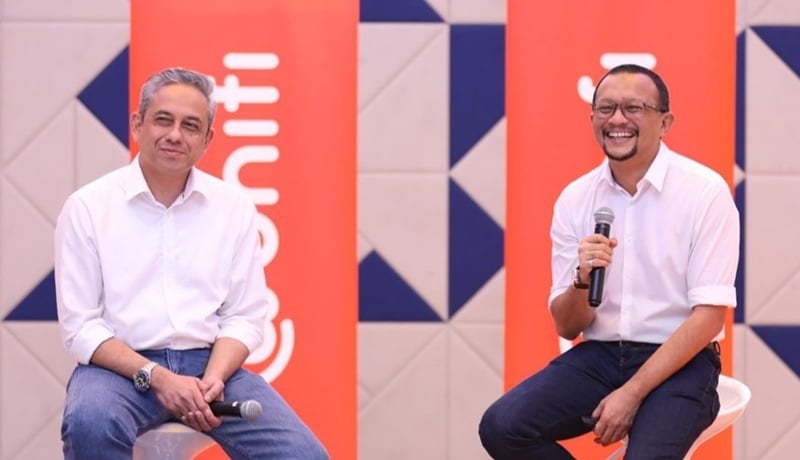 Last week's media briefing from TM was merely a teaser. Today, the company unveiled its next steps in (finally) providing the service upgrades expected from TM, with major upgrades coming to Unifi and Streamyx. TM also outlined ways to help Malaysians who are not within the Unifi coverage.
Unifi Basic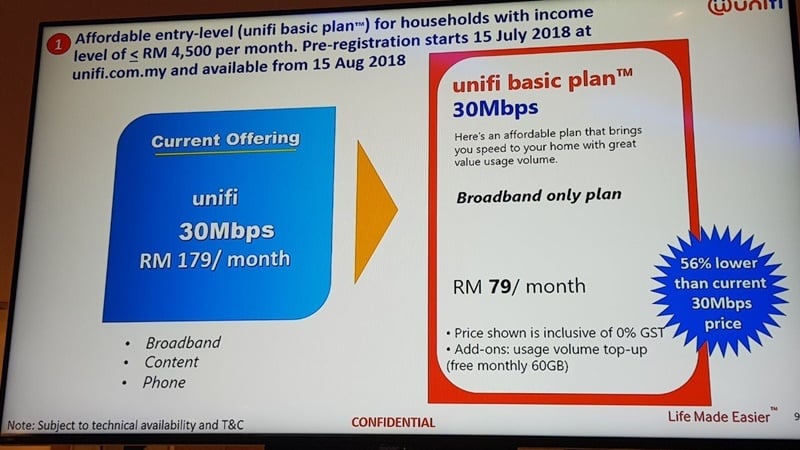 First up, there was the famed Unifi Basic plan which caught everyone's attention last week. The Unifi Basic plan is essentially a Unifi fibre broadband plan stripped down to its essentials: 30Mbps download speeds for just RM79 a month – but without access to add-on features like Unifi TV and IP-based phone.
This is a huge drop in price compared to the current RM199 Unifi plan with the same speed, but there are, naturally, some additional fine print. For starters, the Unifi Basic plan has a 60GB monthly quota. It certainly sounds very little considering the fact that this is a home broadband plan, but the second caveat does clear things up. The Unifi Basic plan is only available for Malaysians whose household income is less than RM4500 a month.
This is a plan for the lower-income groups as a powerful way to provide Malaysians in this group access to the freedom and power of the internet. Unifi Basic isn't designed for the majority of Malaysians, and definitely heeds the call of the Malaysian government's vision of making internet access a basic human right.
Unifi Turbo for existing Unifi subscribers: up to 10x speed upgrade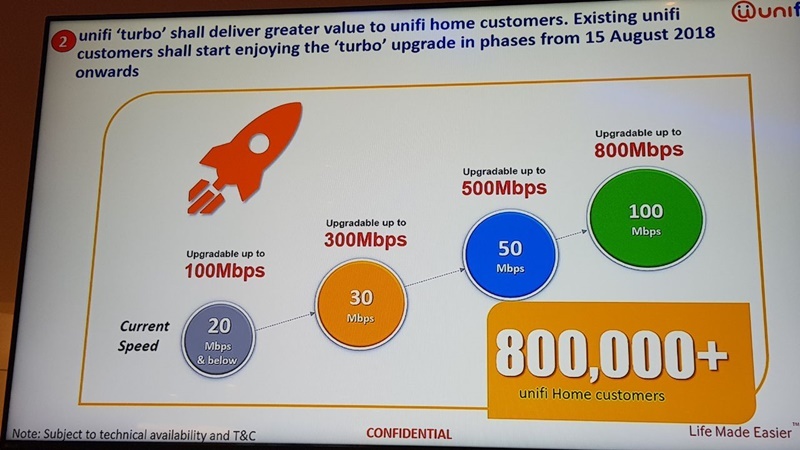 For existing Unifi Home subscribers, TM is offering a massive, massive speed upgrade of up to 10 times of what is offered in current packages. Because there are many different types of packages offered by Unifi (including legacy plans), TM breaks down the speed upgrades to its in download speeds.
Less than 20Mbps: speed upgrade to 100Mbps
30Mbps: 300Mbps
50Mbps: 500Mbps
100Mbps: 800Mbps
This upgrade will begin from 15 August 2018, where the rollout will take place in stages to the 800000+ Unifi Home subscribers nationwide. And like before, there will be no usage quota for these Unifi plans.
Meanwhile, customers who sign up be to any current Unifi Home plan before 31 December 2018 will receive the speed upgrades in phases beginning 2019, as TM is prioritising the speed upgrades to existing customers first.
Finally, TM will honour all existing contract durations for Unifi Home subscribers – the speed upgrade won't refresh their contract cycles.
Streamyx customers: speed upgrades or conversion to Unifi option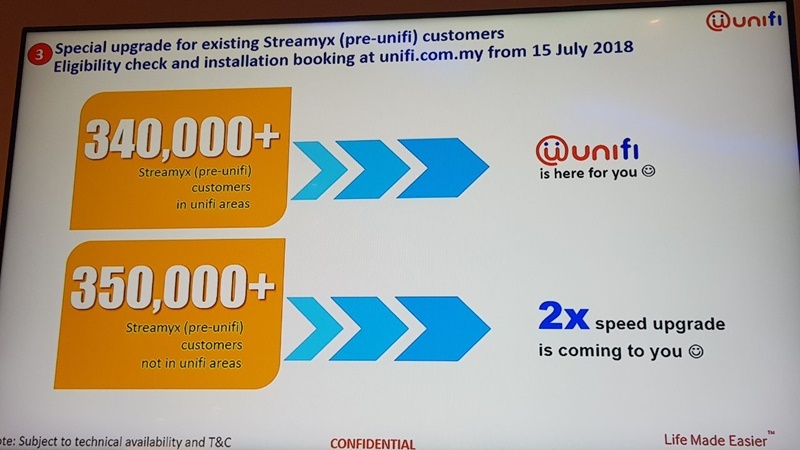 Depending on their locations, Streamyx customers will also see some changes to their internet plans. More than 340,000 Streamyx subscribers who are in Unifi-supported areas will be offered Unifi Home plans that are similarly priced as their existing Streamyx plan.
For the remaining 350,000 Streamyx subscribers not covered by Unifi, TM is doubling the speed that they are subscribed to today. According to TM, this is a temporary measure as the company "continuously invest in the best of both fixed and wireless technologies".
Streamyx customers can check out Unifi's official website from 15 July to see if they are eligible for the Unifi conversion or the speed upgrade, and also to book for an installation.
Unifi Wireless Broadband for contract freedom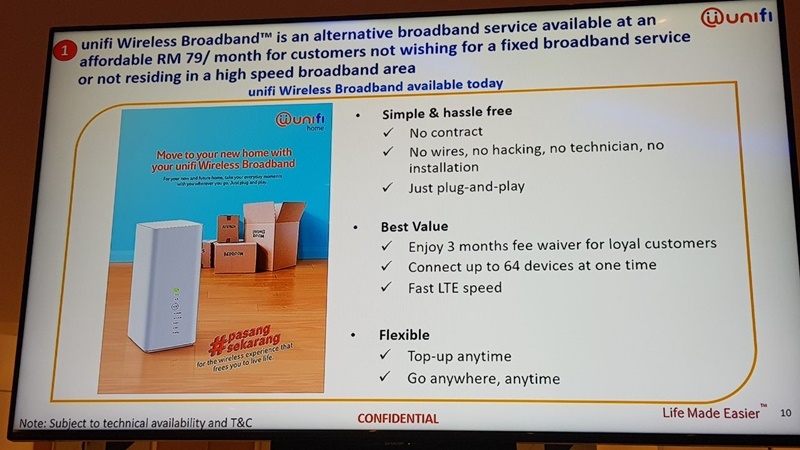 Essentially, the Unifi Wireless Broadband service is designed to complement TM's offerings to cover those who do not wish for a fixed broadband service, or are not residing in an area covered by Unifi's fibre broadband.
This plan has been available since April 2018, and consists of a wireless router with an LTE SIM card inside. This means that the Unifi Wireless Broadband is a plug-and-play solution with no installation required.
The Huawei router supports up to 64 connections simultaneously, and customers will be required to make a one-time payment of RM565 for the device – this is almost half the retail price of the router. This broadband plan is also contract-free, so you can terminate the plan at any time.
However, there is a monthly high-speed LTE quota of 60GB per month. If you exceed it, the connection speed will be throttled to 128kbps until the next cycle, or you can choose to top up data which expires after 90 days. Three top up options are available: RM10 for 1GB, RM20 for 5GB, and RM40 for 20GB. Top ups can be done at Unifi's online self-care portal, or at the [email protected] app available for Android and iOS.
Unifi Mobile Postpaid: unlimited LTE data, calls, and SMS for RM99 a month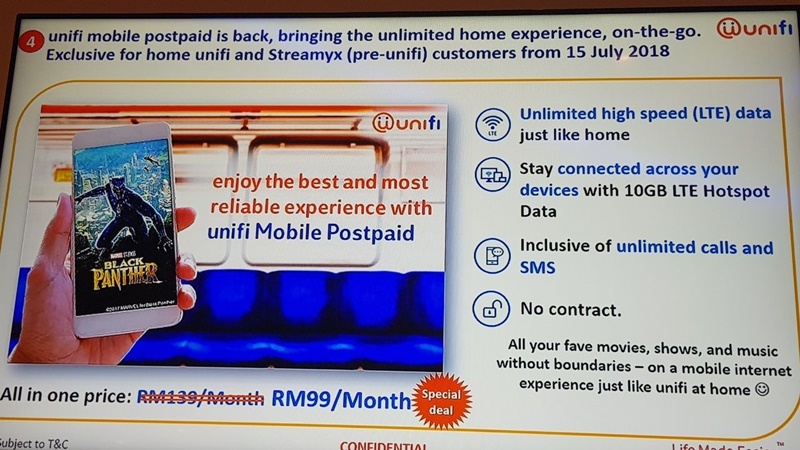 Besides the broadband plans, TM is re-introducing the Unifi Mobile Postpaid plan. For RM99 a month, this zero-contract smartphone plan offers unlimited high-speed LTE data, 10GB hotspot allocation, and unlimited calls and SMS for RM99 a month.
Propelling Malaysian Internet Forward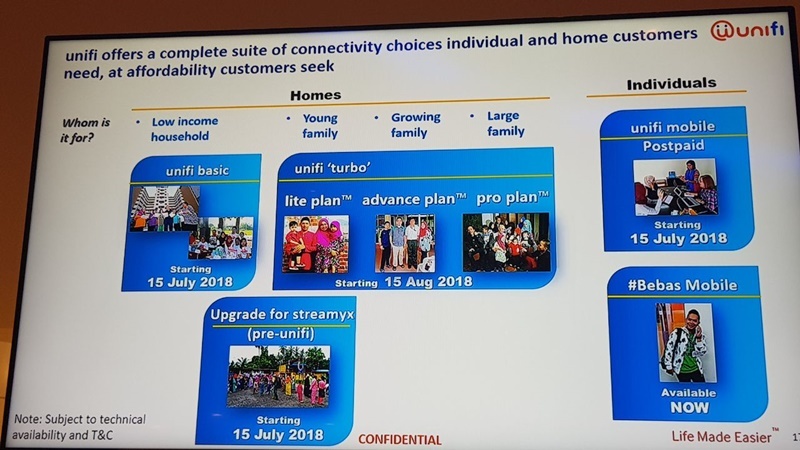 From what it announced today, TM is making good on its promise of delivering some of the fastest broadband internet speeds in the region. At the same time, it is also ensuring that those in the lower income groups are not left behind, by making Unifi Basic exclusive to those who need it. Finally, having Unifi Mobile as well as Unifi Wireless Broadband means TM essentially has a hand in virtually every business vertical that's related Malaysian internet.
(Slide images: Amanz.my)