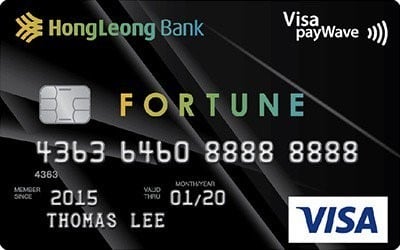 Hong Leong Bank has announced that the Fortune Credit Card has been discontinued. Existing Hong Leong Fortune Credit Cardholders, however, can still carry on using the credit card and enjoy its benefits until card expiry.
The Hong Leong Fortune Credit Card offered 1% "real cash awards" for every Ringgit spent on retail spending. It is different from a standard cashback credit card, because this "real cash award" actually earned interest based on Hong Leong Bank's prevailing 3-month interest rate. On top of that, Hong Leong Bank Fortune credit card holders also received a cash bonus based on their annual spend of up to RM1,800. However, the cash awards are conditional on a minimum monthly spend of RM2,000, and is capped at a maximum of RM50 each billing month.
In its statement released earlier today, Hong Leong stated that the card was no longer issued since 18 December 2018. Other credit cards offered by the bank is unaffected – check out our handy RinggitPlus credit card comparison tool to find out more.