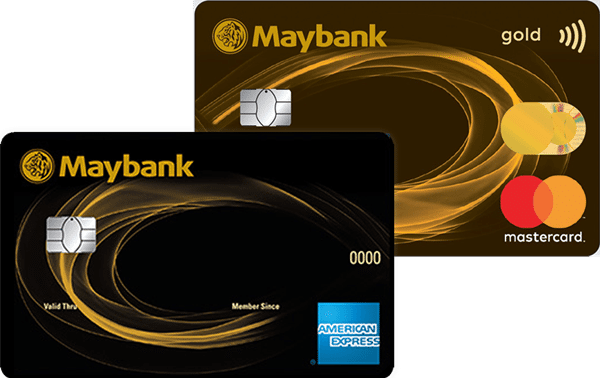 Since its inception in 2011, the Maybank 2 Gold and Platinum credit cards have been an evergreen staple in every financially savvy Malaysian's wallet. The Maybank 2 is a unique offering from Maybank as you get two credit cards when you apply: one is a Maybank 2 American Express Card and the other a Maybank 2 Mastercard or Visa.
What's even better is the fact that the Maybank 2 Gold and Platinum share virtually the same benefits, which means you're not missing out on much if you don't qualify for the Maybank 2 Platinum cards. For many, this is the best credit card to own thanks to its combination of good cashback and low income requirements.
The American Express factor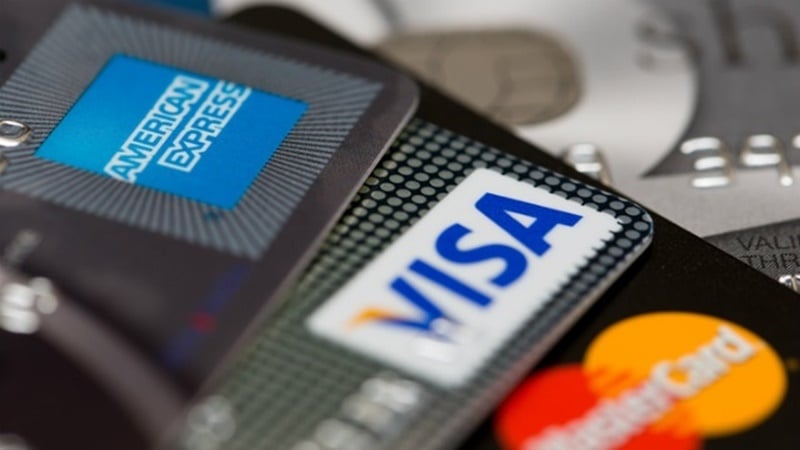 The real attraction of the Maybank 2 Gold & Platinum Cards lies in its TreatsPoints and cashback benefits – up to 5x TreatsPoints on virtually every RM1 spent and 5% cashback on weekend expenditure.
The secret sauce for the Maybank 2 cards is the American Express card. It's easily the best entry-level credit card in the market, and the only reason why you should be getting the Maybank 2 cards. When using the Maybank 2 Amex card, you get 5% cashback for weekend all weekend spending, capped at RM50 per month. This cashback isn't limited to specific categories like dining or petrol – the only requirement is that you use the card on Saturdays and Sundays.
In addition, you get 5 TreatsPoints for every RM1 spent with the Amex card (for institutions of education, insurance providers, utilities, and Maybank 0% EzyPay Instalment Plan, the rate is set at 1 TreatsPoint for every RM1). For the Maybank 2 Mastercard/Visa, you get 1 TreatsPoint for every RM1 spent. The points are awarded for both local and overseas spend.
Maybank recently revised its TreatsPoints redemption rates, which is now set at 500 TreatsPoints = RM1 starting from July 2018 (it was previously set at 400 TP = RM1), giving it an effective cashback rate of 0.2%. If you spend with the Amex card, you get 5x TreatsPoints which means it's an additional 1% rebate in TreatsPoints. It's not much, but it is still one of the better bank rewards points system as the redemption rates are still solid (if not as valuable as before). For example, you can redeem a RM100 Aeon voucher for 57,500 TP, or 1,000 Enrich air miles for 10,000 TP.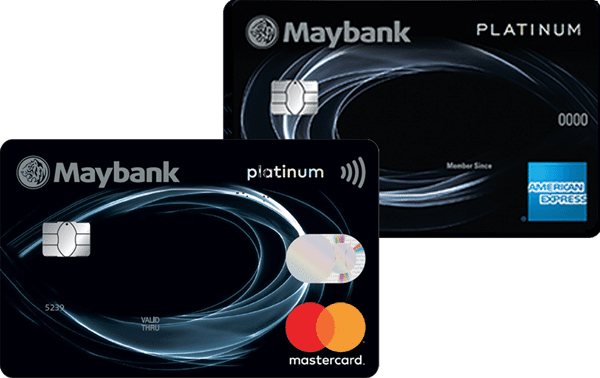 If you opt for the Maybank 2 Gold Platinum Card, you have the added benefit of free travel insurance from Etiqa. You get travel insurance coverage of up to RM1,000,000 and travel inconvenience coverage up to RM2,500 for missed connections, luggage delay, and baggage loss.
Free for life with zero fine print
On top of that, the Maybank 2 Gold and Platinum cards are free for life, with no strings attached. There are no minimum spending or swipes required – you won't ever be required to pay an annual fee for these cards. Plus, its low annual income requirement of just RM30,000 (or RM2,500 a month) means even a fresh graduate can start making more out of their money with the Maybank 2 Gold credit card.
Virtually no drawbacks
If there is anything to pick on about the Maybank 2 Gold and Platinum cards, it's the fact that every benefit of the cards is limited to the Amex card. Regardless if you opt for the Visa or Mastercard, the only perk you get from either card is 1 TP for every RM1 spent – which makes it no better than plenty of cards in the market. Note that you also won't be eligible for cashback when you use the Maybank 2 Visa or Mastercard.
And, while this is less of an issue compared to a year or two ago, it must be said that there are still a noticeable number of merchants and retailers that do not accept Amex cards. This is especially prevalent in smaller outfits like cafes and even some supermarkets.
In situations like these, it pays (literally) to have some backup credit cards that may offer some sort of benefit. In this case, cards such as the Public Bank Quantum or even the Maybank FC Barcelona Visa Signature are solid alternatives when you can't use your Maybank 2 Amex.
Verdict: A must-have credit card, period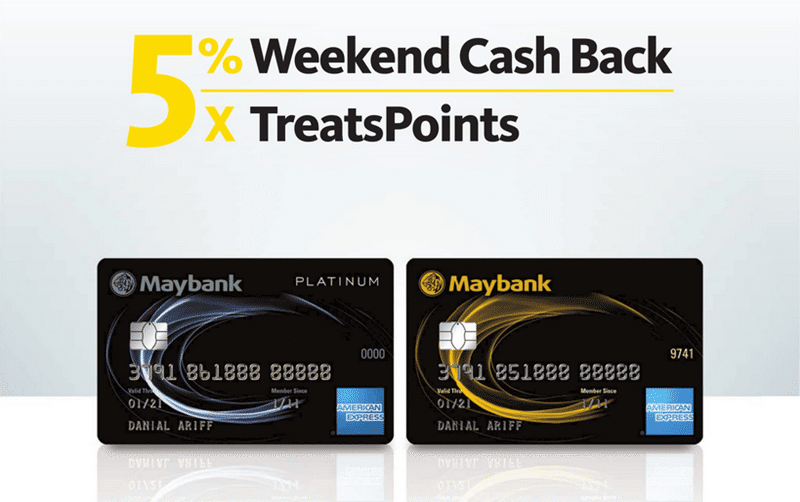 Although virtually every perk of the Maybank 2 Gold & Platinum cards are centred on the Amex version, you automatically get the Amex and Mastercard/Visa cards as a pair anyway. As we've highlighted, there are more outlets that accept Amex cards today, and the 5% weekend cashback as well as 5x TreatsPoints make the card a very solid choice – though you probably should tweak your grocery shopping and petrol pumping habits to maximise the benefits of the card.
What's more, the requirements for these cards aren't demanding, either. Like other Platinum cards, you'll need to earn RM60,000 a year to qualify for the Maybank 2 Platinum Card, but the minimum annual income for the Maybank 2 Gold Card is entry-level at RM30,000 per annum – that's just RM2,500 a month. To top it off, the Maybank 2 Gold & Platinum Cards is free for life for both principal and supplementary cardholders.
Finally, you can make the entire application process hassle-free if you apply for the Maybank 2 Gold or Platinum credit cards via RinggitPlus. The XpressApply feature simplifies the application process – no need to worry about waiting for phone calls or filling in forms! Plus, you even get a free juicer upon activation of your card.