There aren't many football-themed credit cards left in the Malaysian market, but even fewer are these cards worth your time if you are not a fan of the featured club. The Maybank FB Barcelona Visa Signature credit card is an exception, and if you haven't yet heard about it, you should pay closer attention to it this month because this is one of the best credit cards for cashback in Malaysia.
A Football-Themed Credit Card Unlike Others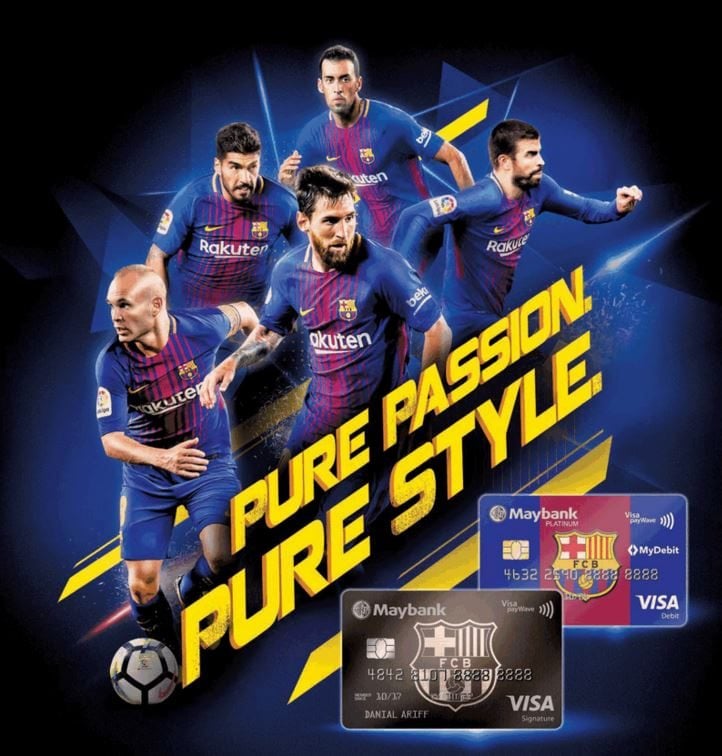 Usually, football-themed credit cards have good perks for the team featured on the card, but not really useful in general. The Maybank Manchester United Visa and Visa Infinite cards are two such examples. It does not offer any cashback, and instead gives TreatsPoints bonuses when Manchester United wins a Premier League match. Even then, the 5x bonus TreatsPoints do not apply for petrol transactions. It gives 10x TreatsPoints and various discounts for use in the Manchester United Megastore and stadium tours, but that wouldn't matter much if you're not a fan.
Now, the Maybank FC Barcelona Visa Signature credit card is different. Not only does it offer some discounts when used in its online store, stadium, and FCBotiga retail outlets, the biggest draw for this card is a whopping 10% cashback for the months of May and August, with a generous RM100 monthly cap. This card is useful in other months as well, with 2% cashback with a cap of RM50 per month.
Cashback King for May and August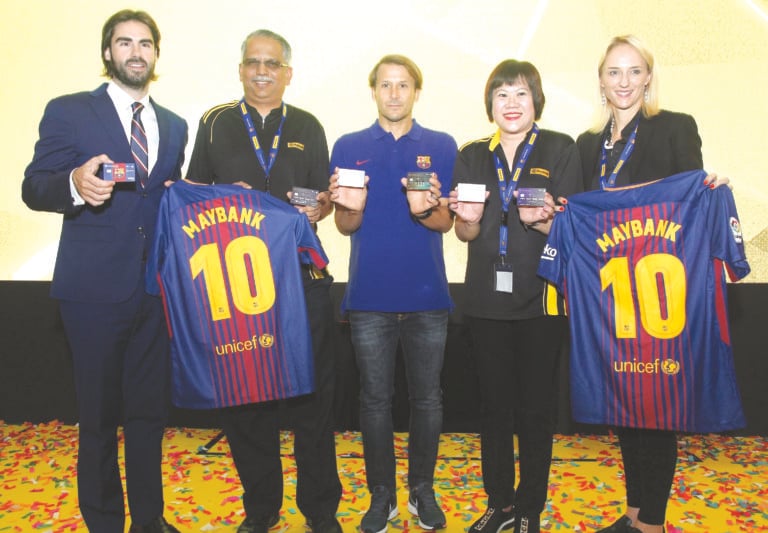 (Image: Malay Mail Online)
Launched in October last year, the Maybank FC Barcelona Visa Signature was designed to complement the football season: May is when the European football season ends before the summer break, and August is when the European leagues start again.
While the Maybank FCB Visa Signature does not offer TreatsPoints, the cashback feature is quite significant. No other credit card in Malaysia offers 10% cashback with virtually no strings attached – there is no minimum spend, no packages to choose from, and no cashback tiers. The only caveat is that the 10% cashback is only available in May and August every year.
For other months, the 2% cashback for all purchases isn't very high, but is good enough to complement other cashback credit cards with higher rebates.
Premium Card, Low Requirements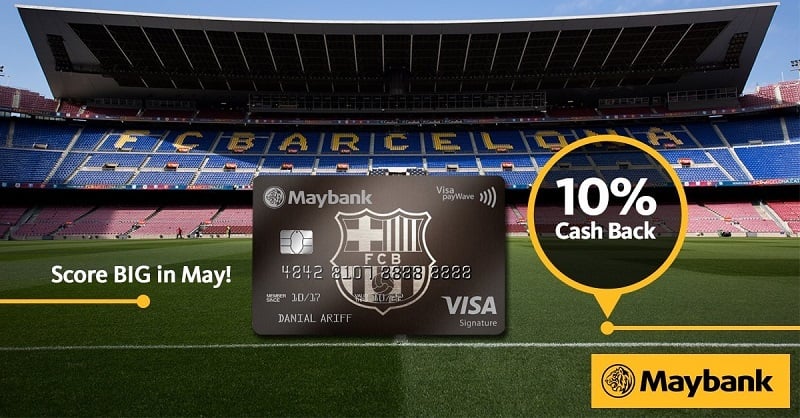 Perhaps the most interesting aspect is the fact that the Maybank FCB Visa Signature card is surprisingly easy to apply for. Every Visa Signature credit card available for application on RinggitPlus has a minimum annual salary of RM70,000; only the CIMB Visa Signature has a lower RM60,000 annual income requirement; that card's benefits pale in comparison to the FCB Visa Signature's.
In contrast, the Maybank FC Barcelona Visa Signature credit card's minimum annual income requirement is just RM48,000 – that's RM4,000 a month for a Visa Signature card! To put in further perspective, most Platinum credit cards have a minimum RM60,000 annual salary requirement – and Visa Signature cards are supposedly one tier above Platinum.
And, because it's a Visa Signature card, it comes with the various perks associated with it as well. These include 24/7 Visa Signature customer service, Visa Concierge Service & Global Assist, and even complimentary travel insurance coverage if you purchase the flight tickets using the card.
Not only that, this card is one of the few premium cards in its class that is free for life – there is no annual fee for the Maybank FC Barcelona Visa Signature card, nor is there any minimum usage per year requirement as well.
Surprisingly Few Downsides
We tried very hard to look through the product disclosure sheet for any shortcomings, but as far as we can tell, the only main downside is the fact that this card does not offer Maybank TreatsPoints in addition to the cashback.
That makes the FCB Visa Signature only absolutely useful for two months in a year, and in other months, the 2% cashback is nonetheless still decent if you do not have (or have maxed out) other better cashback credit cards, such as the popular Maybankard 2 American Express or Public Bank Quantum cards.
The interest rates charged on outstanding amount is nothing out of the ordinary, and as far as we can see, there are no hidden charges beyond what is normally stated on other credit cards.
Verdict: A Must-Have Card In Your Arsenal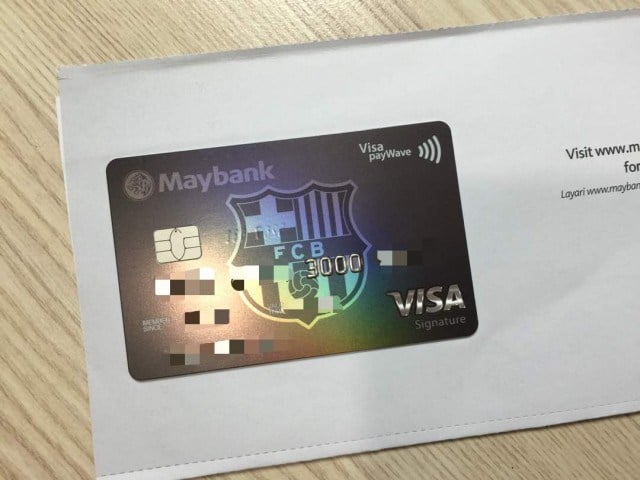 (Image: forum.lowyat.net)
In all honesty, the Maybank FC Barcelona Visa SIgnature is one of the best cashback credit cards in Malaysia today. The fact that the cashback requirements are so uncomplicated makes this an easy card to own as part of your cashback credit card collection. Check out how the card compares with the rest of the cashback credit cards available in Malaysia, and you can apply for the card from RinggitPlus and get a juicer as a sign-up gift!
When paired with other great cashback credit cards, you could be looking at some serious savings in cashback every month for day-to-day expenses.