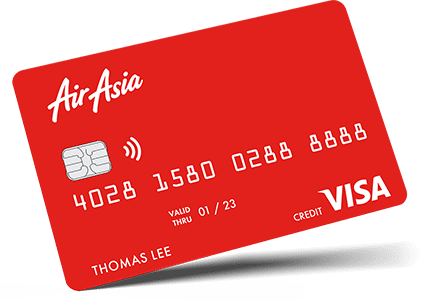 AirAsia has introduced two of its very own credit cards that will go a long way towards boosting your AirAsia BIG Points. The AirAsia Gold Credit Card and AirAsia Platinum Credit Card both give up to 6 times more BIG Points for your expenditure and additional bonus BIG Points. BIG Points are the basis of AirAsia's BIG Loyalty programme and can be used to redeem AirAsia flights.
Here's how the BIG Points accumulation works for the AirAsia credit cards: you get 6 BIG Points for every RM1 spent on AirAsia flights and 1 BIG Point for every RM2 spent on overseas transactions. For local spend, you get 1 BIG Point for every RM5 spent using the Gold credit card and 1 BIG Point for every RM3 spent using the Platinum card.
The additional BIG Points offered are in the form of a welcome bonus and quarterly bonus. For the welcome bonus, you get extra BIG Points when you fulfil a minimum retail spend during the first 60 days after your card approval. For the quarterly bonus, you are awarded additional BIG Points if you hit the set minimum spend per calendar quarter. The minimum spend requirements and corresponding award of BIG Points vary between the Gold and Platinum cards.

The AirAsia Platinum Credit Card also gives you priority check-in, boarding, and baggage, as well as an instant upgrade to BIG Platinum Membership Status. The Platinum card is available to those who earn over RM60,000 per annum.
The annual fee for AirAsia Gold Credit Card primary cardholders is RM200 per year, and for the Platinum card, it's RM350 per year. The annual fee is waived for the first year with a minimum of one retail swipe within 45 days from card approval date.
Find out more about the new AirAsia Credit Card from AirAsia or Hong Leong, its issuing bank.