The Bazaar Ramadhan is a unique event that takes place only once a year, during the holy month of Ramadan. For Muslims, this is a great spot to buy everything they need for breaking fast at sunset. But Malaysians' love for food means this is a universal affair, one that is always packed with people buying their murtabak, tepung pelita, roti john, ayam percik, and so much more.
But with so many options and so little stomach space, which food items should you look out for? Let's take a look at some Bazaar Ramadhan staples to get, and which places have the best ones.
Murtabak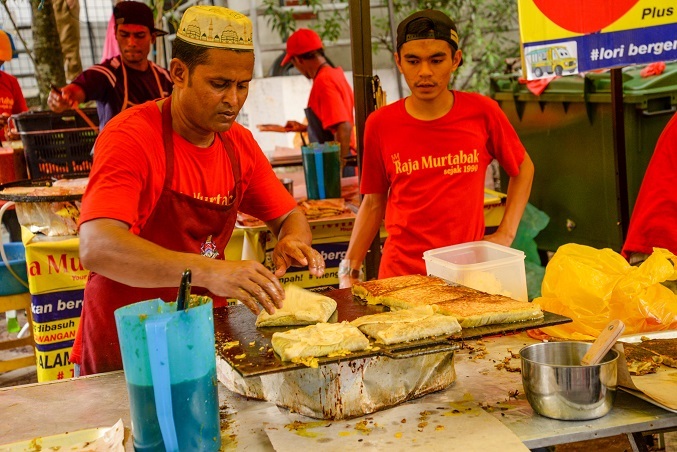 (Image: ExpatGo)
This is the only time you can get a murtabak at affordable prices. Murtabak is sold in abundance during Ramadhan, and there are usually many murtabak sellers in any given Bazaar Ramadhan. You usually can't go wrong with a murtabak, which is packed with finely chopped marinated chicken or beef meat wrapped in thin (occasionally crispy) flour dough. The adventurous may try the Murtabak Maggi, which marries the instant noodles with the murtabak marinate.
Most people in the Klang Valley agree that one of the best murtabak you can find is Raja Murtabak in the Bazaar Ramadhan in Taman Tun Dr Ismail (TTDI), Kuala Lumpur. The stall, which has been operating in this bazaar for several years now, offers a large range of murtabak, including those with cheese and – gasp – extra meat marinates. Their murtabak may be slightly pricier, but worth it for many.
Nasi Briyani Johor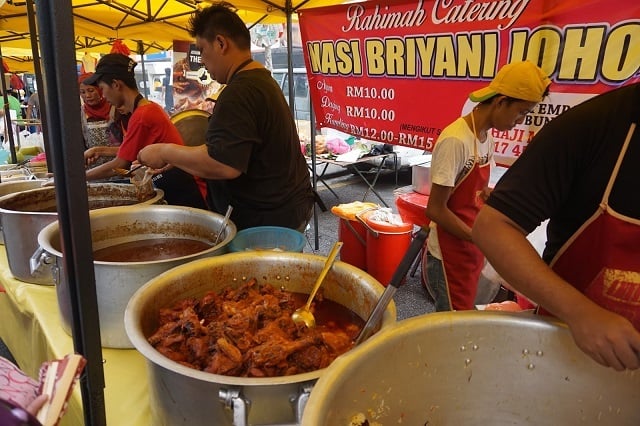 (Image: carinayeoh.com)
Another type of food usually only found in mamak shops, the nasi briyani sold at Bazaar Ramadhan is a sight to behold. Huge pots of spice-infused fragrant rice with equally large pots holding favourites like ayam masak merah and rendang are a sensorial treat. You can't go wrong with choosing either dish to accompany the rice. The briyani gam version, where the meat is cooked together with the rice, is a drool-worthy option too.
Briyani Johor is slightly different from the Indian-style ones we usually see, with less starchy rice used. This means less of the "crash" we feel from the rich flavours from usual nasi briyani in mamak shops – and also means you can indulge in even more food!
Ayam percik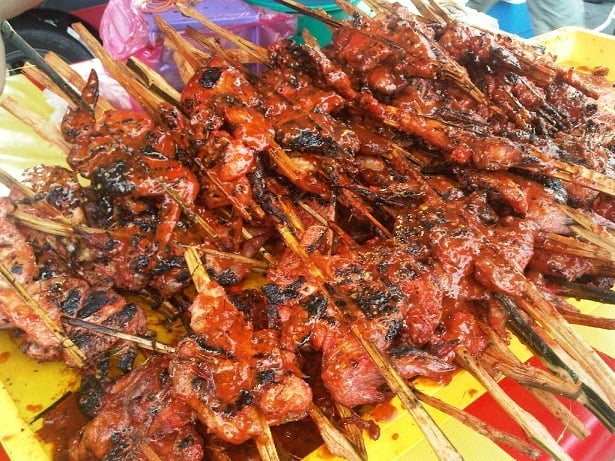 (Image: The Level)
You can barely find these outside of a Bazaar Ramadhan. The smoky scent goes a long way to enticing you to find the stalls that sell them. Generous slabs of chicken are skewered and grilled, glazed with juicy sweet and spicy sauce for a uniquely Malaysian taste. Some even pack some kuah kacang for you to dip the meat with.
Ayam percik are basically everywhere during Ramadhan, and you generally can't go wrong whichever one you opt for. Whether it is the TTDI, Stadium Shah Alam, or even Bangsar bazaar, the ayam percik is a safe, solid choice.
Roti John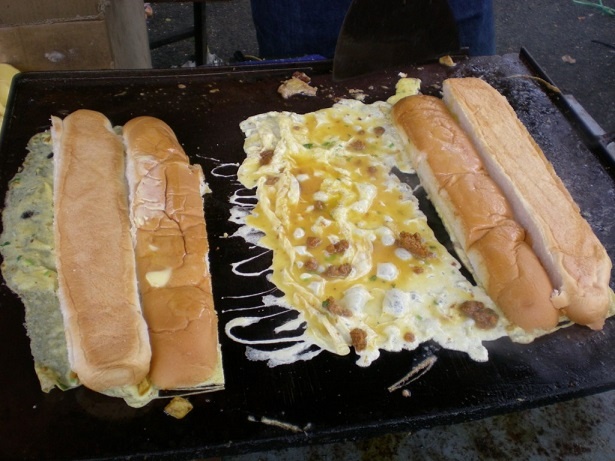 (Image: Says)
Originally a mix of local flavours toasted on baguettes, the Malaysian Roti John has evolved to the use of long, soft white bread. This actually makes sense, since the soft bread absorbs the meat mix a lot better, so you get a lot more meat per bite.
A lot of Roti John sellers try to maximise profits by spreading only a thin layer of the meat mix, so it pays to find the better ones. The Roti John stall in the Bangsar bazaar is a good example, and even offers them in a unique charcoal bun for a unique look.
Putu Piring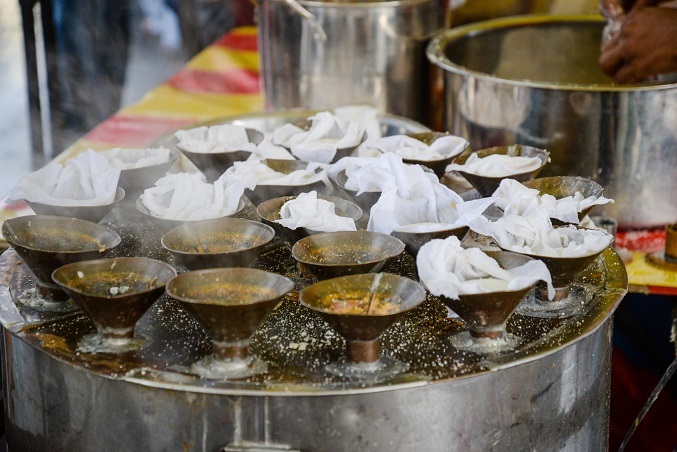 (Image: ExpatGo)
A teatime staple famous in Melaka, you'll find these steamed rice flour cakes infused with gula Melaka in many Bazaar Ramadhan across the Klang Valley. They also work well as desserts after buka puasa, thanks to the mild sweet taste. The bite-sized portions also mean you'll usually reach for seconds.
The key to a tasty putu piring lie in the amount of Gula Melaka in each cake. There shouldn't be too little because they will end up tasting bland, but not too much either till it numbs the tongue. The Bazaar Ramadhan TTDI, again, plays host to one of the best putu piring in town: Putu Piring Zainab Gula Melaka. You usually won't miss it – there's always a line to buy from this stall since they are made fresh on the spot. They also sell out by around 6pm, so do make your way there a little earlier just in case.
Kuih pelita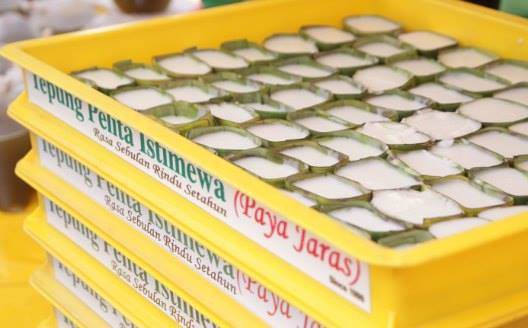 (Image: Tepung Pelita Istimewa Paya Jaras)
A local favourite, this dessert is slowly becoming a Bazaar Ramadhan must-have in recent years. It is made up of a sweet pandan-flavoured base with a coconut milk infused rice flour top layer. The combination of a sweet base, the richness and slightly salty flavours from the coconut milk, and the fragrance of screwpine (pandan) leaves make this quite irresistible.
We might sound like a broken record, but the best tepung pelita (as mentioned by family and friends) seem to be found at the TTDI Bazaar Ramadhan. There are notable mentions for those sold in bazaars in Melawati and Shah Alam as well, so at least there are some choices.
Pisang Goreng Cheese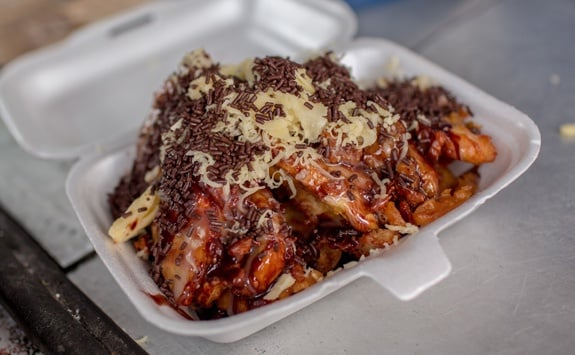 (Image: FriedChillies)
One of the more recent additions to the Bazaar Ramadhan staple, the origins of pisang goreng cheese is as much East Malaysia as it is "hipster" Malaysia. In Sabah and Sarawak, it isn't hard to find pisang goreng sprinkled with chocolate rice or grated cheese, or even drizzled with condensed milk. The heat from the fritters melt the condiments, giving the dessert an extra sugar rush.
In the Klang Valley, there are pisang goreng cheese stalls located in a few Bazaar Ramadhan places, like TTDI and Bangsar. The stalls offer a wide range of banana fritter condiments, like grated cheese, chocolate rice, rainbow rice, grated chocolate, and even exotic choices like Oreo, Nutella, and salted caramel. That said, the prices for these fritters are a lot higher than normal pisang goreng sold elsewhere.
Something for everyone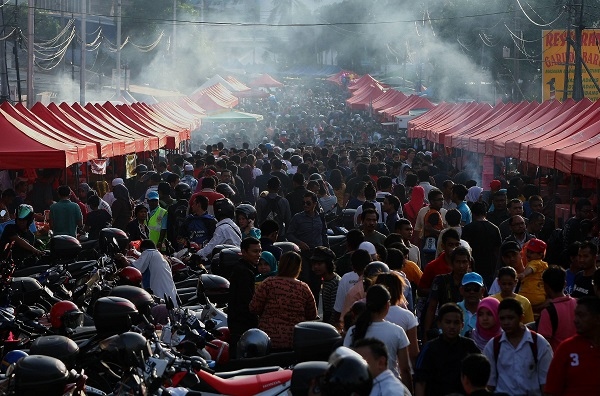 (Image: HostelHunting)
Most of these foods are generally not available in one place – until Ramadan comes. If you need a primer for authentic Malaysian food, or simply just wish to whack them all at once, the Bazaar Ramadhan is the place to go.
What other food should you get from Bazaar Ramadhan? Share with us in the comments below!