As an extension to the Transformasi Nasional 2050 (TN50) plan, all Malaysians born on January 1, 2018, to 2022 period will receive RM200 which will be allocated through Permodalan Nasional Berhad's Amanah Saham Unit Trust.
Announced first at last year's Budget 2018, the Amanah Dana Anak Malaysia (ADAM50) scheme is said to be the first of such scheme announced in Malaysia and was meant as a gift for the future generation, encouraging new parents to invest in their children's future.
This scheme had garnered different reactions from individuals with conflicting opinions. Some are thankful for the extra RM200 while others felt that the amount is inferior as opposed to the state-driven benefits. We have done our research to find out what are the other type of benefits that are offered by other states in Malaysia so read on to find out what we have discovered.
If you are from Selangor…
TAWAS
The Selangor Children's Heritage Fund, otherwise known TAWAS, is one of the key programs derived from Phase 1 of Merakyatkan Ekonomi Selangor (MES) which is parked under the Selangor state-supported Inisiatif Peduli Rakyat (IPR). Launched in August 30, 2008, TAWAS is open to qualified children who fulfill the criteria set by Yayasan Warisan Anak Selangor (YAWAS).
How Do I Qualify for TAWAS?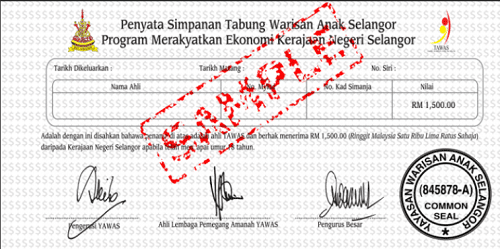 To qualify for TAWAS, your child must meet the following conditions set by the Selangor state. There are 3 ways that your child can qualify for TAWAS:
Condition 1
Be a Malaysian citizen that's born in (or outside of) the state of Selangor from 1st January 2008
Have a mother/father who was born in Selangor or Federal Territory of Kuala Lumpur before 1st February 1974
Condition 2
Be a Malaysian citizen that's born in (or outside of) the state of Selangor from 1st January 2008
Parents who are not born in Selangor but have been residing in Selangor for a minimum of 5 years
Have been officially certified as a Selangor resident.
Condition 3
Be a Malaysian citizen that's born outside the state of Selangor but within the same district that borders the Selangor state from 1st January 2008
Parents who are residing within the same district that borders the state of Selangor (Negeri Sembilan, Perak dan Wilayah Pesekutuan Kuala Lumpur) and is certified a permanent resident of Selangor.
Receive an official certification from the Ketua Kampung, Penghulu and Pengerusi Taman Perumahan of the area, certifying the parents as official Selangor residents.
By fulfilling one of the three conditions stated above, your child will be eligible for RM1,500 upon reaching the age of 18 years old. In addition to that, there's also the TAWAS Mortality Scheme of RM 1,500.00 which will be awarded to TAWAS member's survivor if the member dies before reaching the age of 18. Do note that this must be done before your child reaches the age of 3.
Moving on to the state of Penang…
Program Anak Emas Pulau Pinang
Introduced by the Penang state government to alleviate the plight of Penangites, the Anak Emas program promises a one-off help of RM200. In order to qualify for this, the requirements are:
Child must be born a Malaysian citizen
Either mother/father of the child must be a registered voter whose voting district is located in Penang
Application must be made with number from MyKid which is obtained from your child's birth certificate(12 digits)
Online applicants must print the completed online form on i-Sejahtera and submit it to selected district and land office in Penang. The physical copy of the application form must be submitted within 30 days from the application date along with the supporting documents.
If you fulfill all the requirements above, that's great. Do note that upon the birth of your child, you will have 2 years to apply for this program as applications after your child's second birthday would not be approved.
Read Also: <a href="https://ringgitplus.com/en/blog/Budgeting-Saving/4-Must-Have-Items-for-Every-Mum-to-Be.html"target="_blank"> 4 Must Have Items for Every Mum-to-Be
Onwards to the state of Kedah…
Skim Insentif Kelahiran Anak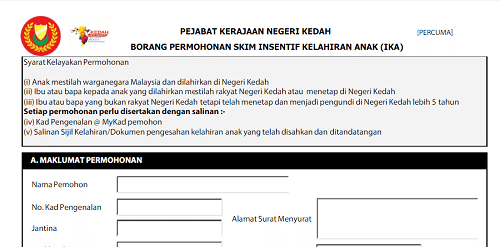 Designed to help ease the financial burden of parents preparing for the <a href="https://ringgitplus.com/en/blog/Budgeting-Saving/Are-You-Really-Ready-For-the-Costs-of-Having-a-Baby.html"target="_blank"> birth of their child
, this scheme consists of a financial aid amounting to RM100 (RM80 voucher + RM20 contribution to National Education Savings Scheme account (SSPN-i) ). SSPN-I is a saving instrument created specifically by Perbadanan Tabung Pendidikan Tinggi Nasional (PTPTN) for the purpose of helping families fund for their child's higher education. Apart from that, new parents will also receive a package of consisting of maternal care products as a token of appreciation.
To qualify for this scheme, your child must:
Be a Malaysian citizen who is born in Kedah; or
The parents of the child must be born Kedah and reside in the State of Kedah, with an official certification of the residency from the JKK / Penghulu; or
A parent who is not originally from Kedah but has resided for more than 5 years and is a registered voter who's voting district is in Kedah.
If all the things that are stated above apply to you, you can apply via the Skim Insentif Kelahiran Anak Form which is available at these locations stated below:
District Office in Kedah
Regional Social Welfare Office in Kedah
Penghulu Office in Kedah
ADUN / Parliamentary Service Center in Kedah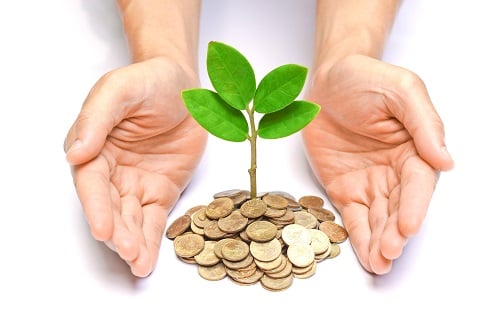 We hope that you have found our findings useful for your future planning. If you do not live in any of the states mentioned above, fret not! The best thing you can do right now is to create a savings account for your future child as a part of your plan to provide them a better financial future.
In this instance, it's best to select a junior account with extra special benefits like bonus interest earnings, free insurance and more from our comparison tool. Happy hunting!
Are there any other state benefit schemes that we have missed out on? Share with us your thoughts and ideas in the comment section below.