Procrastination has always been considered a negative behavioural trait; especially when it has to do with important actions or decisions. Procrastination means the act (or inaction as is the case!) of delaying and postponing doing something or making a decision. The trait is often associated with people unable to make decisions for themselves or at times the over-thinker who ends up delaying everything.
But is it always bad to be a procrastinator? Sometimes, you'll need to resort to procrastination; such as when replying a text message from your crush so that you don't look too eager. Talking about playing it cool, eh? But more seriously; it can be a great tool when it comes to making money decisions. However, procrastinating in this area isn't about never making a decision but to prevent, to borrow a term from popular culture, imitating fools rushing in.
Delaying the making of a financial decision can sometimes be good for you. Here are five reasons why.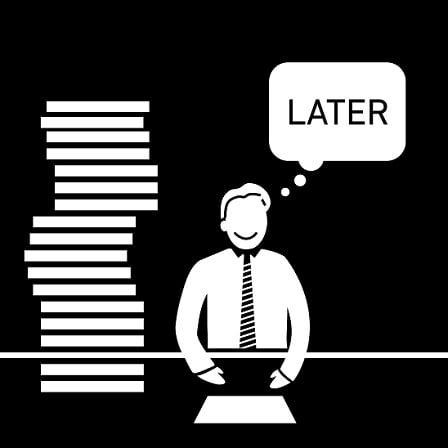 How Procrastination is Good for Your Money
1. It Prevents You From Being a Follower
When one of our writers first started working; an insurance company was launching a new policy for women. The company set up a booth near her workplace. There they employed every tactic in the sale manual and encouraged the young women without policies to sign up. Using many miss-selling techniques and the 'threat' that the attractive policy was for a limited time only; almost all the women inexperienced in insurance signed up only to find out later that the policy was not a good one by any means. The fact that they were signing up in a group; with others; gave them a false sense of security that the product must indeed be good if they were all keen to sign up. Had they waited, to consult more experienced relatives and friends or for other companies to launch new products; they would have surely found a better deal.
Herd mentality can be a dangerous thing. Not being so quick to sign up for a financial product simply because everyone else is – will be invaluable to making a better decision.
2. You're Less Likely to Spend Frivolously
Shopping malls have become the go-to place for Malaysians to enjoy free air-conditioning and have closer access to food and entertainment. But what it also does is to put us all within a dangerous distance of eager-to-make-sale merchants. Don't underestimate the ingenuity of marketing campaigns and gimmicks: they are designed to make you spend even when you have no intention of doing so. Being a money procrastinator makes you a less attractive target and affords you the opportunity to leave with your wallet intact.
Denis Darpy, of Paris Dauphine University, summarised the results of his consumer procrastination study as follows: "Procrastination predicts if a consumer will effectively buy or not." Yes, scientists thought it was necessary to prove that the more you wait, the less likely you are to go ahead and make that purchase.
3. You're Less Likely to Fall Victim to Shopper's Remorse
In relation to the point above; if you're less likely to buy unnecessary items; then you're also less likely to experience the dreaded shopper's remorse. If you've ever felt shopper's remorse, you know it's not a nice thing to experience: The sinking feeling in your gut that you spent money you shouldn't have sometimes followed by the frantic act of trying to make amends but overzealously justifying the purchase; trying to sell it or punishing oneself.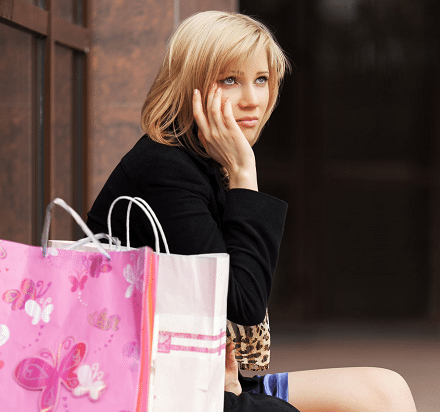 4. You May Find a Better Deal By Waiting
Have you ever bought an item only to find it cheaper or with additional freebies elsewhere? In fact, how often have you told yourself to stop looking at an item you've purchased if you see it in a store just so you don't have to face the thought of finding it marked down? Probably more often than you realise. The truth is even you know it; at the pit of your stomach that this is possible. That if you bought an item; the possibility of it ending up cheaper later is so very real. But we can't wait forever right?
Probably not; but the procrastinator may have more likely waited longer than the binge shopper and in turn; may have found the better deal. Just as books are later released in cheaper, paparback versions and out of season fashion slashed to 70% off the original price; procrastination can sometimes mean finding the better price by waiting.
5. You Tend to Buy Less Frequently and Save Yourself Money
A lot of purchases are made simply because we are drawn in by a sales pitch or a momentary attraction to a pretty package. Procrastinators are less likely to fall prey to such gimmicks in in turn are less likely to spend money frivolously; helping you actually save money in the long run.
How to Make the Most of Your Procrastination in Money
Being a procrastinator can be great, as we've pointed out above but it's not always a good thing if you're late with bill paying and other important matters. Here are some pitfalls the procrastinator should avoid:
Late bill payment. Paying your bills late is a big no-no and will end up costing you more in additional fees and interest charges.
Never making a decision. Procrastination is best when it is only delaying a decision but not flat out avoiding it completely. If you need a car loan or insurance product – it's not doing you any good to put it off indefinitely.
Not making good use of the delayed decision. Delaying a decision affords you time make comparisons; shop around; or fully read and understand your financial product but this added time is useless if you don't utilise it for this purpose.
With that said; balance is the key to making anything work for you. Balance your procrastination by avoiding the pitfalls and you're sure to make one savvy consumer.