We were tempted to just copy and paste the entire article from September 2013 about the price rise that happened then (interesting how these increases are perfectly timed just before the Budget announcement) onto this post as it would probably serve our purposes for the most part. But then we didn't because we're hardworking that way. Anyway,this just in: petrol prices set to go up RM0.20 at midnight; people crowding kiosks; more 'love' letters to the  government and just all around grumbling.
There really isn't much to say. Bad news is better made in few words.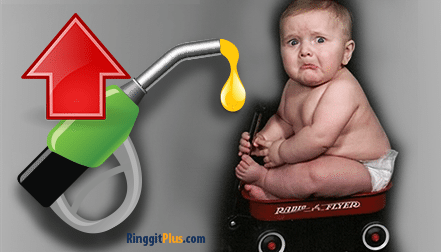 The new prices for RON95 will be RM2.30 per litre while diesel fuel will cost RM2.20 per litre; raised RM0.20 from RM2.10 for RON 95 and RM2.00 for diesel fuel respectively.
The current unsubsidised market price for RON95 is RM2.58 per litre while diesel is RM2.52 per litre.
The increase was announced by the Prime Minister's Department on Wednesday, 1 October 2014 as reported by the Star and other Malaysian dailies.
All this writer can say is that after two years of saving hard whilst I took the KTM/LRT combo to work everyday, and being stuck in a stalled tram at least once a week, I was finally able afford a downpayment on a car – there are few things less scary to me than going back to our city's less than perfect public transport again.
"This move is in line with the subsidy rationalisation plan by the government to ensure that the country's finance remain strong," the Ministry said in a statement on Wednesday.