We've all heard the saying that "health is wealth". This old proverb is often taken to mean that you should value your well-being and fitness over money and material gain. However, sometimes being healthy can literally translate to having more money in your pocket. That is to say, maintaining a healthy lifestyle can actually save you money. Given a chance to stay healthy and lower your premiums, would you grab it?
Fit to Fight Away the Bills & Pills
Keeping active and fit decreases your chances of injury and contracting diseases. The boost to your immune system also means you're less likely to fall sick or if you do, you would be able to recover much faster. All this means that you'd be saving money on expensive medication and physical therapy, since there's less chance of you needing it.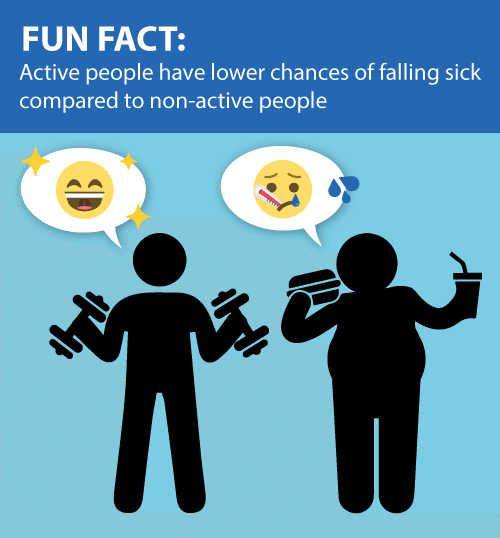 Fit for More Freedom of Employment
Not enough people think about this, but chasing career opportunities requires one to be of good health too. Jobs that require frequent travel, long commutes, or just physical labour will be less accessible to those who don't take good care of their health. You would definitely be a lot wealthier if you can do more jobs than you could with a fit body.
Fit to Step up for Rewards
According to the World Health Organisation, walking is a crucial pillar to lifelong health. On average, Malaysians only walk 3,963 steps a day, making it one of the lowest average daily step count countries. So why not get your feet moving and get rewarded for it? Sounds awesome, right?
RHB Insurance is collaborating with BookDoc, an online platform that operates across the healthcare continuum connecting patients to healthcare professionals anytime and anywhere, aiming to cultivate healthy living habits by introducing a special wellness programme "Live Activ" for their medical insurance customers.
This application connects patients with medical care professionals while also allowing a fitness tracker to access the user's average daily steps alongside other measurable metrics. The programme offers attractive premiums to users who take care and maintain their health as well.
Fit to Lower Your Risk Profile
As most people know, insurance premiums depend on how risky your profile is as a policyholder. Your premiums would be lower if you're younger, and yes, healthier. So the smoker among you might consider quitting to lower your insurance premiums.
Another way RHB Insurance encourages a healthy and active lifestyle is through their MediSure Supreme Insurance. You are entitled for a guaranteed renewal up to 100 years old in the event of no claims after 1st policy year. You can even opt for a discounted plan up to 75% of your premium if you are looking for a cheaper premium but same coverage offers.
As you can see, staying healthy can save you tons of money, even on insurance premiums. If you need more information about MediSure Supreme, you can check out RHB's official website right here.