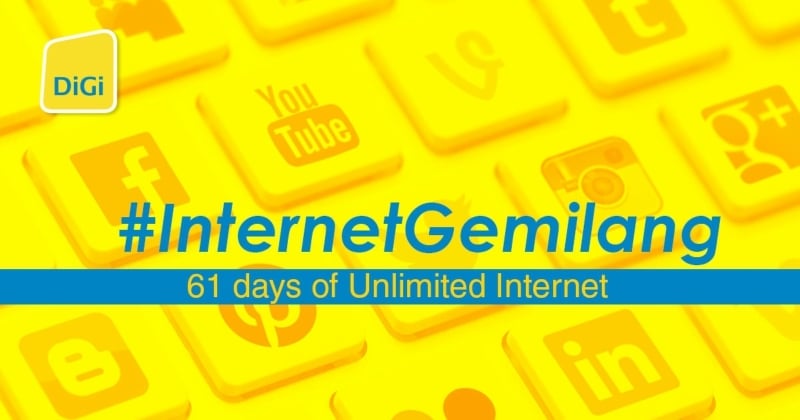 Digi customers can now enjoy unlimited internet access from 12AM to 12PM under Digi's #InternetGemilang campaign. The promotion, which runs from 1 August to 30 September, is part the telco's celebration of the upcoming National Day.
In the FAQ page on Digi's website, this promotion is applicable to new and existing customers of the following internet plans:
Principal Postpaid Mobile and Broadband rate plans worth RM38 and above,
Monthly Prepaid Internet plans RM38 and above, and
Prepaid Digi Home Broadband Monthly RM60.

Existing customers of these plans are automatically given the unlimited free internet access without the need for a manual activation. Customers of the Digi Super Tererrr 38 and 58 will be given extra 2GB of data if they activate or renew their plans during the campaign period.
However, there are some restrictions to the unlimited internet access offer. One of these restrictions is that customers can only use the unlimited internet access from 12AM to 12PM and any usage of data after the period will be consumed from the customer's existing internet quota. Additionally, customers cannot share the unlimited internet with their supplementary lines.
Besides that, customers are not able to use the unlimited internet for tethering and peer-to-peer downloads. That said, the FAQ page states that Digi Broadband subscribers on the eligible plans can use the unlimited internet for hotspot and peer-to-peer downloads.
(Source: SoyaCincau)