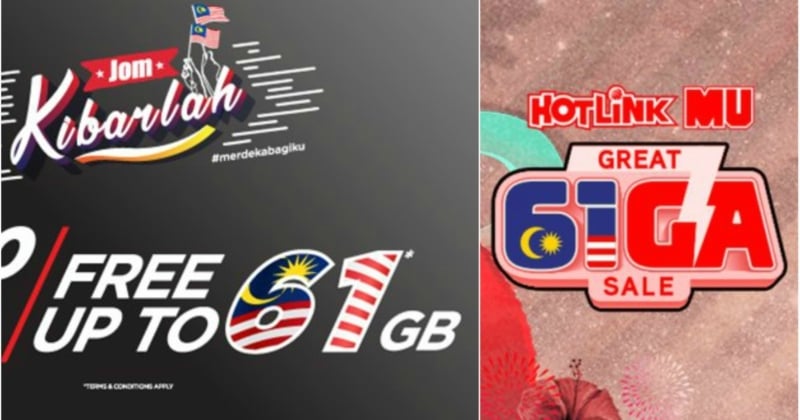 In lieu of the upcoming Merdeka Day, two telco companies are currently offering up to 61GB of free data to their customers. Tune Talk's Jom Kibarlah and Hotlink's HotlinkMU Giga Sale campaigns reward customers with the generous data allocation, for a limited time.


(Image: Tune Talk)
Under the Jom Kibarlah campaign which runs until 16 September, Tune Talk is offering new customers a total of 61GB of data in two ways. The first is for new customers who purchase a new Tune Talk SIM, and they will receive 36GB of data on the first month, and 5GB for the following two months, which amounts to a total of 46GB of data. The other offer is reserved for customers who port in their existing numbers from other telco companies, where they will be given 36GB for the first month and 5GB for each of the next five months.For both offers, customers need to top up at least RM30 to be eligible for the free data.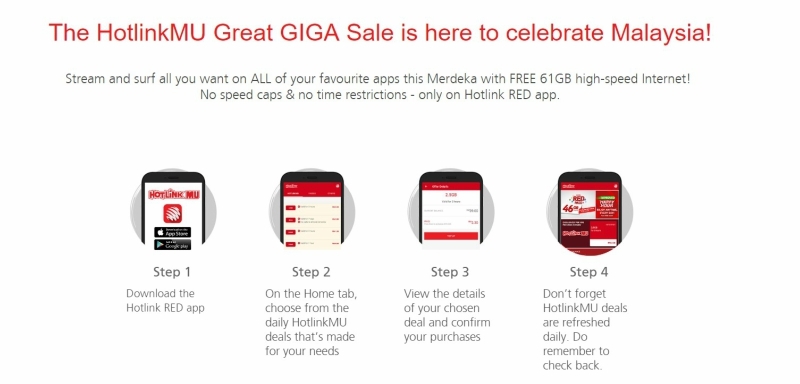 (Image: Hotlink)
Meanwhile, Hotlink customers can get 61GB of free data if they purchase any HotlinkMU deals via the Hotlink Red App during the promotion period. All customers need to do is to download the app from either the Apple App Store or Google Play Store and purchase any of the HotlinkMU deals. The HotlinkMU deals are personalised deals that are based on the customers' usage behaviour, and are refreshed daily. Therefore, the 61GB offer differs for each customer – no two customers would receive the same offer, but each deal during the promotion period will include the additional 61GB of data, and will have a validity period that follows the original deal. The free 61GB promotion ends on 20 September.
(Source: SoyaCincau (1) and (2))