We all use our smartphone for everything, which means we all subscribe to our own telco plans. With all the ways our smartphones make our lives easier, how come the telco plans we use are often so annoying? If you're feeling quite comfortable with your plan right now and aren't quite sure what we mean, allow us to remind you the weird ways in which telco plans are configured and why we think it should change.
Your Unused Minutes, Texts Messages, and Data Are Burned Off
You're familiar with having, say, 100 minutes of talking time but only for a limited period, yes? Or maybe 50 text messages but they expire next month. Or perhaps Telco M gives you 30GB, however, you can only use a maximum of 15GB on weekends. This is normal. But isn't it annoying?
For one thing, you've paid for these services. Why can't you just use them even if it takes you a while to do so? Text messages, phone calls, and data aren't like fruit or vegetables, they don't rot if you leave them out too long. So why do they even have expiry dates in the first place?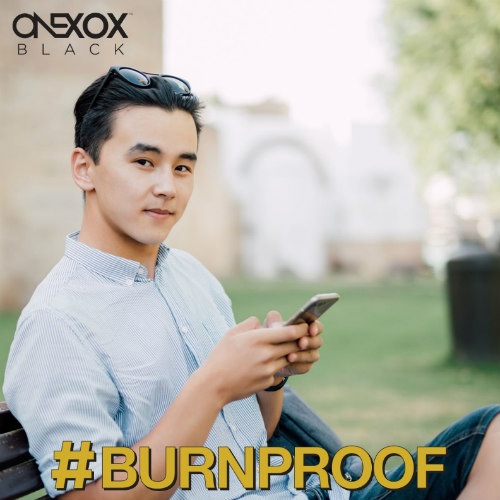 With a plan like ONEXOX Black, you don't have to worry about expiry dates. All the data, text messages, and talktime you don't use in one month will still be available for you in the next month. That's right, #BurnProof. This means you get to use all of the services you paid for with absolutely zero wastage. No more rushing to call people at weird hours or watching HD video unnecessarily. Just use as much as you want, when you want to.
You're Tied to a Contract
When you first subscribe to a telco plan, you're bound to it for a certain period of time. So let's say you're a new subscriber to the Telco A plan, and you're bound for the first 2 years. But before that period is up, you realise that the signal keeps dropping off and you want to stop using this plan. You can't just unsubscribe.
The typical cancellation penalty for doing so before the period is over is 10% of how much you're meant to pay in that duration. So if you're paying RM80 per month and you're bound for 2 years, if you want to leave early, you may have to pay a RM200 cancellation fee. You're paying the telco to not give you anymore service. How does that even make sense?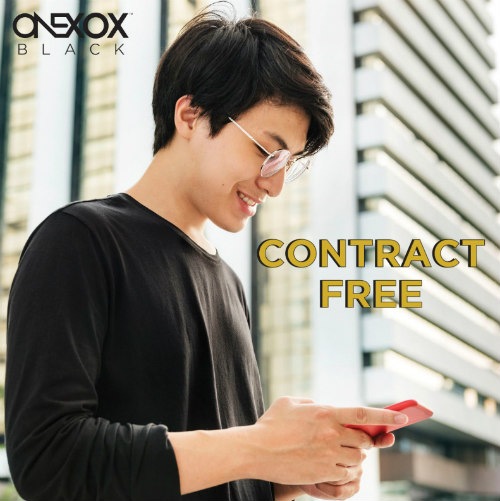 Thankfully, a plan like ONEXOX Black doesn't bind you under a contract that way. You're contract-free and have the flexibility of cancelling any time you want, with no need to worry about cancellation fees, double billing, or any of that nonsense.
Limited High Speed Internet
Another thing about mobile data plans is that they often only offer you high speed internet at certain times of day or certain days of the week. So when you want to do some heavy surfing or messaging outside of these hours, your speed might get throttled.
The idea behind this makes a certain kind of sense. More high-speed internet on the weekends since you're freer to do what you want outside of work hours, right? But not everybody has the same workweeks as everybody else. What if you take a long weekend? What if you switch from the night shift to the morning shift sometimes? Suddenly this "clever" allocation of data is not so smart.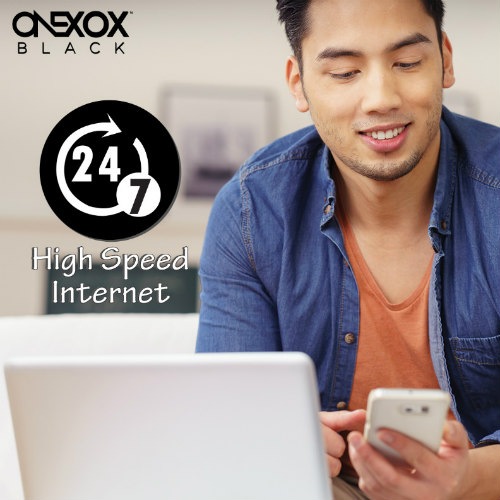 Good thing that the ONEXOX BLACK plan offers you high-speed internet 24 hours a day. That's right. Any time of day, any day of the week. You're free to use as much data as you like whenever you want to. This, along with the freedom of not being bound by a contract, and not having to worry about your data being burned off, means it's the one plan that gives you absolute freedom to enjoy your life online as you see fit.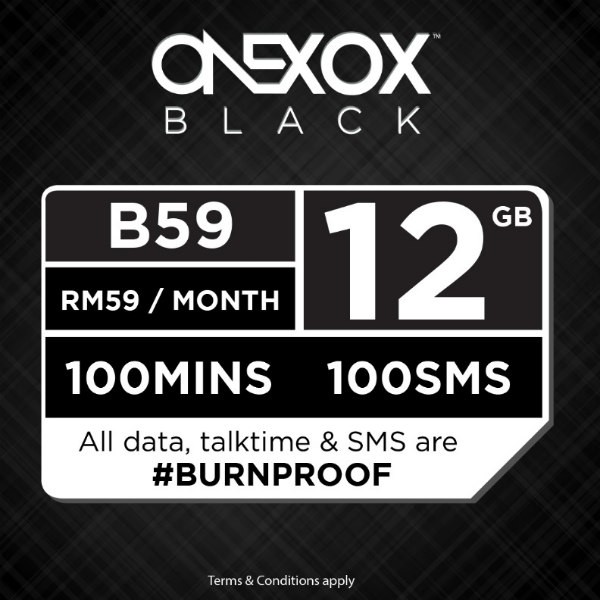 Right now, the ONEXOX BLACK plan comes in three flavours. The one that gives you the most data (12GB), talktime (100 minutes), and SMS (100) per month is the B59 plan which only costs you RM59 every month. A steal when you factor in all the other advantages we just mentioned.
If you're interested in the ONEXOX BLACK plan, you can visit their official website to know more. Or you can go to their online store and sign up right now by clicking here.
<a href="http://xox.com.my/onexox-black/"target="_blank">