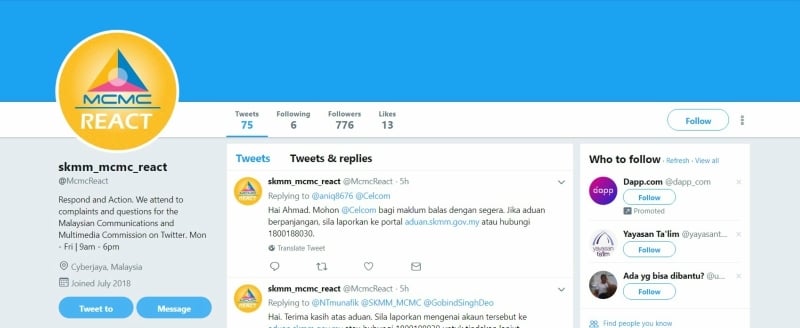 The public can now send their internet-related complaints to the Malaysian Communication and Multimedia Commission (MCMC) via a very new channel: Twitter. MCMC has set up a new Twitter page, "MCMC React" to make it easier for Malaysians to voice their complaints and enquiries to the commission.
Malaysian Twitter users can tweet to the MCMC regarding spam calls, poor internet connections, and disputes with telco companies. All they need to do is to mention the @MCMCReact tag in their complaint or enquiry tweets. To accelerate the process, MCMC recommends users to provide more details on their complaints, like affected phone numbers and housing area.
Besides Twitter, which has a 280-character limit, the commission also encourages the public to send their complaints to its Helpline (1800-18-8030), WhatsApp (016-2206262), email ([email protected]), or its dedicated website.
(Source: The Star)