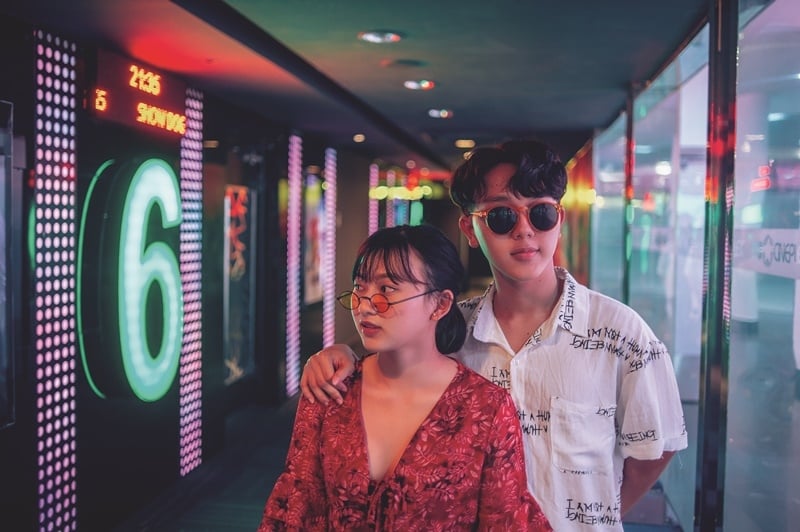 We Malaysians love going to the cinema, but it can get boring sitting in the same typical seats every time. If you're willing to pay a bit (or a lot) more to bump your cinematic experience up a class or two, give premium cinema seats a shot. Premium cinema halls offer luxurious seats, blankets, table service, and even lounges for you to wait in before your movie begins.
Naturally, these added privileges will cost you more than the average RM15–20 for a standard ticket, so which premium cinema is worth the added expense? It's very expensive to try out all the premium cinemas in town just to know which is best, but as part of this very important research, we tried out six different premium-class cinemas in the Klang Valley and rated them for your convenience. Here's what we found.
1) TGV LUXE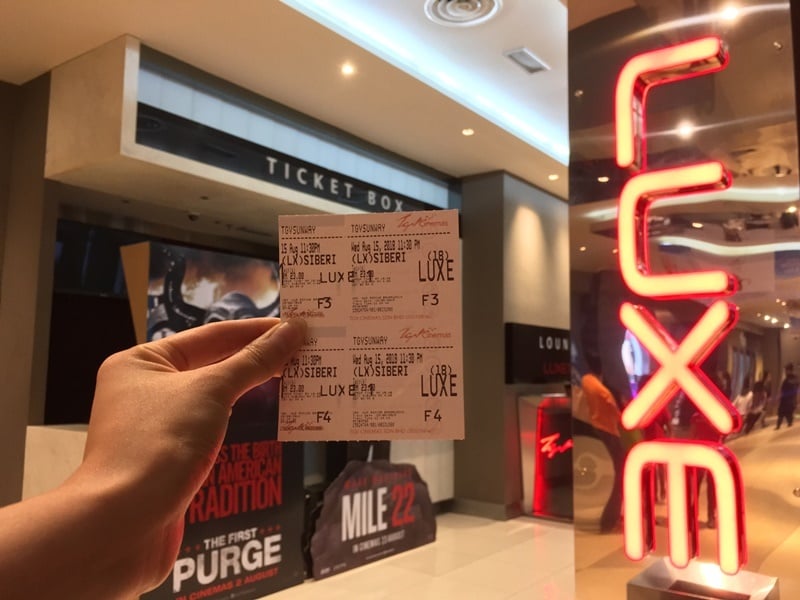 | | |
| --- | --- |
| Price | RM23 |
| Lounge | ★★ |
| Appearance | ★★★ |
| Comfort | ★ |
| Value for money | ★★★ |
| Reviewed outlet | Sunway Pyramid |
TGV LUXE is the cheapest premium cinema in this list. It does have a waiting lounge, but it doesn't have the food services, blankets, or ultra-comfortable chairs offered by the other premium cinemas we went to. One thing TGV LUXE does have to set it apart from a standard cinema, however, is the ample amount of space. If arm and leg room is very important to you, you'd probably be happy paying a little more for the extra-wide seats.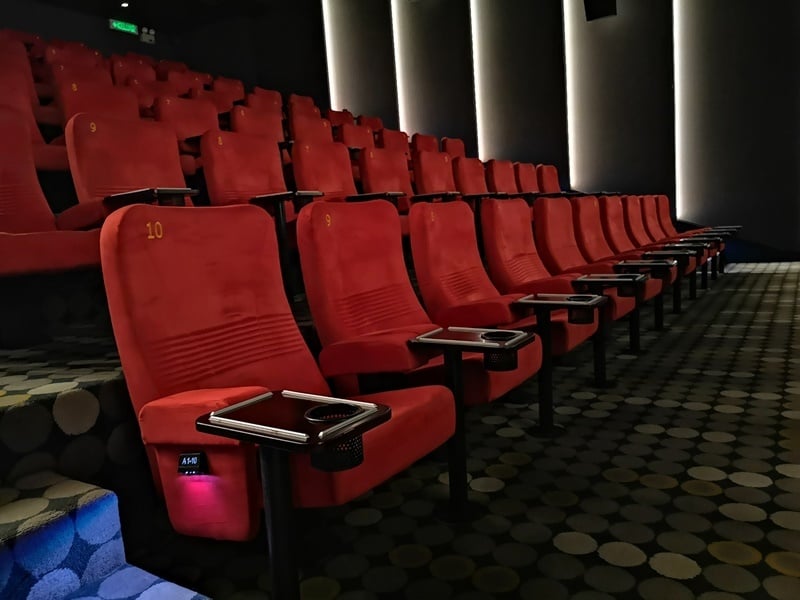 The seating layout for TGV LUXE is similar to most standard cinema halls, with the first two rows at the top consisting of twin seats. Couples will be glad to hear that for TGV LUXE, twin seats are priced the same as regular seats. However, we felt that the twin seats in our hall were much less comfortable than the regular LUXE seats, which weren't extraordinarily plush to begin with; the twin seats aren't velvet-clad, and they are a lot harder than the regular seats.
2) GSC Premiere Class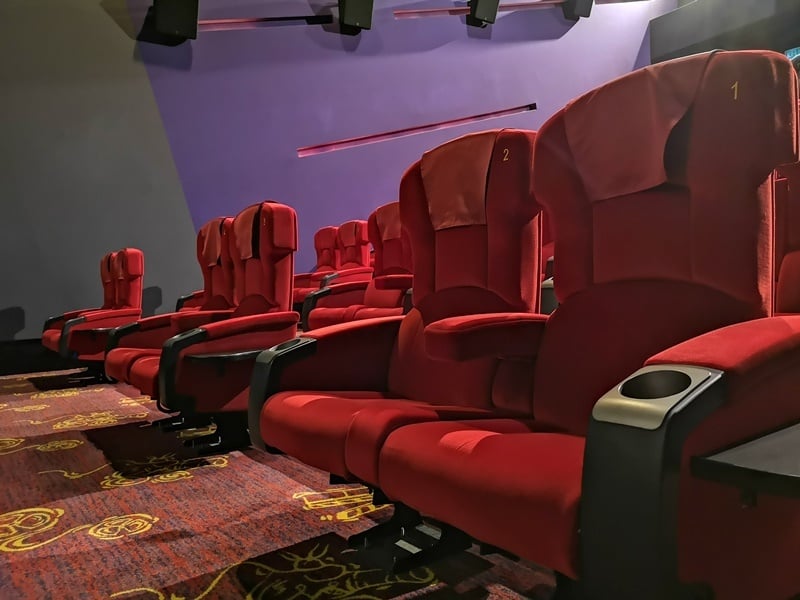 | | |
| --- | --- |
| Price | RM32.50 |
| Lounge | ★ |
| Appearance | ★★ |
| Comfort | ★★ |
| Value for money | ★★ |
| Reviewed outlet | Signature @ The Gardens |
GSC Premiere Class is pretty much a hall full of couple seats. The seats are comfortable and spacious, but if you were expecting armchairs for this premium class cinema, you would be disappointed. The seats look a lot like the normal, non-reclining twin seats you would find in a standard GSC cinema hall. Despite looking the same, however, the seats in GSC Premiere Class cost about RM10 more than twin seats in a standard GSC cinema.
On top of that, GSC Premiere Class doesn't offer any special food services and its seats only have normal cup holders instead of the little tables you would find at other premium cinemas. Still, you would probably score some fancy points on your trip here as GSC Premiere Class is only available at the more elite GSC Signature outlets. Be warned, though – despite its supposedly fancier branding, you may find the entrance and waiting area slightly underwhelming.
3) mmCineplexes Platinum Movie Suites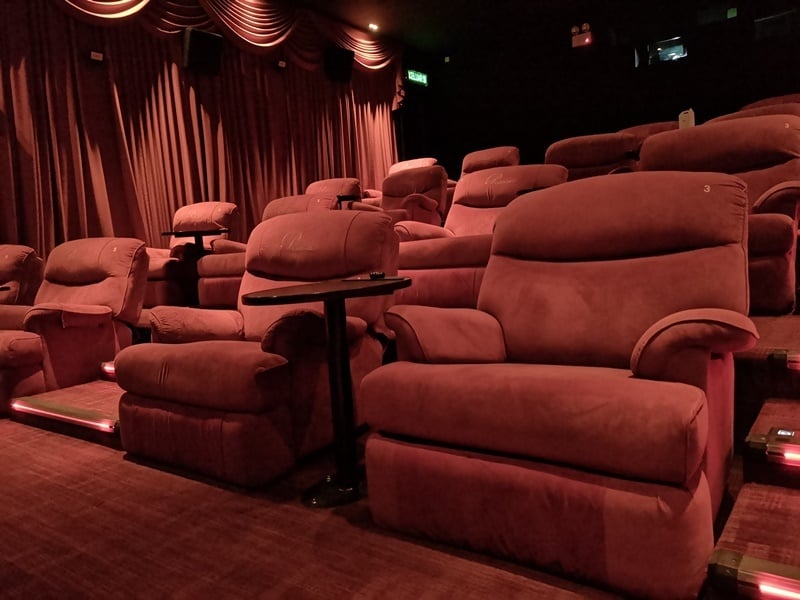 | | |
| --- | --- |
| Price | RM40 |
| Lounge | ★★★★★ |
| Appearance | ★★★ |
| Comfort | ★★★★ |
| Value for money | ★★★ |
| Reviewed outlet | eCurve, Damansara |
The Platinum Suites is the lowest-priced premium cinema that has reclining armchairs as seats. The armchairs are made of suede material and are great to kick back in with a blanket, which you'll have to pay an extra RM5 to rent one. If you're there with a date, don't expect to get too close – the seats are set out in pairs, but there will still be a gap and a table between your armchairs. Overall, the seating arrangement is very spacious, so it's perfect for those who don't like cramped spaces.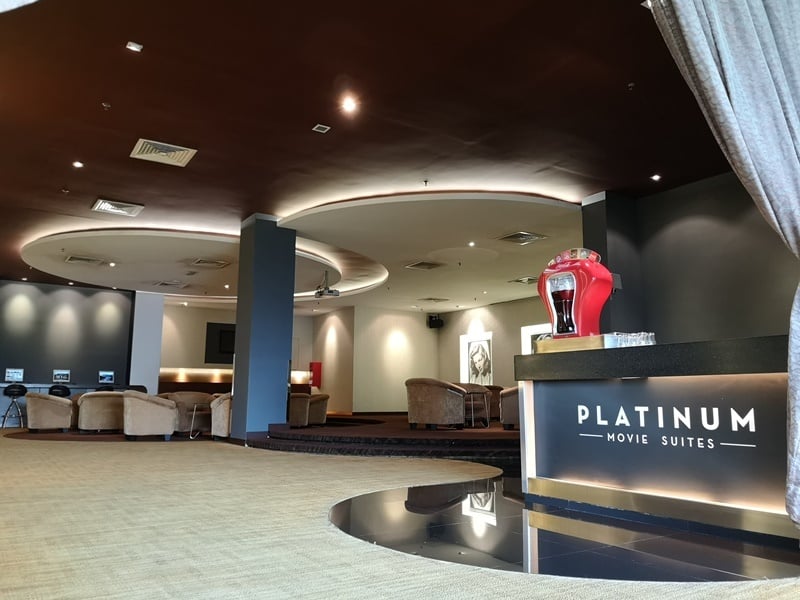 The main highlight of the Platinum Suites isn't the cinema hall itself, but its lounge. Decorated with choice lighting and framed portraits of old-school movie stars, this is one lounge worth waiting in for its aesthetic value alone. Better yet, it has a free-flow drinks fountain where you can help yourself to soft drinks before your movie starts.
4) MBO Premier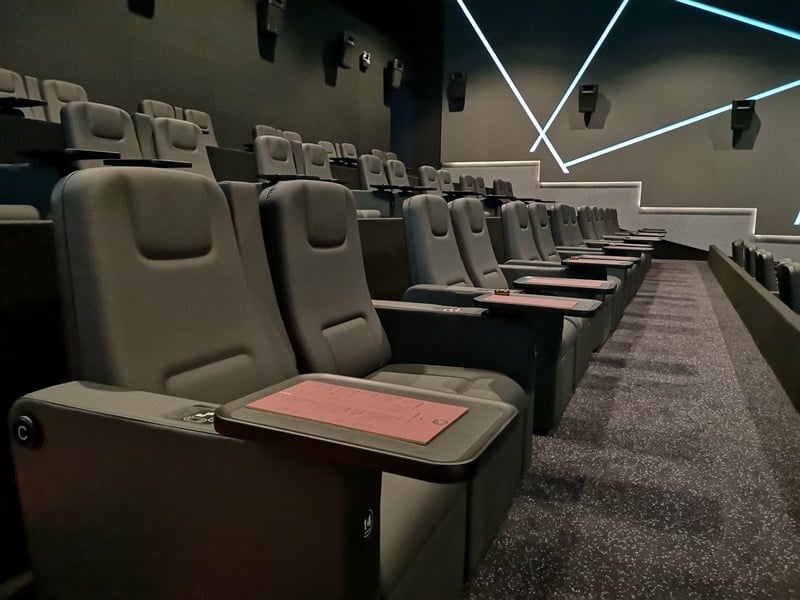 | | |
| --- | --- |
| Price | RM47.45 |
| Lounge | ★★★★ |
| Appearance | ★★★★ |
| Comfort | ★★★ |
| Value for money | ★★★★ |
| Reviewed outlet | The Starling Mall |
Not many people are aware that MBO Cinemas, which is known for its affordable cinema tickets, also has premium cinema halls. Similar to GSC Premiere Class, it adopts the twin seat layout, but its chairs win out over GSC as they are leather-clad, fully reclinable, and come with a moveable table at the side. Each table is equipped with a fancy-looking menu and a call service button; food service throughout the movie is available at MBO Premier for a much lower price than other premium cinemas.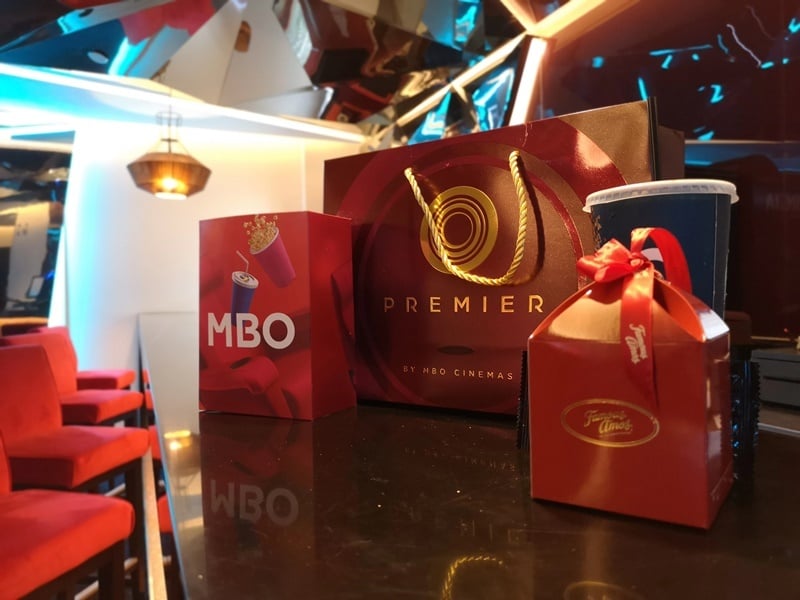 The best part is that each MBO Premier ticket comes with popcorn, a soft drink, a snack (this time it was a bag of Famous Amos cookies), and moist towelette neatly packed in a paper carrier bag. This MBO Premier pack really makes your ticket worth more for your money. If only MBO also threw in complimentary use of a blanket instead of charging RM8 for renting one, it would definitely be the best premium cinema deal out there.
5) GSC Gold Class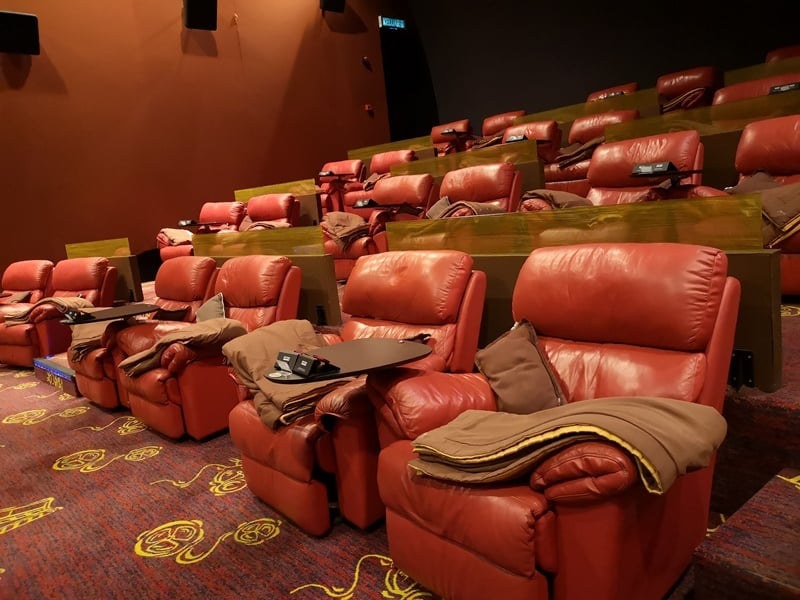 | | |
| --- | --- |
| Price | RM70 (RM50.50 without Gold Class Privilege) |
| Lounge | ★★ |
| Appearance | ★★ |
| Comfort | ★★★★ |
| Value for money | ★ |
| Reviewed outlet | Signature @ The Gardens |
GSC Gold Class prides itself on being the first premium-class auditorium with an attached lounge in Malaysia. The cinema's reclining leather armchairs are as wide and comfortable as advertised, but unfortunately the ones at Signature @ The Gardens seemed like they had seen better days. The seats are laid out in the same two-by-two fashion as The Platinum Suites, but with much less generosity in terms of space. Each shared table in GSC Gold Class is equipped with a call button and the Gold Class staff provided good service throughout.
RM70 is what you have to pay if you wish to receive the "Gold Class Privilege"– a hot beverage and the use of a blanket. In terms of value for money, GSC Gold Class is a poor contender because for about the same amount at TGV INDULGE, you get a two-course meal. Even if you choose to pay less and do without the drink and blanket, RM50 is still quite a lot to fork out just to watch a movie in reclining chairs – especially if the Gold Class outlet you go to looks like it needs an appearance revamp.
6) TGV INDULGE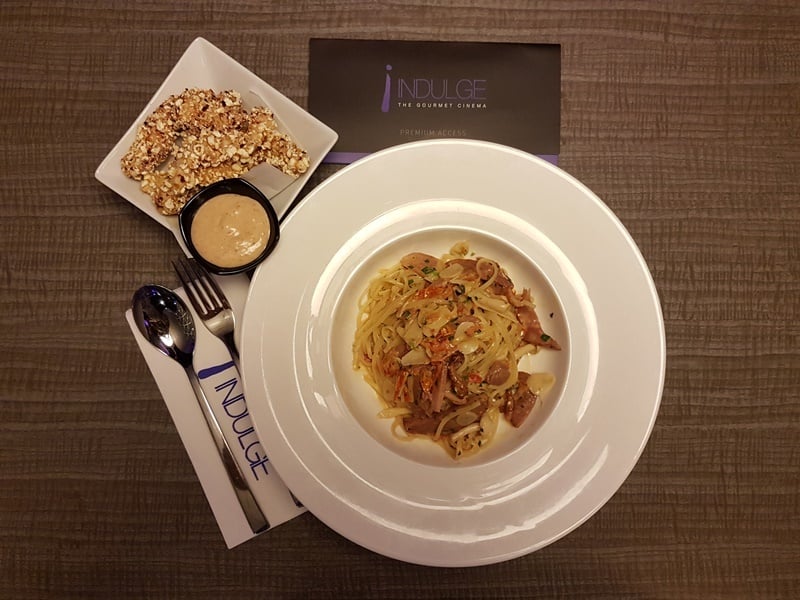 | | |
| --- | --- |
| Price | RM74 (RM52 without Indulge Dining Set) |
| Lounge | ★★★★ |
| Appearance | ★★★★ |
| Comfort | ★★★★★ |
| Value for money | ★★ |
| Reviewed outlet | 1 Utama Shopping Centre |
TGV INDULGE sets itself apart from other premium cinemas by hyping its "gourmet cinema experience" – basically, you get to eat full meals at the lounge before your movie starts or in the cinema at any point during your movie. The INDULGE Dining Set includes a starter and main, but sadly, no drinks. To make the whole process of ordering food from your seat even easier, your side table not only has a service button, but also a card terminal with Visa payWave function.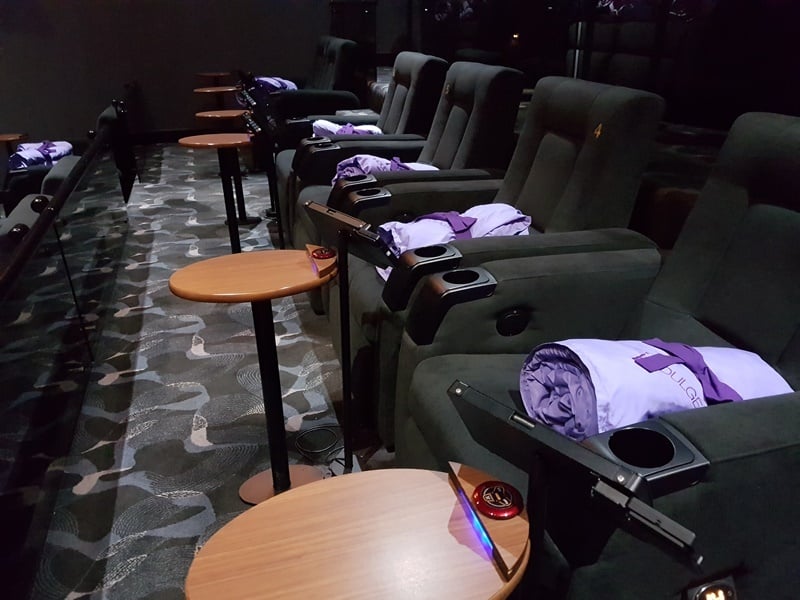 However, no matter how much of a novelty it is, eating lamb shank in a dark cinema hall is a difficult task. If you opt out of the gourmet aspect, INDULGE wins in terms of comfort. The blankets that are included in the basic ticket price are warm and snuggly, the reclining chairs are very cosy, and each hall has both twin and non-twin seat options. So, instead of making a mess of yourself, it may be better to just skip the meal option – you get to save RM20 and enjoy the luxurious seats in peace.
Which is the best premium cinema experience?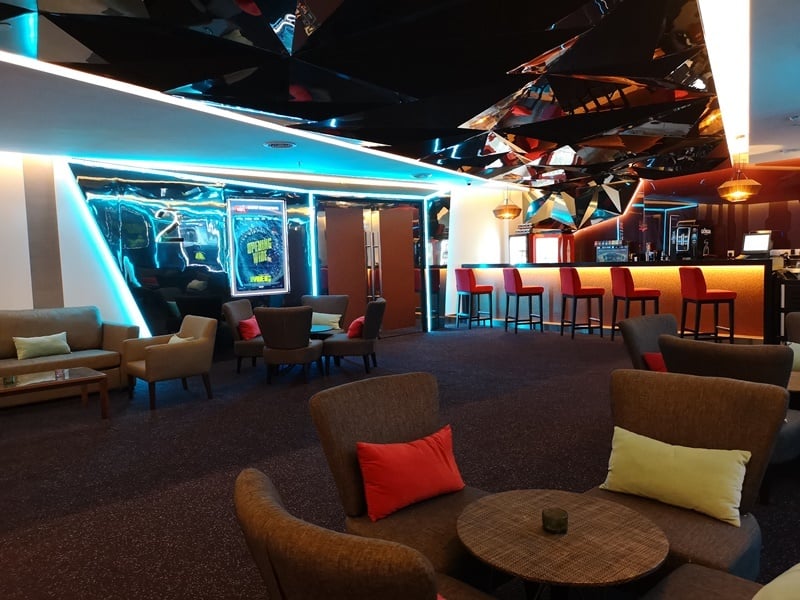 It's a good thing that Malaysians have a wide range of premium cinemas to choose from. You have the option to pay just a little more for extra legroom, or go all the way and spend over RM70 on a two-course meal in a reclinable armchair – while enjoying the movie. But, it's important to note that ticket prices fluctuate according to cinema location, the day of the week, and the movie you are watching. For clarity, the prices quoted in this article are for the weekend screenings we went to within the Klang Valley.
After due deliberation, we found that there was no clear "best premium cinema in KL" – each of the cinemas we reviewed had their fair share of pros and cons. That said, MBO Premier takes the lead in terms of value for money. It doesn't have the classiest seats, but its seats are reclinable and each ticket includes a snack combo at no additional charge. On a separate note, the spacious interior and classy lounge at The Platinum Suites at mmCineplexes pleasantly surprised us. But the luxurious TGV INDULGE still takes the crown in terms of comfort – the twin seats at TGV INDULGE are the way to go if you want to make an impression on your date.
At the end of the day, it all comes down to your personal preference and how much you're willing to spend for a better experience – we hope this review helps the next time you're planning an "atas" movie escapade!
*Disclaimer: Prices are correct at the time of writing.