Movie ticket prices have been escalating from year to year. They have adopted surcharges for peak movies and other types of ancillary/surcharges that make up the entire movie ticket. Despite even regular tickets being rather too hot for most pockets; movie theatres tend to have special, luxury halls where tickets can sky-rocket to nearly 3x the usual rate.
These halls promise comfier seats, snacks and drinks but mostly; a respite from the loud 5 year old who shouldn't be in an 18+ movie anyway. That said, is it really worth the inflated price? The only way to find out is to try it and try it, this writer did. Four premium tickets (3 cinema chains), a much lighter pocket but a significantly happier girlfriend later, I bring you this article.
Gold Class (GSC)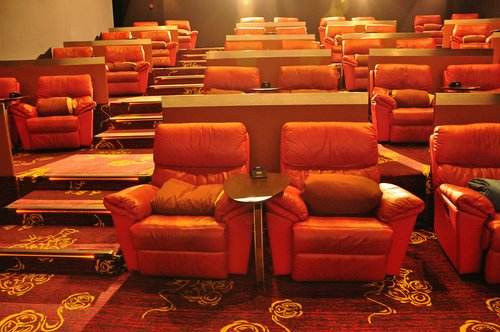 Approximately RM58 for a movie ticket (Deadpool – prices may vary for different movies), the price tag sets the expectations of the ultimate movie experience. It gives you a nice reclining chair with some comfy blankets to go along with it. If you had this idea of a first date and wanted to spend some time getting a little closer, then you would be disappointed as it is basically made out of two single seaters set side by side.
These chairs are nice and roomy, but it makes you wonder through-out the movie about paying approximately RM120 (excluding concessionaire snacks) for a reclining chair and a blanket. Then you remind yourself that you are the smooth operator and showing your date an awesome time requires you to splurge. Well smooth operator, you'd probably be getting a good night wink and thumbs up if this was your first date. Impressive, but maybe it should have been more about the two of you rather than staring at a screen with Ryan Reynolds being the hero of the night.
Indulge (TGV)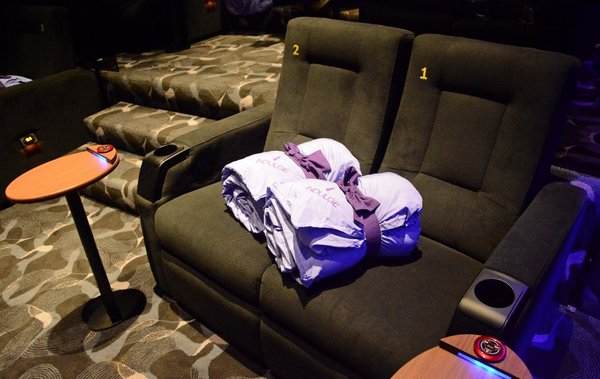 This is where movies meet elegance. The movie ticket will cost you RM45 excluding any food offered in the menu. They also offer the option for you to add on a buffet to your movie ticket which you may enjoy after your movie. If you opted for just the movie ticket (cheapskate), you get a reclining chair, blanket and meal options from an almost full-fledged gourmet Western food menu.
We'd like to pose a question, who tucks themselves in to a cozy bed like sofa, gets all snugly under a warm blanket and tries to eat meatball pasta in the dark?
If you do get through that ordeal successfully, at the end of the movie you would probably look like a one year old toddler who fed himself or herself. Imagine that mess. They don't provide you with napkins to put across your lap like most restaurants; however they do give you a big blanket which we now believe may serve a dual purpose.
Luxury and indulgence in mind, the buffet that is offered is, IMO, nowhere close to the value of money you pay. The food selection and serving area are both strangely reminiscent that provided in a bad office canteen rather than the indulgent buffet they promised you.

Beanie (TGV)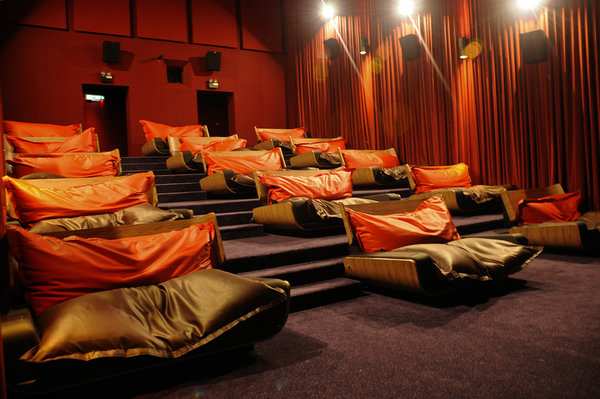 Bean bags are always a good comfortable choice if you like to be sprawled into a sunken soft sack while watching your movie. It cost RM50 for a seat, which seats 2 people, so it is safe to say it is a little bit more inclined to serve couples. It would just be weird to have a 'bros' night out and get all close on a shared bean bag. A couple could cosy-up and get comfortable, having some popcorn while practically lying down on the bean bags. Not a bad scenario as long you don't choke on your snacks.
These seats occasionally offer added entertainment value, on one occasion there was this big guy who threw himself on to the bean bag and launched his tiny girlfriend off the bean bag, almost a foot high. Needless to say that there was a wastage of popcorn. These seats should start coming with a warning "Please lower yourselves simultaneously or very slowly or risk injury".
We have noticed some photos online of beanbags with arm rests in the middle. Not sure where those are but if you do – drop us a message in the comments! Would be useful for friends or singles who don't feel like getting too close to the person next to them!
Platinum Movie Suites (Cathay Cineplex)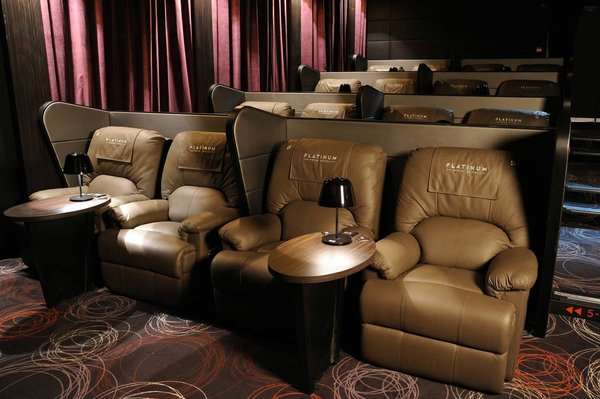 It only cost RM25 per seat but gives you the "basics" in terms of luxury movie experience. It gives you a nice comfortable plush reclining chair without the blanket. How on earth are you going to keep warm? Well, you have the option to rent a blanket from them if you deem it necessary.
Cinemas aren't that cold anymore with so many malls reducing costs by lowering the air-conditioning, but if you really need to keep warm – bring your own. It'll save you the cost! If you're thinking how awful it is to lug a blankie to the cinema, we find this thought rather motivating: how well or often do you reckon they wash it (jokes)?
Well, if not having a blanket and paying extra for a blanket is a deal breaker for you, just bear in mind the premium ticket price at this cineplex is a lot cheaper than the others and they do not force you to take a blanket you probably did not need.
What is Next?
Waterbeds, swing sets, hammock? Possibilities are endless if they wanted to expand the movie experience for people. Movie goers too, crave all types of new experiences that enhance the 2-3 hour lounge in front of the big screen. Premium prices for these experiences are to be expected.
To put this into perspective, it is similar to buying a business class or first class ticket on an airplane. All the extra comforts but at the end of the day, you are going to the same destination and at the same speed as the people sitting in coach. You also enjoy some pre-movie lounges at these cinemas just like you would enjoy the premium lounge if you were flying business class. Elegance and comfort does come with a price.
Some cinemas also serve beer (not halal) to help you (if you're not Muslim!) endure that sappy romance movie your partner forced you to see. Who knows, it may even make you shed a tear or two.
Would you pay for a premium movie ticket experience? Tell us what you think in the comments below.
Disclaimer: the above article is the opinion of the writer and does not necessarily reflect those of RinggitPlus or their affiliates.
Photo credits: omeletteandlatte.wordpress.com, chasingfooddreams.com, thevocket.com, backpackerlee.wordpress.com.