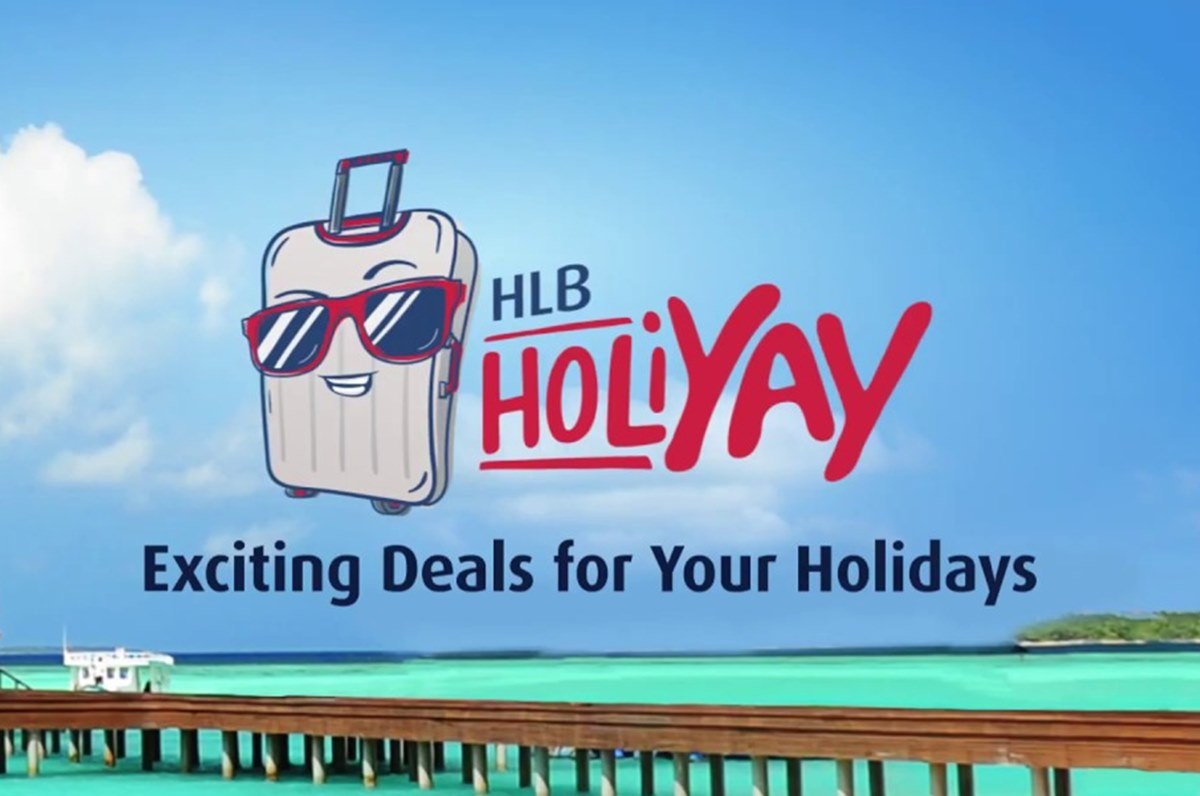 Hong Leong Bank (HLB) has launched an integrated travel lifestyle platform, HLB HoliYay. The site provides HLB cardholders with deals and discounts on a wide variety of travel-related products and services, from flight tickets and hotels to travel insurance and travel experiences.
Here are some of the deals that you can find on the HLB HoliYay site.
Up to 70% off on selected AirAsia flights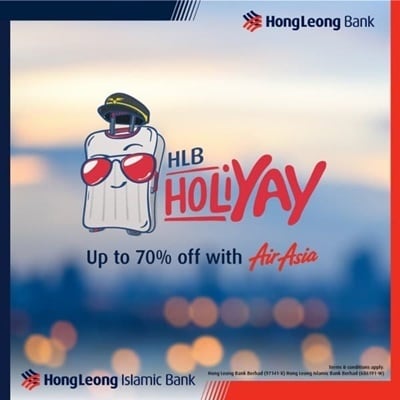 Get up to 70% off with AirAsia when you book a flight using any HLB credit or debit card using the promo code "AAHLB70". This promo is valid for selected destinations including Hong Kong, Singapore, Tokyo, Melbourne, and local destinations. The promo code is currently valid for booking period between 22-24 November 2019 (for travel between 1 July 2020 – 27 January 2021). If you miss the booking window this round, look out for it again next December.
Up to 10% off Economy & Business Class Emirates flights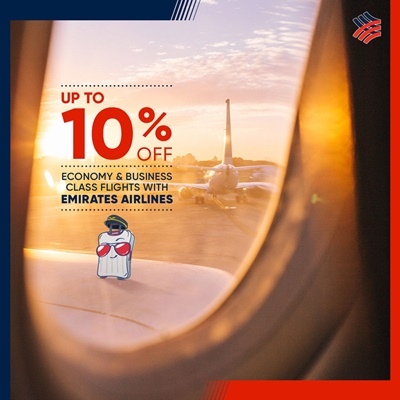 All HLB debit and credit cardholders are eligible for this offer when they make a booking with their HLB card and use the promo code "MYHLBB2". Cardholders get 10% off when they book Flex and Flex+ fares for all destinations except Jeddah and Medina whereas the Saver fare is eligible for 5% discount. Discount covers both Economy and Business Class tickets. The booking period is between 8 November 2019 – 14 June 2020 and the applicable travel period is between 8 November 2019 – 30 November 2020.
Up to 15% off hotel bookings on Agoda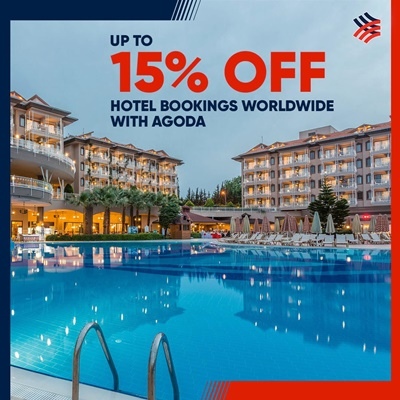 Hong Leong Bank AirAsia, Emirates, or Infinite cardholders are entitled to a 15% discount off their Agoda hotel bookings. HLB Signature and Platinum cardholders get 7% off while those with HLB Gold and Classic credit cards or debit cards are entitled to 5% off. The discount is applicable to bookings made with selected hotels worldwide between 15 October – 31 December 2019 for the stay period of 15 October 2019 – 30 June 2020.
Cashback on overseas dining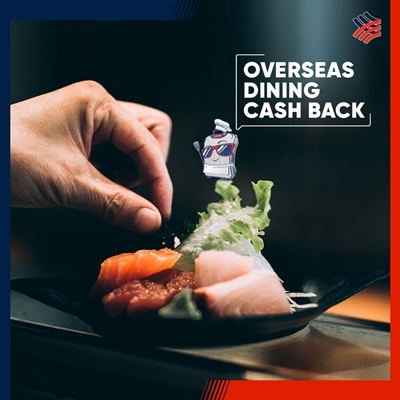 Each time you spend the equivalent of RM350 and above in a single receipt at dining outlets overseas, you will receive RM30 in cashback. All HLB credit or debit cardholders are eligible for this promotion, which is running from 15 October 2019 to 31 December 2019. HLB is offering a total of RM1,000,000 cashback up for grabs with no maximum cashback cap per cardholder.
Other promotions

HLB HoliYay also has other miscellaneous deals listed on the site, such as:
25% off travel insurance purchased via Hong Leong Connect (1 November – 31 January 2020)
Chance to win a smartphone with retail spend in foreign currencies using a HLB Visa debit/credit card (15 October 2019 – 31 December 2019)
0% Flexi Payment Plan for HLB credit cardholders (1 November – 31 January 2020)
10% off on all trips purchased on Halal Trip for HLB Mastercard credit or debit cardholders
20% off Universal Traveller (coming soon)
According to Hong Leong, the deals and promotions on HLB HoliYay will be constantly updated based on the insights from customer spend and needs. The site aims to be a seamless one-stop deals platform with attractive offers that reflect the HLB customer's love of smart travel.
The launch of HLB HoliYay leverages on the increasing travel appetite of Malaysians as well as the two major airlines partnerships credit cards introduced by Hong Leong over the past year. The AirAsia Credit Card was introduced last November, whereas the Emirates HLB Cards were launched in May this year.
(Source: Hong Leong Bank)