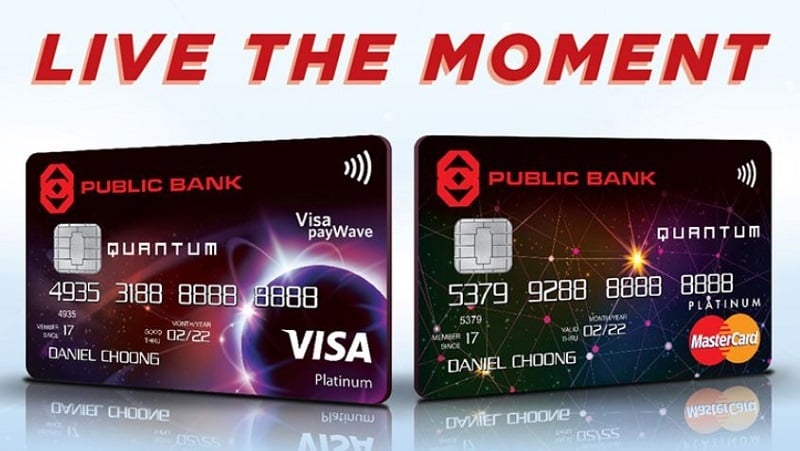 (Update 26/9/2019: With the revision to the Public Bank Quantum Visa and Mastercard effective September 2019, the original review has been edited to accurately reflect the revision.)
Ever since Maybank released its Maybankard 2 Gold and Platinum credit cards, few have been able to challenge them as the "must-have" credit cards thanks to the cards' low entry point and solid benefits. Now, here's a genuine contender – from Public Bank, of all places.
Quantum Leap by Public Bank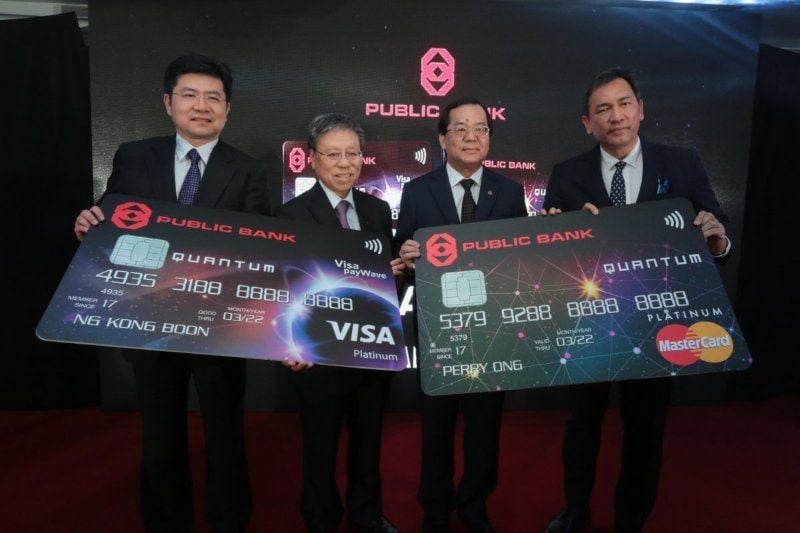 Public Bank isn't popular for its credit cards, and even less so among youths. But with the Quantum Visa and Mastercard, Public Bank specifically designed its benefits to cater to the "Gen Y" of Malaysia, which it believes will be the main economy driver for the country.
Interestingly, Public Bank offers the Quantum cards as a Visa and Mastercard combo; apply for one and you'll get the other. The two cards both offer 5% cashback, but for different categories and capped at RM30 per card. Therefore, the maximum theoretical cashback you can receive every month is RM60.
You will need to keep in mind the categories that apply to the two cards. Effective 1 September 2019, the Public Bank Quantum Visa card offers cashback for contactless transactions above RM30, while the Public Bank Quantum Mastercard offers cashback for online transactions. This revision is quite significant, because even though the cashback categories has been reduced from four to two, the "contactless" category means the Quantum Visa has become a lot more useful.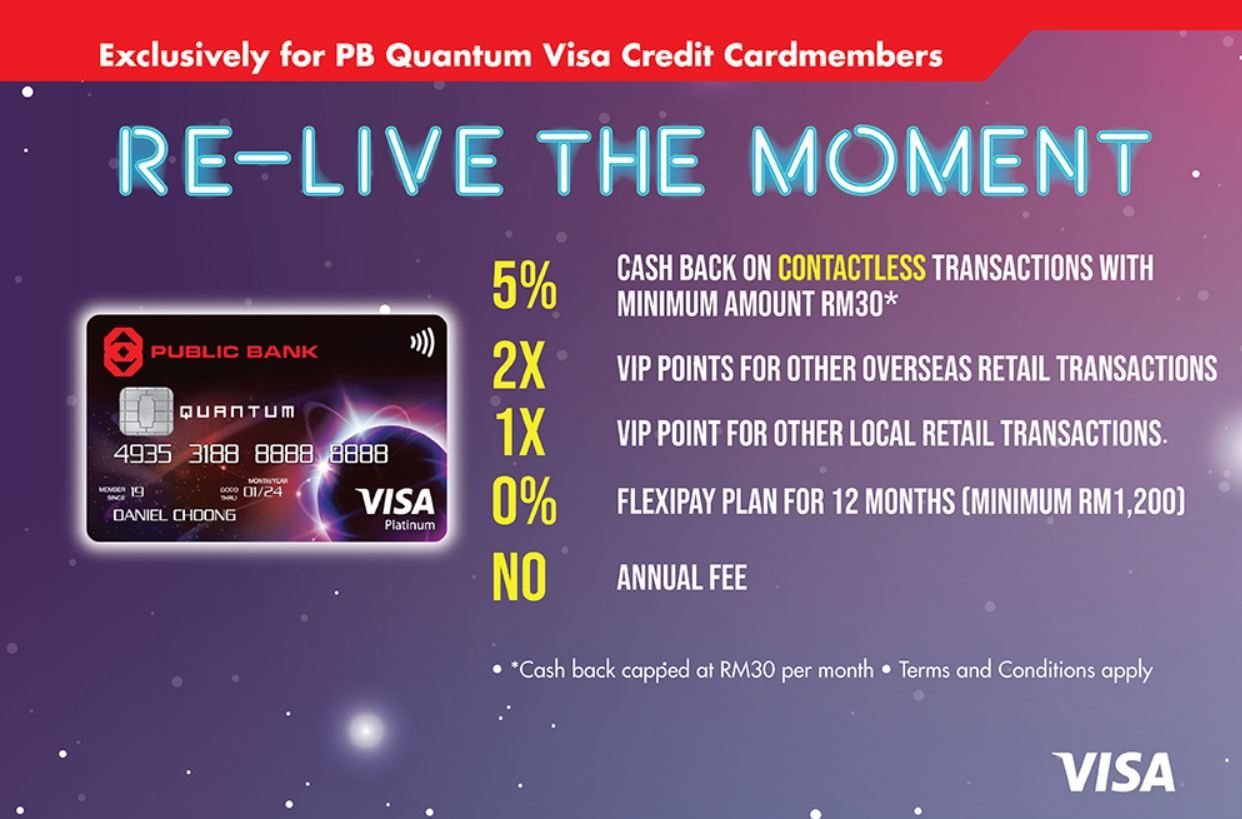 On top of that, you also earn VIP points that can be redeemed for various products as well as air miles. For local spending, you get 1 VIP point for every RM1, while you get 2 VIP points for every RM1 spent overseas. For reference, 10,000 VIP points can be converted to 1,000 Enrich miles or 2,000 AirAsia BIG Points.
For the Quantum Visa, there is an additional condition: cashback is excluded for the following: petrol station (yup, it seems like you won't get cashback for petrol), transactions at University Tunku Abdul Rahman and Tunku Abdul Rahman University College campus, on top of the usual exclusions.
Finally, there's another feature unique to the Quantum cards called the Flexipay plan. Flexipay allows cardholders to convert any purchases above RM1,200 into 0% 12-month installments. This is great for big-ticket purchases and freeing up cashflow, but what's even better is that Flexipay installments are classified as "retail transactions" that follow the same transaction category as the original transaction.
For example, if you purchase a smartphone online with the Quantum Mastercard and converted it using Flexipay by calling Customer Service, each installment payment in the following months will be categorised as "online transactions" (i.e. follows the original transaction category), and thus, be eligible for cashback. (This is still valid as of 26 Sept 2019)

What qualifies as a "contactless transaction"?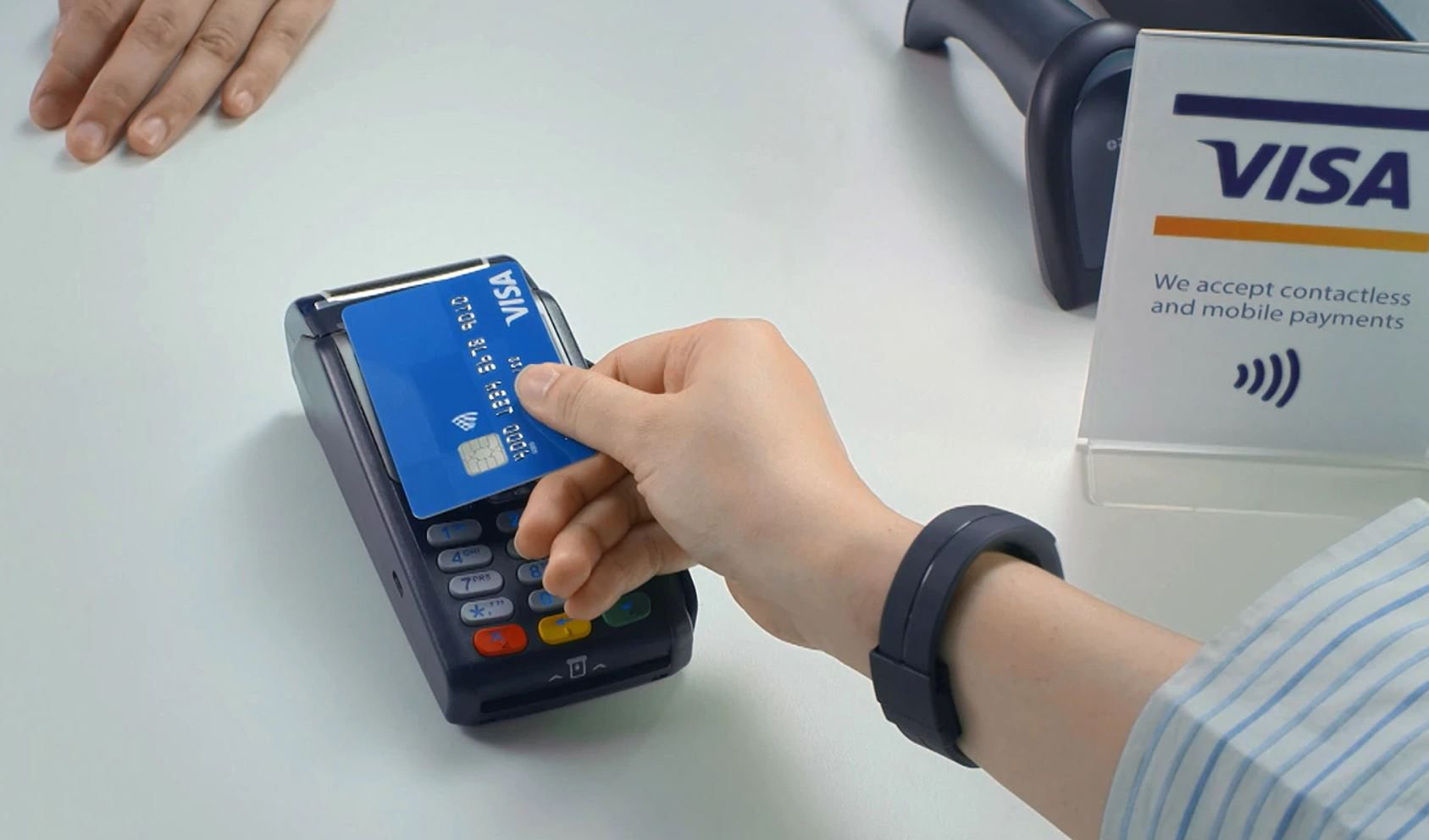 Now, let's clear up a common misconception regarding contactless transactions. While it is well-known that you can tap your card to pay for any transaction below RM250, what happens if you want to pay for something above that amount?
As it turns out, you can still tap to pay – you'll just be prompted to key in your six-digit PIN after tapping the card.
Visa itself clarified this on its website, and the transaction will still be tagged as a "contactless" one which qualifies for cashback (if above RM30). Meanwhile, Samsung Pay users will be glad to know that using their phones to tap and pay also qualifies as a "contactless transaction".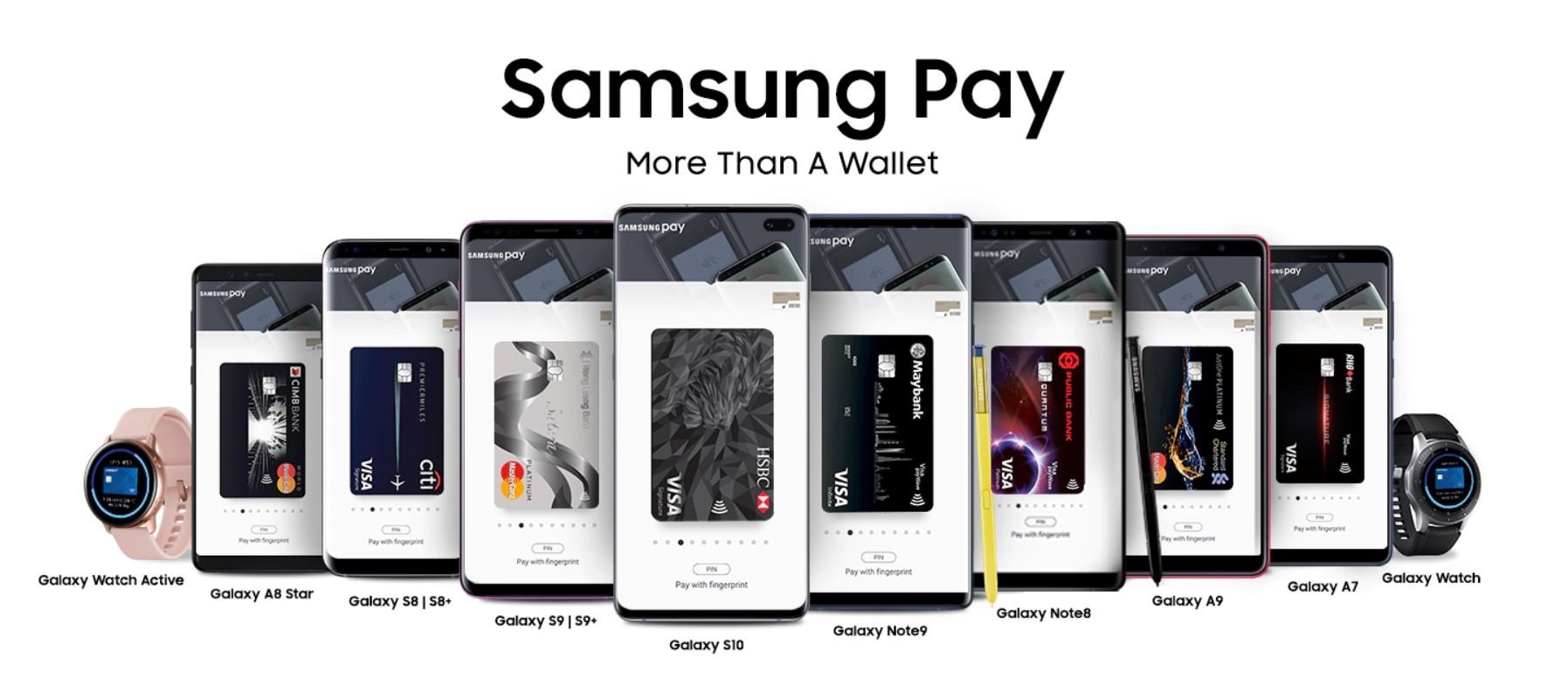 Public Bank and Visa covers the entire thing quite well – you only won't receive cashback if you slot in your card to the card chip reader, or used the card in places where Public Bank has explicitly excluded in the above section.
Entry-level requirements
The Public Bank Quantum credit cards are designed as entry-level cards, and the only requirement is a low minimum annual income of RM36,000 – that's RM3,000 a month. Granted, most entry-level cards have a lower minimum income requirement (such as the Maybankard 2 Gold and the CIMB Cash Rebate Platinum Mastercard), but the benefits of the Quantum cards are on par with the Maybankard 2 Gold, and superior to the CIMB Cash Rebate Platinum Mastercard.
Most importantly, the Public Bank Quantum Visa and Mastercard is free for life! No minimum swipes, no minimum spending required. Note that all credit cards are charged RM25 in SST per year, per card.
Changes for the better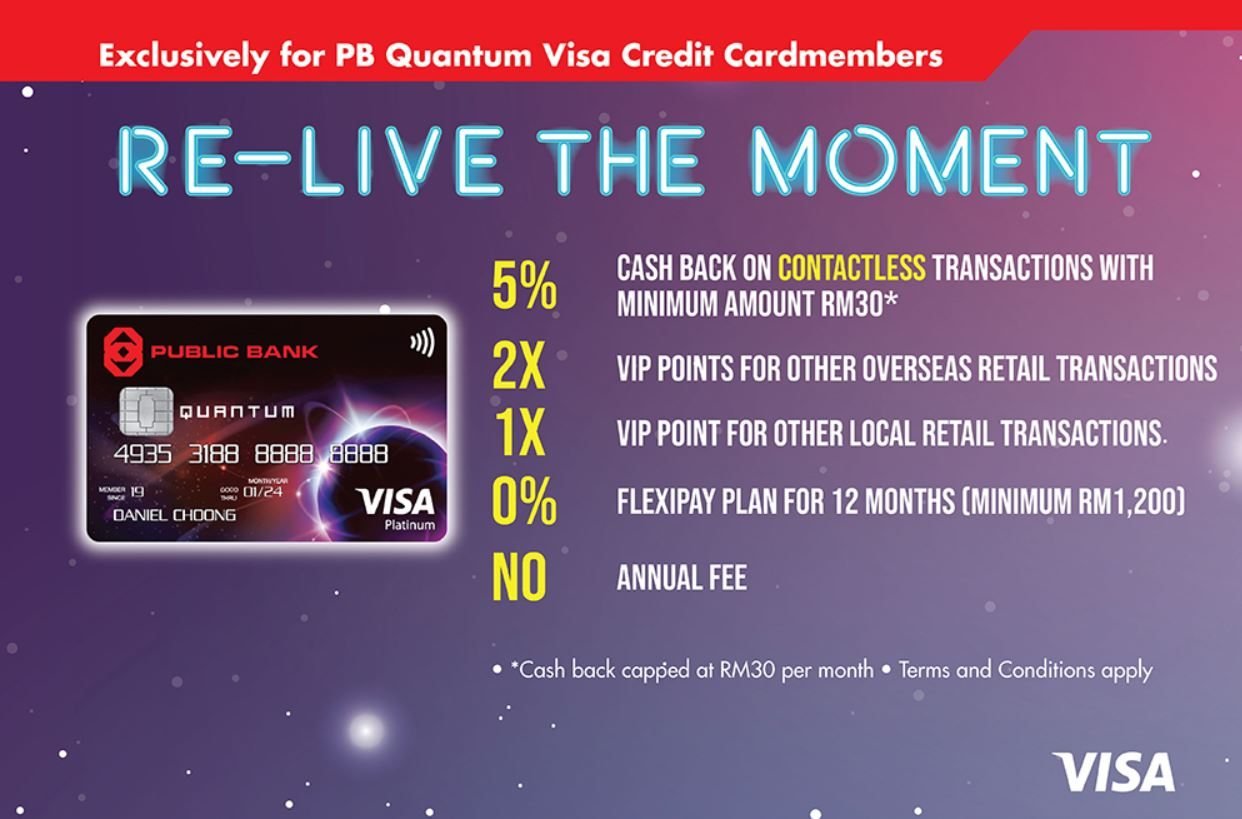 Most revisions to credit card features in recent times has usually been negative. However, in the case of the Quantum cards, the change is actually for the better. Not only are the cashback conditions a lot easier to remember, the revision also makes the Quantum Visa in particular a lot more useful in day-to-day use.
Gone are the less-optimised Groceries and Entertainment categories that most users simply cannot fully make use of. With the Quantum Mastercard's Online and Quantum Visa's Contactless cashback categories, cardholders now have a solid cashback card for online and offline purposes.
There is just one issue with these changes: the lack of cashback eligibility for petrol transactions; even in the original cashback categories, petrol wasn't included. But hey, there are better cards for that.
Public Bank Quantum vs Maybankard 2 Gold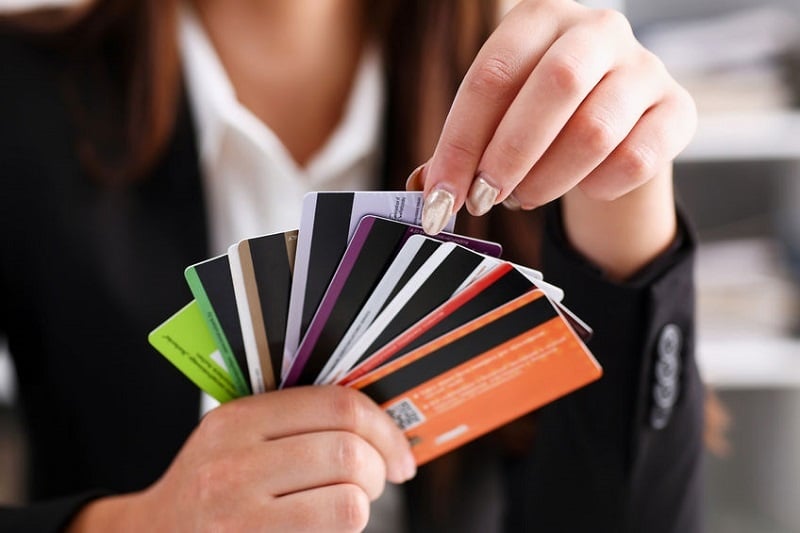 So it does come to this. Between the Public Bank Quantum and the Maybankard 2 Gold, which is the better credit card?
Let's first look at the Maybankard 2 Gold. This is a very popular card for a reason: the American Express card offers 5% weekend cashback on almost any transaction and offers 5X Treats Points for every RM1 spent on weekdays (after the June 2019 revision). The cashback is capped at RM50 per month, but that's not a hard figure to hit when the cashback is eligible for virtually all types of spending (the only exceptions are for government- and education-related payments).
The Maybankard 2 Gold also has a lower minimum annual income at RM30,000 (RM2,500 a month), and the Amex card can be used to get cashback for petrol transactions – the Quantum cards do not offer cashback for this category.
On the other hand, the Public Bank Quantum credit cards can be used any day of the week to be eligible for cashback (Mastercard for online, Visa for offline contactless). And while it is becoming more commonly accepted, there are still a significant number of places that do not accept Amex cards.
Plus, the Mastercard/Visa portion of the Maybank 2 Cards are practically useless, with no cashback nor TreatsPoints multipliers to offer. Public Bank, with its new revision, makes both the Quantum cards worthy of use.
All things considered, perhaps it shouldn't be "Public Bank Quantum vs Maybankard 2 Gold", but rather "Public Bank Quantum and Maybankard 2 Gold". After all, the Maybank 2 Amex can offer cashback for areas where the Quantum cards cannot.
Verdict: The best entry-level credit card combination for cashback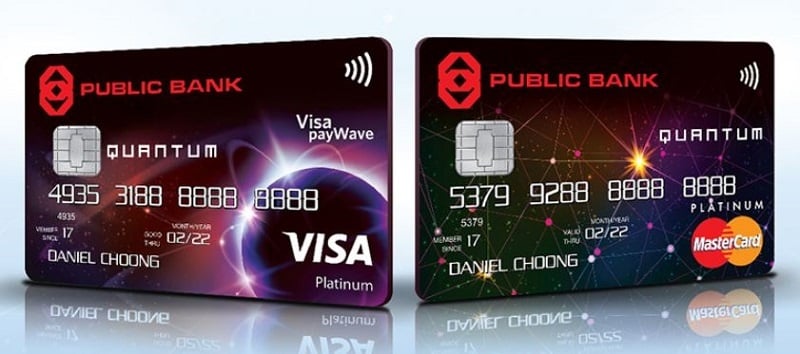 With the September 2019 revision, it is fair to say that Public Bank finally has a credit card (or two) that are better than Maybank's legendary 2 Cards. The Quantum cards have zero annual fees, zero minimum spend requirement for cashback, and both cards are easy to earn cashback with.
In our original review, I said that the Public Bank Quantum cards are "a really useful complement to the Maybankard 2 Gold". Today, it's the other way around.