While a credit card may not be the biggest tool in a
tycoon's arsenal, don't let its trim size deceive you. It's more than just a
piece of plastic; it's a status symbol and a sign of accomplishment. From
exclusive invitation only card memberships to exquisite perks at high end clubs
and retailers, premium credit cards have become akin to luxury cars. So what
credit card or cards does the Malaysian Tycoon have in his wallet? Today we
take a look at three credit cards for the upper echelon of Malaysia's corporate
world.
The Citi Prestige MasterCard
Prestige – Definition:
high status or reputation achieved through success, influence, wealth, etc.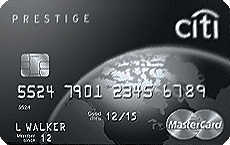 With a required minimum annual income of at least RM200,000
and a hefty annual fee of RM1,000, prestige is clearly one of the major
qualities required for holders of the Citibank Prestige Mastercard. The price
certainly suits the budget of a tycoon, but how does it cater to the lifestyle
of one?
A typical tycoon's life is encompassed by meetings, meetings
and more meetings, which usually follows with travelling, travelling and more
travelling. Nothing says prestige more than travelling to your overseas meetings
in a sleek private jet with the best deals and discounts available exclusively
to cardholders. In addition, cardholders can book their own personal limousine at
premium rates and get driven around town in style. Why show up at clubs or restaurants in a taxi when
you can steal the show and pull up in a polished limousine with a champagne
glass sitting in your hand?
Travelling to new regions or countries for
corporate functions can be especially challenging when trying to juggle work
and pleasure, that's where having a personal concierge makes all the difference.
The Citibank Prestige Concierge is a global 24/7 service offered to
cardholders, and essentially takes the role
of a personal assistant. Ever had a sudden food craving
while travelling or wondered where the best local shopping haunts are? A credit
card concierge will not only recommend great places to eat and shop, but also
book restaurants or taxis for you, just like a personal assistant.
After spending all that hard earned money on private jets,
limousines and posh restaurants, the card certainly does not hold back when it
comes to rewards. The card awards 1 Citi Reward Point for every RM1 spent on
the card with no limits on the amount of points you can earn. In addition, the
card awards double points for every RM1 equivalent spent overseas; the perfect
perk for the travelling businessman. For example, a simple business trip down
to Singapore would rake in 5.2 Citi Reward Points for every SGD1 spent (based
on exchange rate of SGD1=RM2.6). With a reward system like the Citibank
Prestige Mastercard, big spending tycoons can easily pile up on a multitude of
points to redeem amazing cash rebates.
HSBC Premier World MasterCard
Premier – Definition:
First in importance, order or position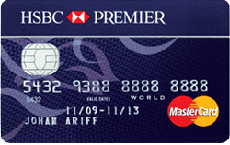 When you become the epitome of a successful businessman,
you'll want to be treated with a certain level of dignity and respect. The HSBC
Premier World Mastercard is designed with priority in mind, with an array of benefits
that certainly make the cardholder feel appreciated. So how does this credit
card establish itself as the premier card for tycoons?
When it comes to shopping, the HSBC Premier World Mastercard
spares no expense to give holders the royal treatment with a generous reward
point system. The card offers 5 reward points for every RM1 on purchases made
locally at certain participating outlets and 10 reward points for purchases
made overseas. HSBC reward points work the same way as air miles, with 3 HSBC
reward points being the equivalent of 1 air mile. Points can be subsequently
exchanged for a variety of perks including free air travel. In addition,
cardholders stand to benefit from special deals and privileges from over 19,000
outlets in over 160 countries worldwide. Now that's premier.
Suffice
to say, travelling maintains itself as an important part of the life of a
typical tycoon. HSBC Premier World Mastercard holders can travel like a true
V.I.P. with complimentary access to the KLIA Plaza Premium Lounge. The KLIA
Plaza Premium Lounge comes with a fully equipped business center, making it the
perfect location to prepare that last minute proposal or perhaps sip a glass of
wine at the bar and knock off those pre-flight jitters. This deal is not just
limited to KLIA, as cardholders also receive
complimentary access to over 600 V.I.P. lounges worldwide,
ensuring that our tycoons always travel with class no matter where they go.
God forbid but accidents can sometimes happen while
travelling abroad for business conferences, especially when heading to new
regions for the first time. From injuries to missing luggage, accidents can
really put a sour note on trips and more importantly, cost you time and money.
Fortunately, the HSBC Premier World Mastercard has it all covered with a
whopping RM1.5 million accident coverage.
CIMB Enrich World MasterCard
Enrich – Definition:
Improve or enhance the quality of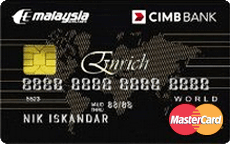 Owning a CIMB Enrich World Mastercard is like being part of
an exclusive secret society of credit card holders. As an invitation only credit
card with benefits catered to the frequent traveller, it is definitely the
quintessential sidearm of the Malaysian Tycoon. So how does this card enrich
the lives of Malaysia's biggest tycoons?
When you're a busy tycoon, business meet and greets are
practically a daily routine and what better way to exchange pleasantries than
over lunch? Fine dining establishments are always a prime choice when looking
to impress prospective investors or clients. With discounts of up to 50% at
posh restaurants in top notch hotels such as the Renaissance Kuala Lumpur, the
Marriot Singapore and the Intercontinental Bali Resort, cardholders can
confidently pick up the tab on a lunch time business rendezvous. After scoring
yet another career defining business deal, cardholders can practice their drive
with complimentary swings at some of the most prestigious golf clubs in
Malaysia, Singapore and Indonesia.
While reward miles are often considered to be a long
standing cliché of the credit card industry. The CIMB Enrich World Mastercard
stands out by offering a massive barrage of enrich miles, designed for the
frequent flyer. Purchases made abroad are given extra priority with 2 miles per
RM4 spent overseas, double when compared to the 1 mile per RM6 that regular
CIMB credit card holders earn. Additionally, cardholders earn 1 mile per RM1
spent on flights booked online with Malaysia Airlines, a great way to support
the local economy while travelling abroad. After racking in all those reward
miles, cardholders can enrich their travel experience by redeeming them for
free flights or seat upgrades.
Travelling on frequent international business trips can be a
tiring and stressful experience especially when you're stuck waiting in an
airport for flight transits. Minutes feel like hours sitting on crude plastic
airport benches surrounded by tacky souvenir shacks and overpriced food. CIMB
Enrich World Mastercard holders can skip all that suffering with up to 2
complimentary passes into the Malaysia Airlines Golden Lounge. The Malaysia
Airlines Golden Lounge is tricked out with everything from professional
massages to freshly prepared food, the perfect avenue for a tired tycoon to
recharge his batteries after a long day of work.
When it comes to cards for the wealthy, tycoons are spoilt
for choice. But these are the few featuring the most premium requirements.
Definitely not for the 'plebeian' cardholder!