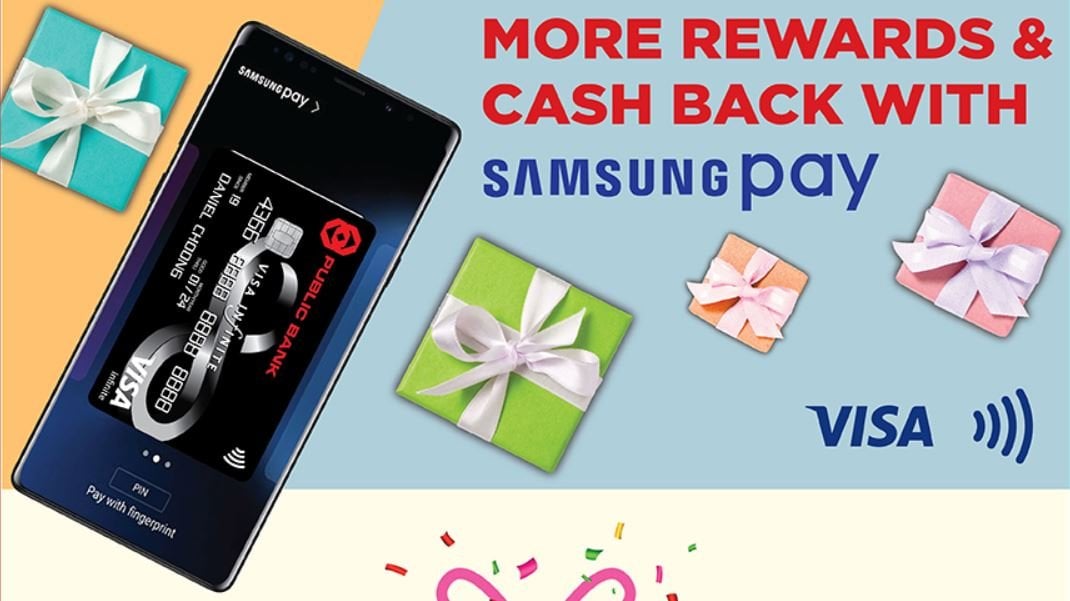 Public Bank is offering a limited-time promotion for its credit card users, where they can enjoy RM5 cashback for Visa Contactless and Samsung Pay transactions. These two promotions are currently running concurrently, and will end on 31 July 2019.
Get RM5 Cashback with Five Visa Contactless Transactions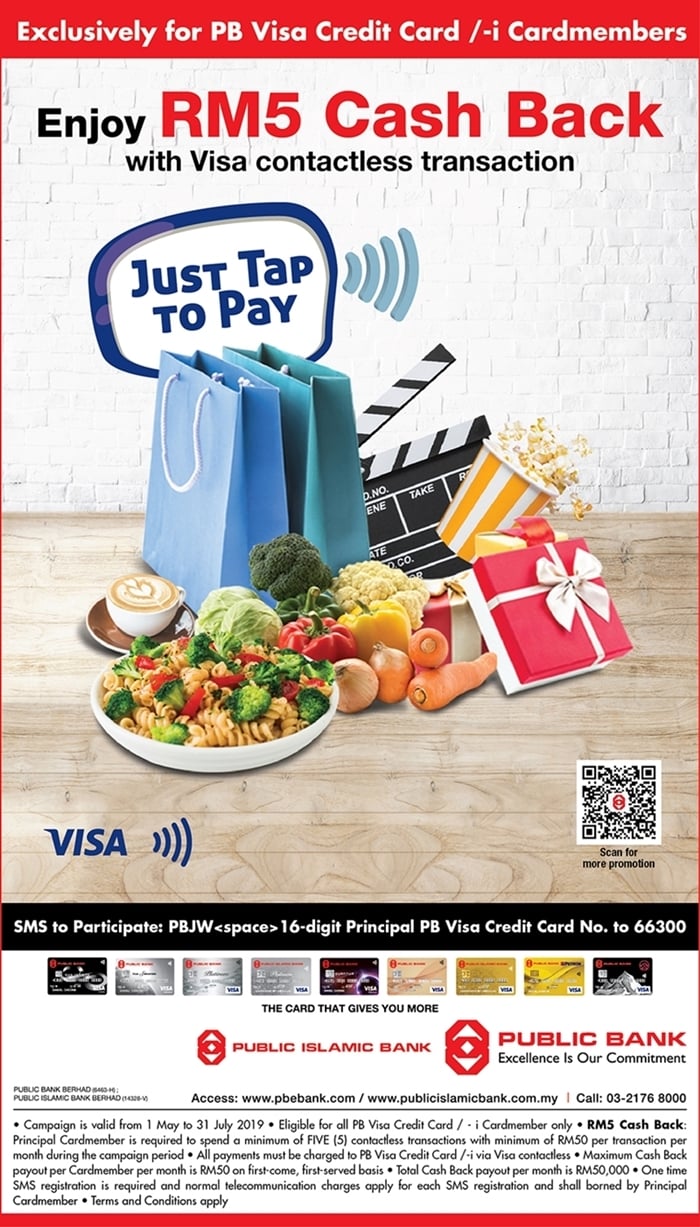 The RM5 cashback is offered to principal cardholders of Public Bank Visa Credit Cards/-i. Just perform five contactless transactions with a minimum amount of RM50 per month with your card to get RM5 cashback for each transaction, capped at a maximum of RM50 every month. Public Bank has allocated RM50,000 for the cashback payout, and is given to cardholders on a first come, first served basis.
This means you can earn RM50 every month by using your Public Bank Visa card's Contactless feature ten times, as long as the transacted amount is a minimum of RM50. Note that transactions that are already earning cashback (such as the Visa Signature, which gives 6% cashback for groceries and dining) do not count as qualifying transactions for this campaign. But, that also means if your cashback credit card spending has met its cashback quota, you can use it to enjoy this Visa Contactless cashback promo. To participate, eligible cardholders are required to register via SMS as shown in the poster above.
Get RM5 Cashback With Every Samsung Pay Transaction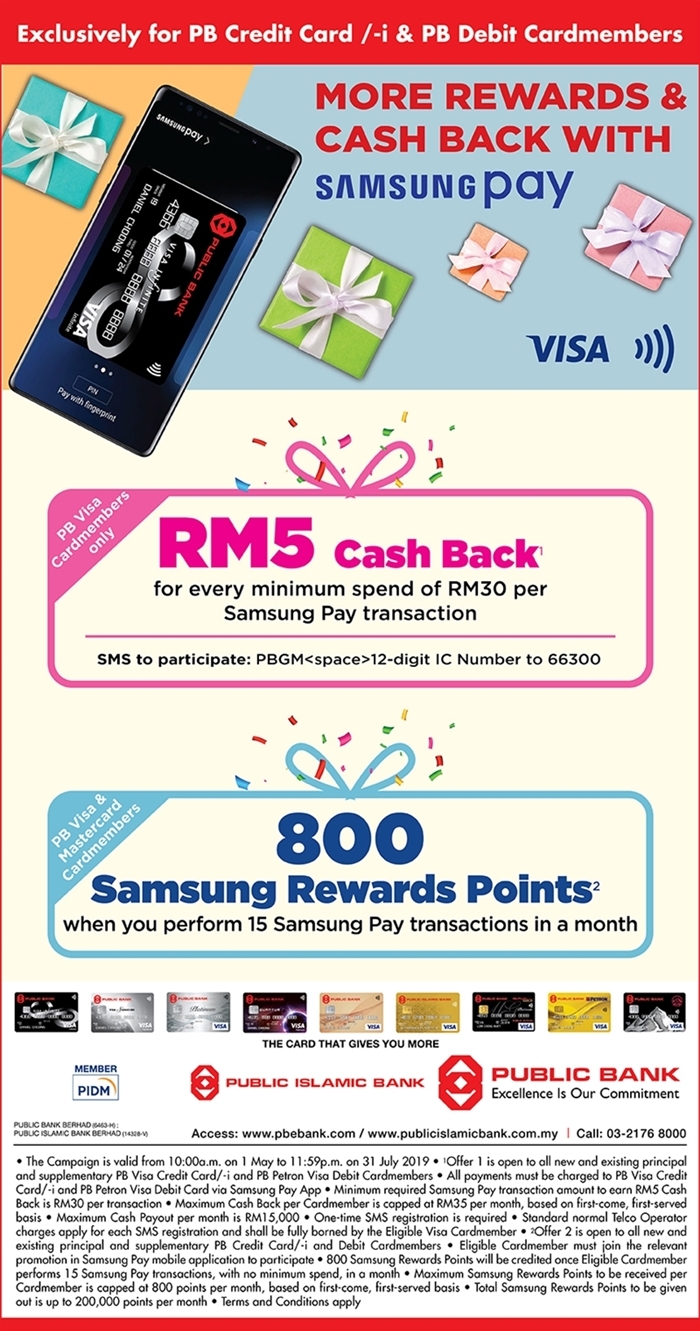 Meanwhile, if you own a Samsung smartphone and a Public Bank credit card, here are more perks for you to enjoy. Public Bank is offering two benefits when you use your Public Bank card via Samsung Pay. The first is a generous RM5 cashback for every minimum spend of RM30 per transaction made with Samsung Pay, while the other is a huge bonus of 800 Samsung Rewards Points when you perform 15 Samsung Pay transactions in a month.
The RM5 cashback offer is open to all Public Bank Visa Credit Card/-i and Public Bank Petron Visa Debit cardholders. Each month, the cashback is capped at RM35 per cardmember, which means you can earn RM5 cashback for up to 7 Samsung Pay transactions with a minimum amount of RM30, and no minimum transactions required. Do note that like the Visa promotion, there is a limited allocation by the bank and is given out on a first come, first served basis. The allocated amount is much smaller though, at just RM15,000 per month. To participate, send a one-time SMS registration to the number in the poster above.
The other promotion is quite straight forward. Public Bank cardholders (both Visa and Mastercard, credit and debit) who perform 15 transactions (no minimum spend!) in a single month will earn 800 Samsung Rewards Points. There is a total allocation of 200,000 points given out to qualifying cardholders on a first come, first served basis.
(Source: Public Bank (Visa Contactless), (Samsung Pay))