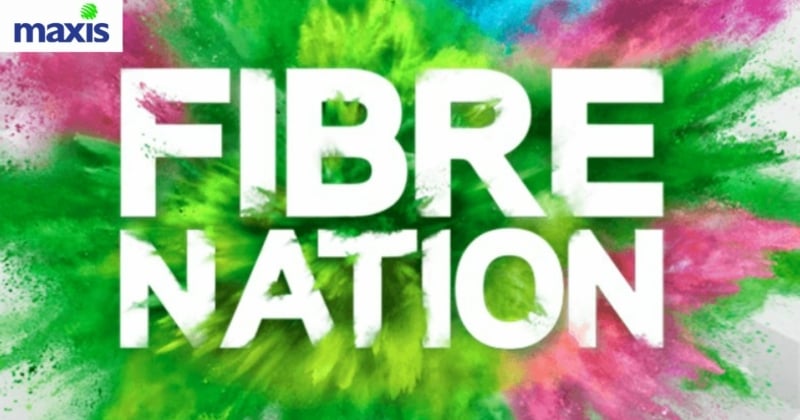 (Update 5 September: TM has removed the minimum income requirement of RM4,500 and below from the Unifi Basic Plan, thus making it available for all customers.)
Maxis has launched its most affordable fibre broadband plans for home and business users, at prices 36% – 65% lower than its previous plans, while simultaneously upgrading the speeds. Starting next month, Maxis customers will be able to get a fibre broadband plan with up to 100Mbps speeds at a starting price from just RM89.
The launch is likely a response to TM's internet speed upgrade announcement, where the national telco announced a new entry-level broadband plan for RM79, as well as the "Unifi Turbo" upgrades that offer up to 10x speed upgrades to existing Unifi fibre plans, making it the most competitive fibre broadband plan in the market. This comes thanks to government's call for cheaper and faster internet services. It appears Maxis has now also followed suit.
MaxisONE Home Fibre: 30Mbps for RM89/month, 100Mbps for RM129/month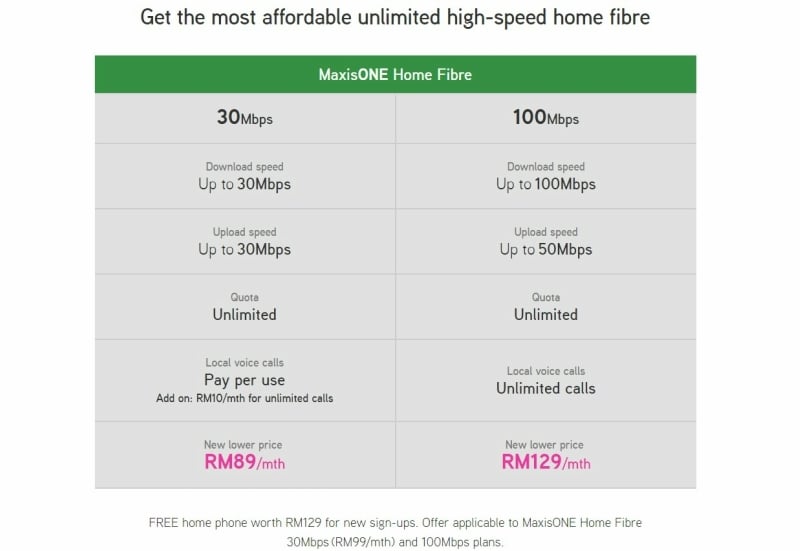 (Image: Maxis)
For home users, the MaxisOne Home Fibre plans is priced at RM89 per month for 30Mbps, and RM129 per month for 100Mbps. The new prices are a massive reduction from the original prices of RM179 per month and RM299 per month respectively. Additionally, the new home fibre plans come with unlimited internet quota, a dual-band WiFi router, and technical support from the Maxperts team. Customers who opt for the 100Mbps home fibre plan will also enjoy unlimited voice calls and a free DECT phone.
Interestingly, Maxis also appears to have serious plans to upgrade the fibre broadband speeds even higher. The FAQ section states that the company will provide higher internet speeds of up to 800Mbps once the infrastructure is ready – directly matching the maximum speeds offered by TM's Unifi Turbo upgrade.
New Fibre Broadband Plans For Business Users
(Image: Maxis)
Maxis' business customers can get the new MaxisOne Business Fibre Plans, which are priced at RM99 for 30Mbps, and RM139 for 100Mbps. Both plans come with a free future-proof business-grade router, immediate internet availability upon installation, and free wireless back-up internet access (a Maxis SIM card is fitted into every Business Fibre router, and offers 4G LTE internet access when the fibre network is offline). Similar to the Home Fibre plans, the 100Mbps business plan comes with unlimited voice calls and technical support from the Maxperts team.
MaxisONE Fibre vs New Unifi Plans
The new MaxisONE HomeFibre plans are very competitive with TM's recent offerings. Here is a table of comparison between the new MaxisOne Home Fibre plans with the Unifi Basic Plan and Unifi Turbo Upgrade.
| | | | | |
| --- | --- | --- | --- | --- |
| | MaxisOne Home Fibre Plan 30Mbps | Unifi Basic Plan | MaxisOne Home Fibre Plan 100Mbps | Unifi Turbo Upgrade (10/20Mbps to 100Mbps) |
| Price | RM89 | RM79 | RM129 | RM129 |
| Monthly Quota | Unlimited | 60GB | Unlimited | Unlimited |
| Voice call | RM10 per month | RM0.20 per minute | Unlimited | RM0.20 per minute |
| Requirement | None | Household monthly income below RM4,500 | None | None |
While the 30Mpbs MaxisOne Home Fibre plan costs RM10 more than the Unifi Basic Plan, it does not have a limit on internet quota and no income requirements. Meanwhile, if the Unifi Turbo upgrade for the current Unifi Lite 10Mbps is increased to 100Mbps, it will be on par both on speed and price as the MaxisOne Home Fibre 100Mbps – but the Maxis plan will have the upper hand with free unlimited voice calls (compared to 20 sen/minute on Unifi).
Cheaper and Faster Internet for Everyone
In a press statement, Maxis explained how the new broadband plans could benefit businesses and the company's commitment to providing more accessible fibre network. Maxis' Head of Enterprise Paul McManus said the new business fibre broadband plans enables SME business owners to focus on running their businesses without worrying about bad internet connections. The free wireless backup solution first appeared in another Maxis plan: the MaxisOne Prime, which combined both a fibre broadband package with a smartphone data plan.
Besides that, Maxis CEO Robert Nason also noted that the company's new consumer fibre plans are in line with the government's push for faster and better internet for everyone, before hinting at even faster speeds are coming. "We welcome the Government's initiative to enable the industry to offer more choices at competitive prices to consumers and businesses. Meanwhile, we will continue to invest in accessing available fibre networks in Malaysia and building our own where possible. We expect to secure access to even higher speeds in the coming months and when we do, we will make new plans available to our customers," he said.
Non-Maxis customers can pre-register for the new broadband plans, which will be available on 13 September. Meanwhile, existing customers can request for an upgrade to the new plans by filling up an online form on the same page with their names, NRIC and phone number. Both of these can be done at Maxis' fibre broadband landing page.
Update 5 September
TM has removed its previous household income requirement starting this month, effectively making the Unifi Basic plan available to all customers.
(Source: The Star, SoyaCincau)