Buying groceries that can last for a week could cost you RM100s – a bottle of this, and a packet of that can rack up quite a sum at the checkout counter. For a person living in and around the Klang Valley earning a minimum wage of RM900 to RM1200 per month, RM50 per week is not a meagre sum. With the implementation of the Goods and Services Tax (GST) next year, not only will minimum income earners feel the pinch but those from every income group will also have a harder time budgeting to make ends meet.
Cutting down on food expenditure is more than necessary to survive living in the big city. Hence, the important question here is, is it possible to buy groceries with RM50 (or less) per week?
This may sound like a radical idea, but definitely not impossible. To arrive at an answer, I've went through (thankfully, survived it too!) one week of living with nothing more but RM50 in my pocket to fulfill my most fundamental need – to put some yummy in my tummy!
My Supermarket Experience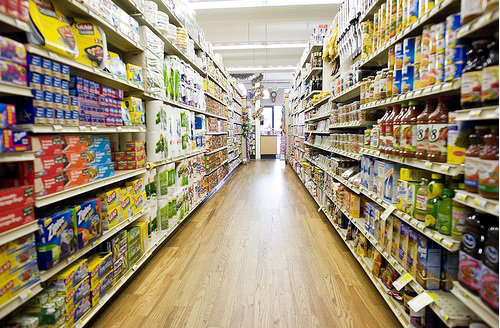 Embrace Supermarket Sales Flyers
I started the week by going grocery shopping at the nearest supermarket. Immediately I noticed that the supermarket's sales flyer was available for free at the entrance.
Looking over all the sales and clearance items, I thought to myself, "Instead of thinking about what I'm in the mood for, I should instead think about the delicious and healthy meals I can cook up with what's on sale for the week!"
Alternatively, you can visit their website to check out ongoing sales and promotions.– always think about the well-being of your wallet, and of your own.
Choose Home Brand Items
Buying the store's home brand is also a good strategy for extra sayings – why spend on expensive imported cereal or dish detergent when the cheaper generic home brand is just as good?
At the end of the day, after careful consideration, my basket consisted of :-
| | |
| --- | --- |
| Items | Price(RM) |
| 200g of oatmeal | 3.99 |
| Loaf of bread | 4.90 |
| Packet of rice | 7.90 |
| Packed chicken breast | 6.55 |
| Kang-kung | 1.50 |
| 1 carton of eggs | 4.29 |
| 500g red onions | 4.99 |
| 250g garlic | 4.99 |
| Soya sauce | 4.95 |
| 750g salt | 3.40 |
| Packet of red apples | 10 |
| TOTAL | 48.46 |
That's justs below RM50, with a good mix of branded and generic products, along with fresh poultry and leafy greens.
I can have bread and apples for breakfast, oatmeal to keep pangs of hunger at bay throughout the day, and dinner consisting of stir-fried chicken, boiled eggs, kang-kung, and steamed rice. – miraculously, I managed to still have some leftovers after that week!
Plan Your Meals Beforehand
To avoid overspending on unnecessary items that will only stuff up your fridge, it is also important to plan your meals ahead of time before shopping.
And a meal plan was exactly what I came up with – you thought I picked all these items at random? Oh please! It is easy to get into the habit. If you think a pen and paper is too old-fashioned, you can use mobile apps such as Out of Milk and Evernote Food to keep grocery lists, recipes, and keep track of your spending.
Pay on Credit
If you've got access to credit, and are confident that you can make your full monthly payments promptly, go ahead and pay for your groceries with a credit card.
Some credit cards offer higher cashback specifically for groceries, or purchases on the weekend – a perfect match if you're one to make it a ritual to go grocery shopping on days off!
Finally, there are also co-brand credit cards that offer exclusive cash rebates and reward points whenever you spend at certain big name outlets such as the New AEON Visa Classic, or the Tesco-RHB Visa.
I'm Not Alone!
As I've discovered, I wasn't alone in my quest for a more frugal lifestyle. In fact, there is an ongoing thread on Reddit where quite a handful of young working Malaysians offer their own solutions on saving on grocery expenses. Some of the responses include :-
"Instant noodles is the cheapest and laziest way to last for 1 week. But if you cook: rice 1kg x 3 = RM11.70, bread RM2.80, peanut butter RM5.50, sausages RM5.40, garlic M2.50, carrot RM1.50, 2 cans of sardines = RM6, butter RM4.30, cream crackers RM4.40. Total is RM44.10." ~ faceles133mhz
"I survived on rice, kangkong, eggs, scallions, garlic, salt, chilli and ikan bilis powder for quite some time. Well below RM50 per week. All from Tesco which was within a walking distance from my place. The lowest point of my life." ~ niggamajingga
"For leafy vegetables, I will go to TLC supermarket. They have more produce and clearance section. You can also buy a can of beans for less then RM3. Look out for deals in the clearance corner. Also if you go to AEON supermarket near closing time, some meat and fish produce are discounted up to 50%." ~ maximus7
While these responses can be quite humourous, they are also very insightful and goes to show that it is possible to live on RM50 a week, without resorting to a Maggi dinner every night. The main takeaway for my experience is that you must commit to the idea of grocery budgeting – that is the most important. If you are stubborn and want nothing to change, then you'll get exactly what you wish for.