Life after university would mean
to most people – getting a steady office job, a solid pay-cheque, and enjoying the weekends off before one day settling down
to start a family . In the meantime, there are bills to pay and rent to make,
so how would a young professional such as yourself be fiscally responsible
while still having the time of your life?
The answer might be as simple as
having the right credit card in your pocket. Let's take a closer look at credit
cards suitable for the young and savvy suburban dweller.
Citibank
Clear Visa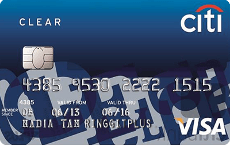 Let's face it;
many of us are merely working for the weekend. If you've worked hard, then you
deserve to play hard. But you live in the big city and the drinks are
expensive, what do you do? Impress your friends with complimentary VIP entry
and 15% discount on drinks at
Zouk Kuala
Lumpur with the Citibank Clear Visa.
Now, partying on
a Sunday night is almost never a good idea, but thankfully, this Citibank
credit card has got you covered for that much needed morning pick me up with a
buy 1 free 1 drink at participating
Coffee
Bean & Tea Leaf outlets nationwide. In addition to that, enjoy buy 1
free 1 movie tickets every Friday night at not one, but all three major cinema
outlets in Malaysia – GSC, TGV and Cathay Cineplexes. Other privileges
include 3X reward points whenever you should at trendy retail outlets such as Topman,
Quiksilver and La Senza – Hey, you can't wear the same shirt to work every day.
Find out more about the Citibank Clear Visa
RHB EVO Visa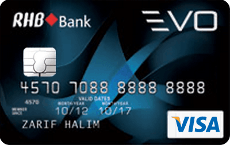 With the sleek and
trim RHB EVO Visa, you will be entitled to 20% cashback at selected amusement
and entertainment outlets, great for those always on the move – whether you're
at the gym perfecting your squats, or just passing the time catching a movie
with a friend.
But really, if
you're one of those people who enjoy working out after a long day at work, this
credit card is just what you need. You will have the benefit of having 14-day
free access to True Fitness, plus 2 sessions of Bikram Hot Yoga worth RM359 for
you and a friend. Not only that, get the motivation you need when pumping iron
with your free 1 month WOWLOUD Premium Plus account,
Malaysian's biggest online music service
– with literally millions of songs to discover, your illegal downloading days
are over!
Find out more about the RHB EVO Visa
Hong Leong Wise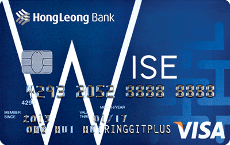 Cardholders are
eligible to receive an attractive 10% cashback when choosing two out of 10
possible cashback categories for the Hong Leong Wise Card – mobile, groceries,
pharmacies, petrol, dining, departmental, book stores, utilities, entertainment
and travel, making it indispensible when paying for your weekly grocery
supplies, which can be very expensive when you're stocking up on chips and
ice-cream.
The great thing
about this plan is that mobile cashback will be included as a bonus for all
cardholders. So if you're always on your iPhones, taking selfies, instagramming
food, or simply making business calls – a 10% cash rebate will definitely help
to soften the blow of your ever growing phone bill. Any young working adult
above the age of 21 earning at least RM36000 a year
can apply for this credit card, making it easy to apply.
Find out more about the Hong Leong Wise
Hong Leong Mach Visa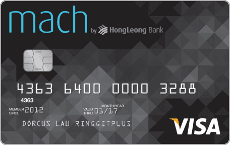 The Hong Leong
Mach Credit Card is
catered
specifically to the "Gen-Y" crowd , with emphasis on cash rebates for a wide
range of lifestyle activities. You will get to choose from 12 categories to cater
to your individual needs, with cashback rates ranging from 1% to 10%. If you manage your credit card spending properly,
contrary to what the older generation think about our spending habits, you can
save up to RM5400 per year from dining, movies, concert
tickets and more.
Basically, there
are 3 separate packages to choose from – Trendsetter, Savvy, Social, and
Others. Unlike the Hong Leong Wise card, you will have the benefit of getting
1% cashback on your online shopping – something Malaysians are slowly catching
up to, as we get busier by the day, having no time to leisurely stroll our
favourite shopping mall. Some call it a national pastime.
Find out more about the Hong Leong Mach Visa
UOB One Visa Platinum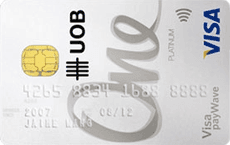 Driving around
looking for a parking spot every morning can be detrimental…to both your sanity
and gas tank. Count on the UOB One Visa Platinum to give you a 5% cash
rebate on your petrol spend, up to RM500 a month. It gets even better, as you will also be
getting 5% cashback at cinemas, with no minimum spend – Perfect for when
unwinding during your days off with your other half.
Additionally, other
purchases are entitled to cashback under the SMART$ Rebate Programme, there are
additional cash rebates to be had, up to 10%. Other benefits include dining
privileges at over 1000 restaurants and UOB InStore, a 24 hour online store
where you can shop in ultimate comfort and earn even more cashback!
Find out more about the UOB One Visa Platinum
How about you, what
would we find when looking through your wallet?