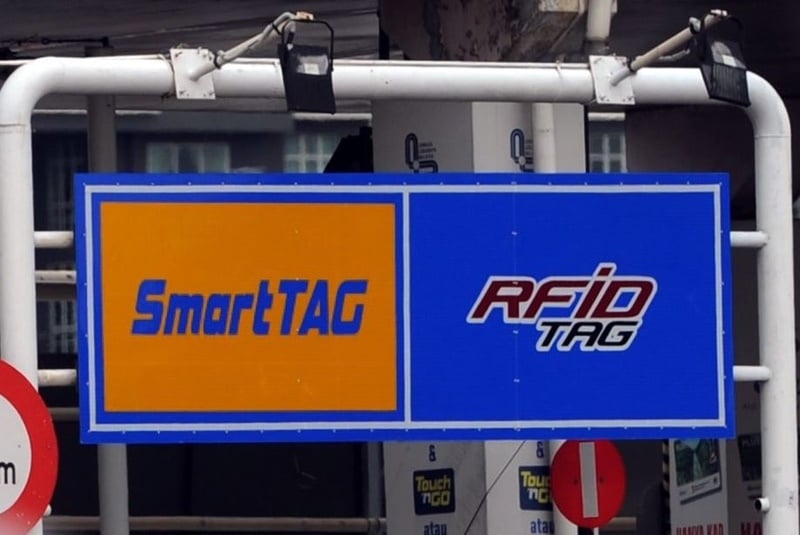 (Image: The Malaysian Reserve)
Malaysian tolls are moving towards a new system involving RFID technology that will replace the current Smart TAG lanes. In the last year or so, a few toll plazas have been selected to test run RFID lanes for public service vehicles such as police cars, fire trucks, and ambulances. Starting from September, the pilot phase will be extended to members of the public who are interested to test the system. Come January of next year, the Touch 'n Go RFID system is expected to be rolled out to the public for payment across all highways.
What is RFID?
RFID stands for "radio-frequency identification". It's a type of technology where digital data encoded in RFID tags is scanned by a reader via radio waves. It is not unlike a barcode being scanned by a reader at a retail shop, but for RFID the tag does not need to be within the line of sight of the reader as it operates on radio waves. You may already have been using RFID tags in some form without realising it – for example, RFID is used in access cards for the workplace or condominiums.
In comparison, the current Smart TAG technology is based on infrared (IR) ray. While absolutely harmless to humans, IR rays carry heat, which is why higher-end tinting films have high IR rejection levels to keep the car cool. However, one major inconvenience is that Smart TAG cannot be used in cars with these films installed, as the IR rays cannot reliably penetrate the film and be detected by the readers at the toll gates.
How will Touch 'n Go RFID be used at Malaysian tolls?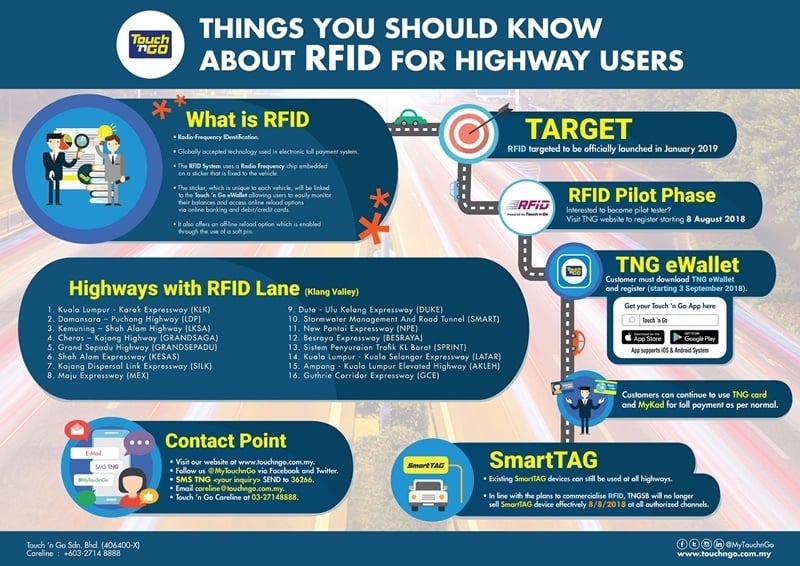 (Image: Touch 'n Go)
The Touch 'n Go RFID will be a new electronic toll payment system that uses a sticker to pass through the toll. The RFID sticker is embedded with a radio frequency chip and can be fixed onto the vehicle's windscreen or headlamp. As the vehicle passes through the toll, an overhead scanner reads the radio frequency from the Touch 'n Go RFID sticker to lift the toll barrier and charge the toll fare. It is able to reach a range of 27 metres with a 10-millisecond response time.
The Touch 'n Go RFID sticker can only be registered with and installed on one vehicle, so each sticker is unique to a specific vehicle. The RFID sticker will be linked to the Touch 'n Go eWallet, allowing users to check their balance and top up their credit via online banking and debit or credit cards. The Touch 'n Go eWallet is a mobile app, so you will need a smartphone to make the relevant top-ups, although there may be an offline reload option in the works.
When will Touch 'n Go RFID be implemented in Malaysia?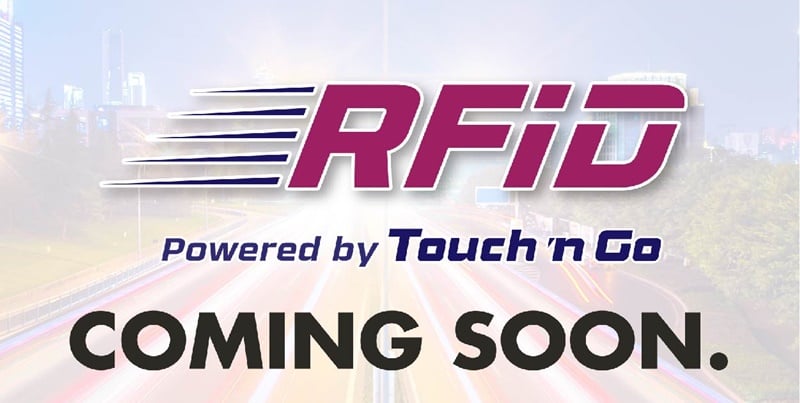 (Image: Touch 'n Go)
The Touch 'n Go RFID pilot phase involving interested members of the public will begin on 3 September. This pilot study is only open to Klang Valley highway users who drive privately registered cars under the Class 1 vehicle group (motorcars, vans, jeeps, and pickups). The fee for Touch 'n Go RFID is waived for pilot users and installations of the RFID will be performed by an authorised person at an authorised centre. If you would like to register your interest as a pilot user and be one of the first to start using the Touch 'n Go RFID stickers, leave your contact details on the Touch 'n Go website and you will be contacted with further information.
The findings from this pilot period will be used to help make the necessary refinements to the Touch 'n Go RFID system before it is fully rolled out on every highway in Malaysia in January 2019.
Wait, what about the old methods of toll payment?
You can still use your Touch 'n Go cards, MyKad, and SmartTAG readers at the toll plazas as usual. However, the SmartTag device will no longer be sold by authorised agents as of 8 August as the RFID sticker is intended as an eventual replacement to the SmartTAG device. All the same, Touch 'n Go is still continuing its after-sales repair services for faulty SmartTAGs as normal.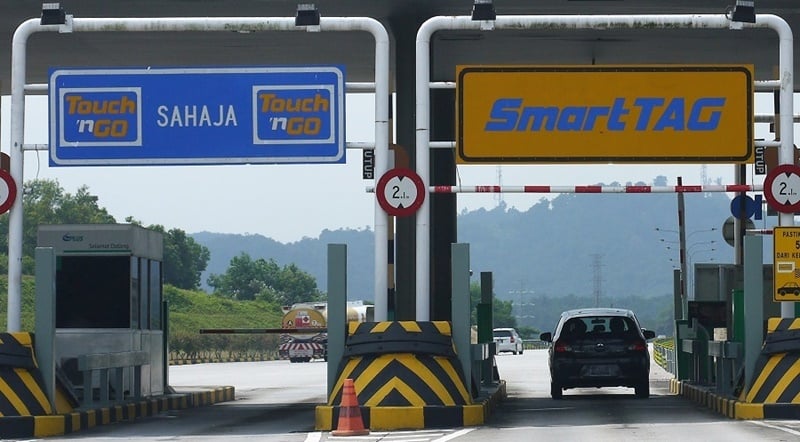 (Image: Motor Trader)
Which highways have the Touch 'n Go RFID lane?
The list of highways with the Touch 'n Go RFID lane in Klang Valley are as below.
Kuala Lumpur – Karak Expressway (KLK)
Damansara – Puchong Expressway (LDP)
Kemuning – Shah Alam Highway (LKSA)
Cheras – Kajang Highway (GRANDSAGA)
Lebuhraya Grand Sepadu (GRANDSEPADU)
Shah Alam Expressway (KESAS)
Kajang Dispersal Link Expressway (SILK)
Maju Expressway (MEX)
Duta – Ulu Kelang Expressway (DUKE)
Stormwater Management And Road Tunnel (SMART)
New Pantai Expressway (NPE)
Besraya Expressway (BESRAYA)
Sistem Penyuraian Trafik KL Barat (SPRINT)
Kuala Lumpur – Kuala Selangor Expressway (LATAR)
Ampang-Kuala Lumpur Elevated Highway (AKLEH)
Guthrie Corridor Expressway (GCE)
To sum up, the Touch 'n Go RFID is a step forward for Malaysian roads. This technology is implemented in various ways on expressways and city highways in many countries, and is definitely a step up from the IR-based SmartTAG, whose shortcomings usually result in annoying delays at the lane. However, it will also depend on the implementation of the RFID system, which is probably why Touch 'n Go requires the installation to be done at authorised centres. Just as important is the fact that the implementation of this technology will effectively remove the constant fear of SmartTAG thefts, which is embarrassingly common in Malaysia.
(Sources: Touch 'n Go, The Star, Paultan)