If you are familiar with business travels, chances are you have a love/ hate relationship with it.
You get to travel overseas at your company's expense and avoid your office for once. However, these exciting moments also come with worries and frustrations like delayed flights, packing dilemmas, long travel hours, currency exchange etc.
While these worries can be intimidating, there are ways to address them with a couple of business travel hacks. In this article, we will be listing down some of the must-have items for business travellers. With that, let us start packing.
Wrinkle Releaser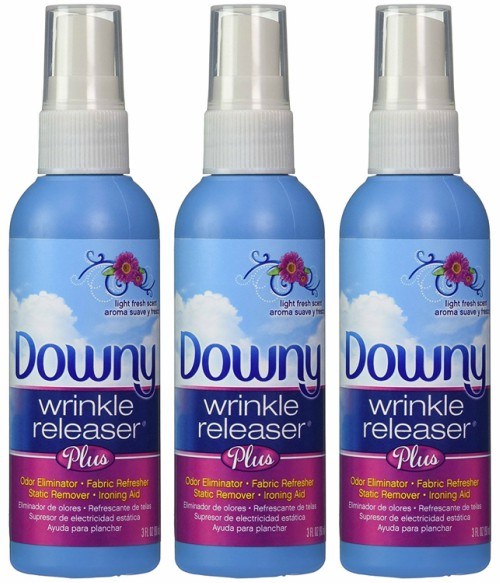 Image coutersy of Amazon
Let's face it, we all have problems when it comes to packing our business wears and leisure clothing. One of these problems is the possibility of having wrinkles/ creases on your attire caused by packing your suitcase.
These wrinkles could cause you a business deal or business relations if you do not address them. One way to avoid the hassle of buying new clothes is to get a wrinkle release spray. As the name suggests, wrinkle release spray reduces the number of wrinkles in an attire without the need to iron.
<a href="https://ringgitplus.com/en/credit-card/?utm_source=ringgitplus&utm_medium=banner&utm_campaign=my-rpint-crcd-gen&utm_content=blogcta_crcd_bestcreditcardinmalaysia_ringgitplus_mid"title="Compare credit card">

This spray fits perfectly for business travellers who want to avoid a trip to a laundry bar or calling for room service, thus saving more money for your trip. Here is a list of wrinkle release spray you can get.
Universal Adapter with USB Ports
By now, you know why this item is on many lists of travel hacks. A universal adapter with USB port is even more crucial during a business trip, especially with the number of electronic devices you need for the trip.
As such, you would like to reduce the number of device chargers to avoid packing issues. A universal adapter with USB ports not only help in accessing different pluck points but also reduces the need to carry multiple chargers for each device with the presence of USB ports.
Power bank
Speaking of chargers, it is also worth noting that not every place has a charging station like a train or a plane. In fact, one of the worse things that could happen on a business trip is the sudden shutdown when your device run out of power in the midst of a business conversation.
In this regard, a power bank is a must-have for any traveller. Given how the mobile device become ever more integrated into many parts of our lives (especially with banking apps and mobile wallet), the need for a power bank becomes even more prevalent. Besides that, there are many power banks that are suitable for travel.
However, the need for a power bank also poses the same need to charge it for storage. As such, the previous point on the universal adapter with USB ports is an excellent complement.
Travel credit card
Let us acknowledge this fact: changing currencies can be a very tedious thing to do. Most of us would want to buy foreign currencies when they are low, which means either an immediate sprint to the money changer or a long wait.
Besides that, you may not be very comfortable with carrying these much foreign currencies with you for many reasons like safety. So, why not reduce the number of foreign currencies in your wallet with a travel credit card? There are many benefits that a travel credit card provides, including reversible charges and travel reward.
You can read more about the benefit of a travel credit card here.
Documents Organiser
You might be thinking, "Wait, isn't everyone going digital now?" when you reach this part. It is true that a growing number of people have gone digital when it comes to documentation, especially flight tickets and boarding pass.
However, there are still some people and some organisations who rely on hard copies. As such, the amount of paperwork needed can cause a mess. A document organiser will be your companion in sorting out your documents (i.e. Business cards, flight tickets, boarding passes, hotel reservation, travel insurance policy etc.).
Travel-size toiletries
This is for the cheapskates among all of us. Sure, hotels do provide toiletries for every hotel guests. However, not every hotel would replenish toiletries or count them as part of the whole package. In fact, some hotels even charge guests for using these toiletries or bring them home.
Due to these conditions, it is in your best interest to bring some travel-size toiletries for your travel. However, you need to be aware of the rules regarding the amount of liquid permissible for travel.
Luggage Tracker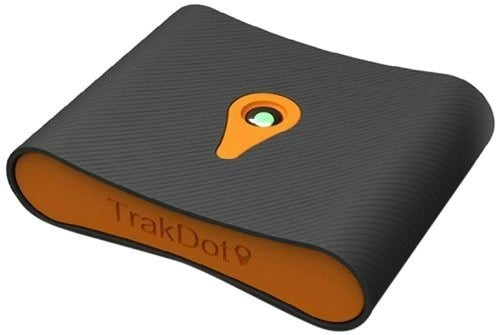 Image courtesy of Amazon
With so much being said about what to pack for a business trip, we need to talk about the security of your luggage. There is always the possibility of your luggage being misplaced or stolen. We are not here to scare you and tell you not to travel around the world.
That said, it is not enough to just lean purely on your travel insurance. A luggage tracker would be an excellent tool for you to keep track of your luggage should any issue arise, especially if you have business documents and devices in your luggage.
Concur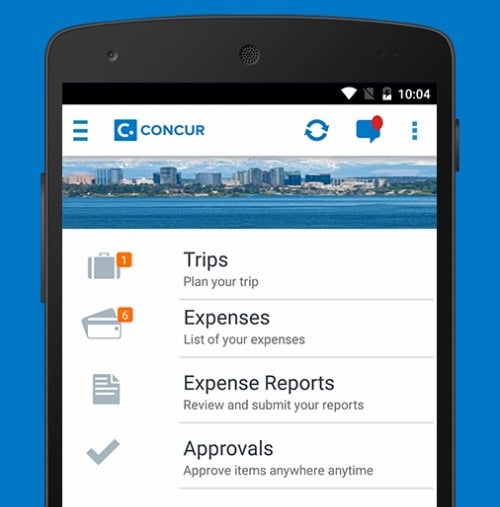 Image courtesy of Google Play
Our last entry on this list of must-haves is not an item, but a mobile app. One of the common mistakes that travellers commit is not keeping track of their spending. Although keeping track of spending may not be a pleasant thing to do, it is important to avoid incurring more debts
That said, your task in keeping track of your spending will become easier with the use of Concur. Concur is a multi-function mobile app that keeps track of your expenses by collecting receipts and invoices, which will be useful for allowance claims from your company.
Have Fun
Here is the list of must-have items for business travel. With all that said, we encourage you to make full use of your business travel to have fun.
Looking for a travel credit card and a travel insurance? Use our comparison tool to find one that suits you. Do check out Agoda to search for the best accommodation deals. Have anything to add to this article? Share your thoughts and ideas in the comments section down below! Also, don't forget to find out more about our Travel Getaway Campaign to plan your next business trip