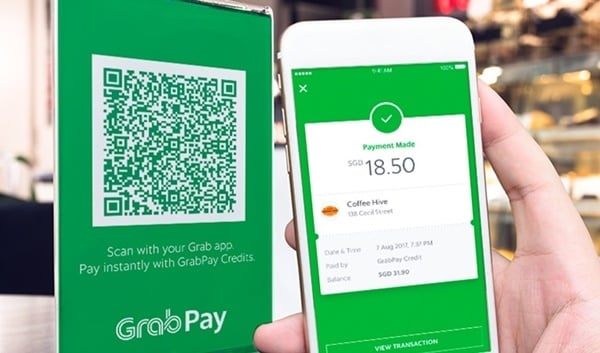 Ride-hailing app Grab, which has rapidly been transforming itself as a fintech platform, has now begun unlocking the GrabPay e-wallet feature in its app for Malaysian users. As spotted by local technlogy news portal Amanz, GrabPay has the full suite of payments, top-up funds, and best of all, it integrates with the Grab Rewards scheme.
Given that Grab has been offering a cashless payment service since mid-2016, GrabPay is seen as a logical step forward in that area. GrabPay was launched in Singapore first in November 2017 with a host of restaurants and hawker stalls getting onboard. Just like other QR-based e-wallet apps, GrabPay's payment methods are the same: scan the merchant's QR code, enter the amount to pay, and confirm.
If you're wondering how to use GrabPay, users will first have to key in their full name and Malaysian IC number. There is also a feature that allows users to request and send money to friends. This requires an "upgrade", where users will need to take an image of their identification cards to continue – likely a regulatory requirement to comply with Bank Negara Malaysia's e-wallet license.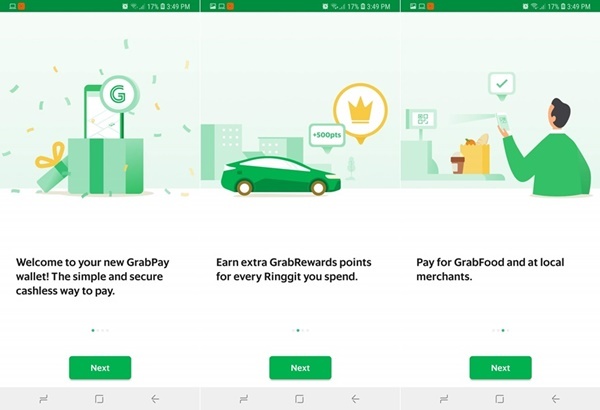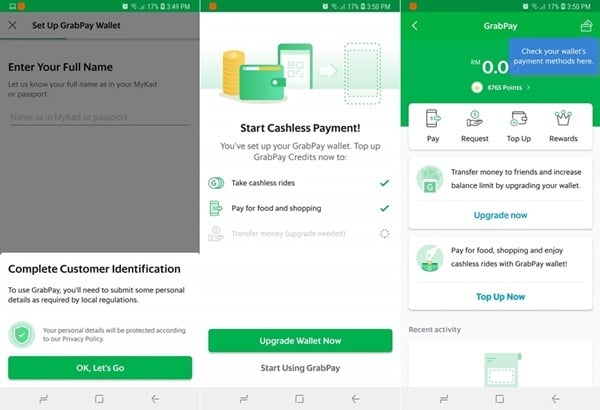 (Image: Amanz)
One major advantage that GrabPay has over other e-wallet apps lies in the deep integration of GrabPay into Grab's other services. The scale and reach of Grab means GrabPay can be used for Grab rides, pay for GrabFood, and still be rewarded on Grab Rewards (RM1 gives 10 points, which can be redeemed for Grab ride credit as well as various other vouchers in a variety of categories).
Another difference here is GrabPay's robust wallet top-up options. Where some apps only accept online transfers or debit cards to top up GrabPay credits, the e-wallet lets you reload grab wallet credits via online banking (FPX and MOLPay), debit and credit cards (Visa, Mastercard, American Express, as well as Union Pay and JCB), and even offline at 7-eleven outlets. Not to forget, Grab's recent partnership with Maybank could also come into play later on.
For Malaysia, GrabPay looks to be still in its infancy. While all features have been unlocked, Grab has not yet announced any retail partners that accepts GrabPay. This means you can't use GrabPay anywhere outside of the Grab and Grab Food apps. It is likely that with this silent rollout, Grab will announce some merchant partners who will come onboard in the near future.