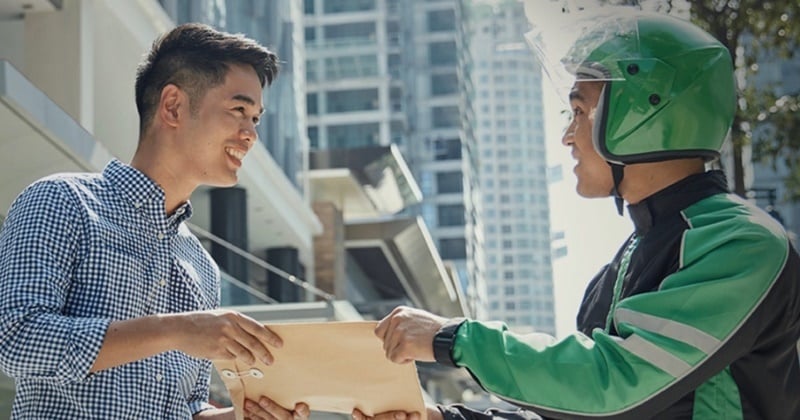 Following its beta testing phase in Bangsar, Kuala Lumpur City Centre, and KL Sentral last year, GrabExpress is rolling out its service to the Greater Klang Valley area. The new phase includes the addition of multi-stop delivery to the service.
GrabExpress is an on-demand, door-to-door delivery service that allows you to send documents and parcels to anyone you want with real-time tracking. Unlike Grab's food delivery service which operates on the separate GrabFood app, the GrabExpress feature is available in the main Grab app along with its ride-hailing services.
To use GrabExpress, users can go to the Grab app, tap on "Delivery", and key in the respective pick-up and drop-off locations. You just have to fill in the recipient's information and confirm your booking. The nearest driver will pick up your parcel and head to the pick-up point while you track the delivery real-time in the app. GrabExpress is available from 8am to 12am daily.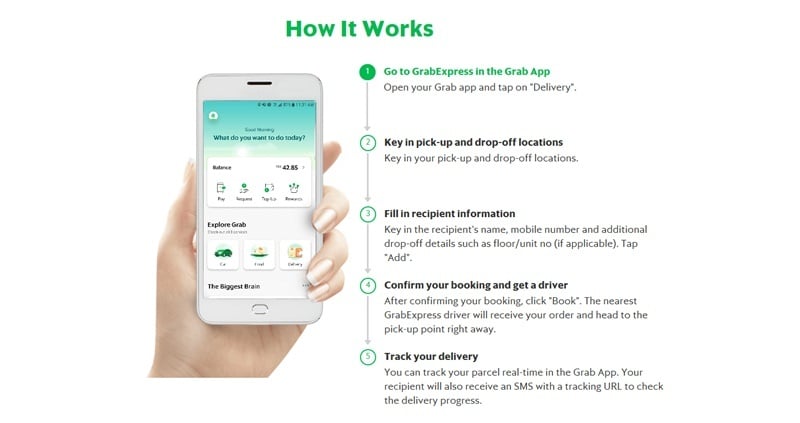 Just like booking a GrabCar, you will be able to see the rates for your delivery upfront before you confirm your booking. For deliveries under 20km in distance, the rate charged is RM1/km whereas anything further will cost you RM2/km. The minimum fare for all GrabExpress deliveries regardless of distance is set at RM10.
According to GrabExpress' sizing guide, your delivery package should be within 30cm x 45cm x 42cm in dimension and should not exceed 10kg in weight. Items that you can deliver using GrabExpress are parcels, documents, and certain types of packed food. However, you can't deliver some items like glassware and power banks.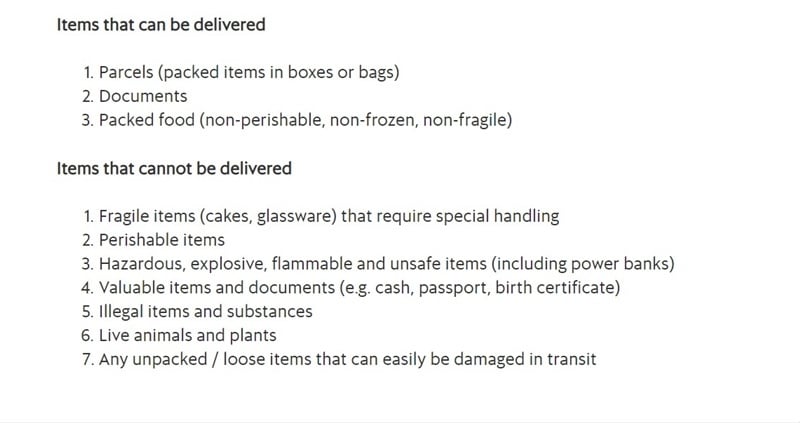 Both the sender and recipient can keep track of the GrabExpress delivery – the sender through real-time tracking in the app and the recipient via an SMS with a tracking URL. Packages delivered using GrabExpress are insured for up to RM500 per delivery and users can contact Grab customer service to proceed with any claims.
According to Grab, GrabExpress increased its number of delivery partners in line with the tenfold increase in delivery orders since October last year. Adelene Foo, Regional Head of GrabExpress, said that the group is gearing for an ecosystem of services to make Grab an all-in-one daily app for commuting, ordering food, making payments and now, on-demand deliveries. She added that Grab aims to support Malaysia's growing e-commerce industry by allowing home-based entrepreneurs and small businesses to deliver their products directly to customers.
You can download the Grab App on the App Store or Google Play and find out more at the GrabExpress official website.
(Source: The Star, The Edge Markets)