Malaysians' love for food is a well-known fact, but it is also one that is literally costing us quite a bit. In 2016, Malaysians spent 31.2% of their monthly disposable income just on food and food away from home. With the high cost of living in urban parts of the country, enjoying a nice meal is fast becoming a "treat yourself" occasion.
Here's where an app called The Entertainer may help. The Entertainer is a mobile app containing a catalogue of buy-1-free-1 offers at participating merchant outlets throughout the country for a flat yearly fee. Each merchant offers a set number of vouchers that can be redeemed anytime throughout the year.
The main attraction of The Entertainer is its extensive list of food and beverage partner merchants where you can enjoy buy one, get one free deals on drinks or main course meals. The only conditions are that one buy-1-free-1 offer can be redeemed for every two patrons, and you can redeem up to four offers at a time. The Entertainer Malaysia's F&B merchants include popular cafés, dessert joints, bars, casual restaurants, and even fine dining – these include San Francisco Coffee, Thai Hou Sek, Morganfield's, Tonkatsu, and many more.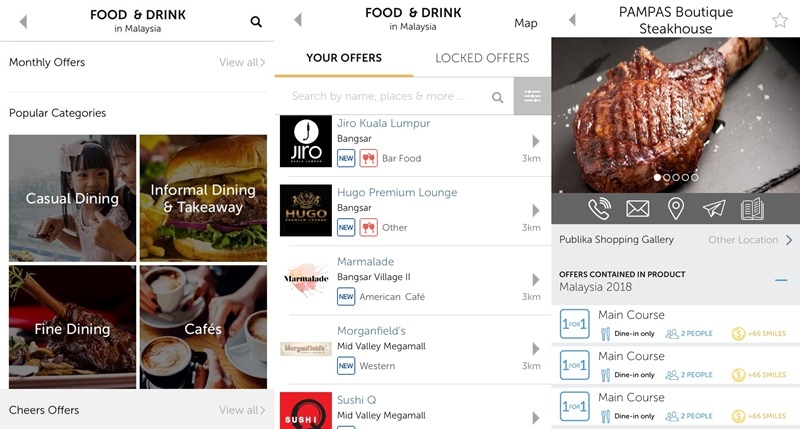 You can also find discount deals for beauty and fitness, attractions and leisure, services, hotels around the world, and fashion and retail – though this part is less extensive than the F&B list. The Entertainer also has family accounts, so an Entertainer member can share the benefits of their purchased product with four other family members.
The Entertainer app's offers are valid on an annual basis from 2 January to 30 December each year. The Entertainer Malaysia 2019 is priced at RM180, but you can buy it now at an early bird price of just RM95. At that price you'll easily make up for it with just two or three with the app – imagine two steaks or two glasses of wine for the price of one! The app also has a savings tracker, which is great if you're extra kiasu.
With 2019 dawning upon us soon, maybe it's a good idea to get the 2019 catalogue for half the price and spend the whole of next year making full use of the deals on The Entertainer.