What are the Benefits of Having a Travel Credit Card Insurance?
Having a complimentary credit card travel insurance saves you the hassle of having to find and compare travel insurance policies from different insurance companies. Also, paying for your credit card's annual fee will entitle you to a range of benefits such as cashback, reward points, and lifestyle discounts —  being awarded with free travel insurance can seem like a bonus.
If you are curious, get some extra reading done with our travel insurance comparison article to properly distinguish the difference between the credit card and standalone travel insurance policies. But first, we will take a look at some of the best travel credit cards that provide you with protection during your travels.
Top Travel Insurance Credit Cards in Malaysia
AmBank World MasterCard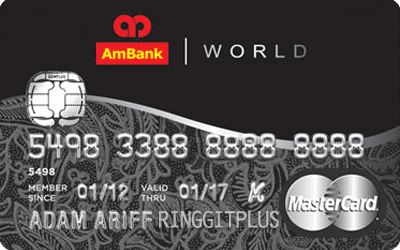 Travel Insurance: Up to RM2,000,000
Coverage Condition: Charge travel ticket in full to credit card
Be guaranteed travel insurance protection of RM2,000,000 when you choose to charge the full fare of your plane ticket to the AmBank World MasterCard. The best part is, you're not the only one getting insured — your family will too.
To add to that, you will also get double protection with AmProtector Insurance. Your credit card outstanding balance can be insured for up to RM50,000 in the event of the cardholder's death, or total and permanent disablement, and all it takes is just 24 cents per RM100! To be eligible, you must be no more than 65 years old, and not been hospitalised in the last 12 months, or succumb to mental illness and physical injuries — all this really means is that you must be in good shape!
If you prefer hotel villas to cramped backpacker lounges, you will be pleased to know that this AmBank credit card will grant you a complimentary Hilton Premium Club Membership Card. You can enjoy up to 50% off on Hilton dining and room discounts in Malaysia, Thailand, China, and even the Middle East.
HSBC Premier World MasterCard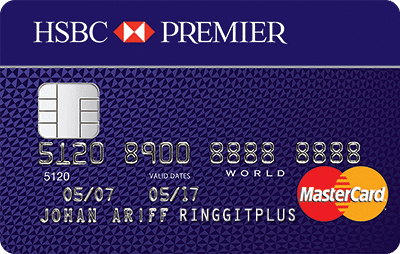 Travel Insurance: Up to RM 2,000,000
Coverage Condition: Automatic coverage
With the HSBC Premier World MasterCard, you can receive reimbursements of up to RM2,000,000 for flight and travel accidents — that would include any injury, illness, or stolen belongings. Speaking of your belongings, if you happen to lose your credit card, you will be able to contact HSBC at their free 24-hour hotline at 1-300-88-1388 or 03-8321-5400 (overseas).
That's not the only reason why you'd want to have this credit card as your travel buddy! Even before you start packing for that awesome getaway, you will already enjoy 5x Reward Points when you purchase your airline ticket using the HSBC Premier World MasterCard. Whats more, you will again be rewarded with 10x Reward points when you spend on dining and hotel accommodation overseas.
Maybank Islamic Ikhwan Visa Infinite Card-i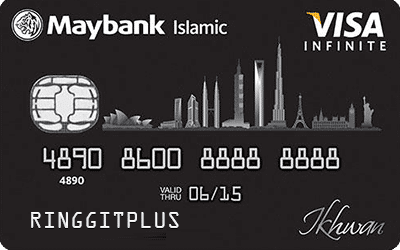 Travel Insurance: Up to RM2,000,000
Coverage Condition: charge travel ticket in full to credit card
This Islamic credit card from Maybank will make sure that your holiday will be smooth sailing all the way until the end, with up to RM2,000,000 travel personal accident insurance. You won't have to worry about travel inconvenience either, with reimbursement if you miss your connecting flight, along with protection against lost and delayed luggage amounting up to RM5,000.
Being a premium credit card, there are other travel perks and benefits to be had here. First of all, if waiting in long queues is on your list of pet-peeves, you will jump for joy knowing that you will have preferential treatment at immigration counters all over the world with Visa Airport Speed Pass. Lastly, travelling shouldn't be stressful, so Maybank will allow you to enjoy 5 complimentary access to airport lounges worldwide each year.
RHB Travel Money Visa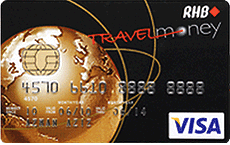 Travel insurance: Up to RM600,000
Coverage Condition: Automatic coverage
Only principal card members of the RHB Travel Money credit card and their spouse or children under their care below the age of 23 can be covered under RHB's free credit card travel insurance policy. You can be reimbursed for up to a maximum of RM600,000 for accidental death, total disablement, and lost of limbs – lost an arm swimming with the sharks in Australia? Make a claim! One thing to remember: In no event will the company pay out for more than one loss sustained by the covered person as a result of any one accident.
But you'd expect a credit card called the RHB Travel Money to deliver more than that, right? And deliver it does! Be awarded with 2X Reward Points when you spend on airline tickets, local cruises, travel packages, and duty-free purchases. With these points, you can start to redeem air miles such as MAS Enrich Miles and KrisFlyer Miles for Singapore Airlines flights.
Citibank PremierMiles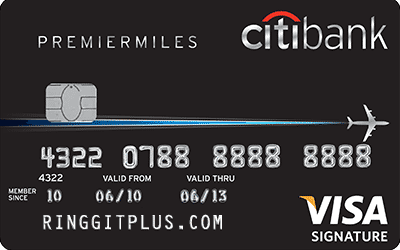 Travel insurance: up to RM300,000
Coverage Condition: Charge travel ticket in full to credit card
The Citibank PremierMiles Credit Card provides comprehensive protection comparable to a standalone travel insurance policy. Have 24 hours overseas personal accident coverage of up to RM300,000 by charging your travel ticket to your Citi PremierMiles Signature credit card. You will be covered for a maximum of 30 days.
Both principal and supplementary Citibank PremierMiles cardholders will have overseas medical expenses insurance for up to RM50,000 to help make payments for hospital bills. If you suffer from a severe medical condition that requires you to be flown to the nearest hospital or back to Malaysia, all travel expenses can be covered for up to RM75,000.
But your biggest concern would probably be loss of luggage and personal belongings. In the event that your baggage and other personal items are lost or damaged while on your trip, the Citi PremierMiles Signature will have you insured for RM12,000. Other stand out benefits include home care in case of burglary, and compassionate visit allowance of up to RM5,000.
Can you rely solely on your credit card travel insurance coverage?
Most credit card travel insurance coverage are made as a "one-size-fits-all" deal, making you unable to customise your coverage according to your travel needs. Because you will not be consulting an insurance agent, and undergo the underwriting process, the insurance policy will not take into account your age, health condition, your travel destination, or how long you wish to travel for.
To pair up your credit card coverage with a travel insurance plan for complete protection seems like the best way to prepare for a holiday full of fun and adventure abroad. Ultimately, having a worry-free holiday is as simple as getting the right travel insurance — ask the right questions, get the right plan, and know exactly what you will be covered for!
To find out more, take a look at our listing for the top travel credit cards in Malaysia.