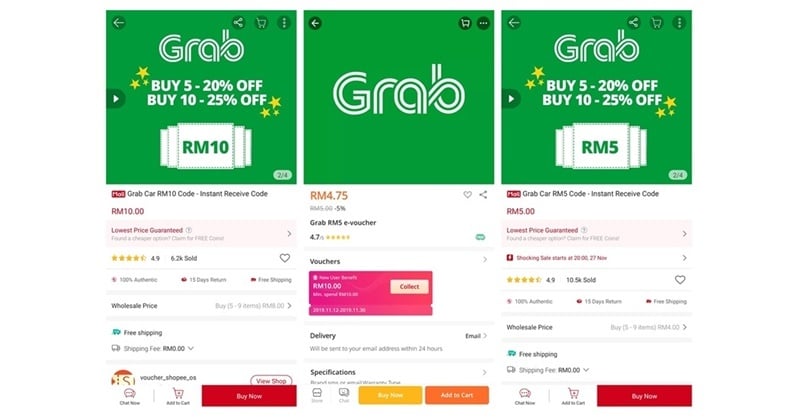 Frequent users of Grab services can now save on their rides with the purchase of Grab promotional codes from the e-commerce platform, Shopee.
The deals let you purchase RM5 and RM10 promotional codes, and even save more when you purchase these codes in bulk. For every 5 promotional codes that you buy, you will receive a 20% discount. Alternatively, you can purchase 10 codes to get a 25% discount instead.
There are also RM15 or RM30 e-vouchers available, which do not give you a wholesale promotion, but do offer an 8% rebate instead. Do keep a look out for these vouchers available at even lower prices when they are listed in Shocking Sales, which lasts four hours at a time.
While you won't be able to use voucher codes to further reduce the purchase price, you can utilise Shopee Coins to offset 25% of the purchase amount (but it is capped at RM30 per transaction).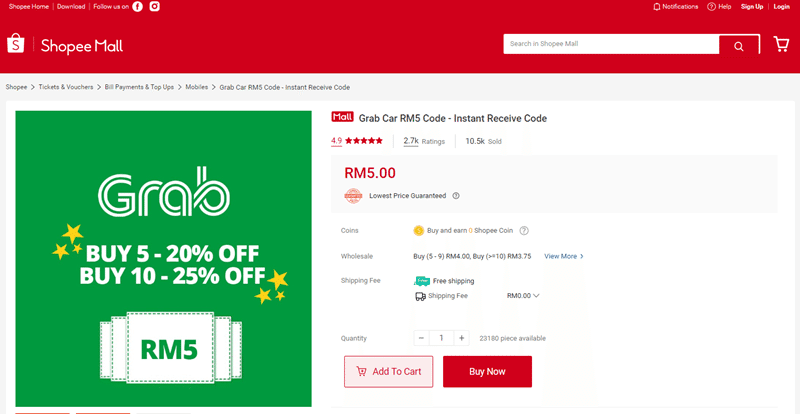 The e-vouchers are valid for all Grab rides (GrabCar, GrabCar+, GrabTaxi, and GrabShare), but not GrabFood and GrabPay services. They are usable until 29 February 2020.
To redeem your Grab e-vouchers after purchasing them, go to 'Notifications' and tap on 'Shopee Updates'. Look for your purchased e-voucher notification tab by the seller's name, and tap on it to find your e-voucher code.
Discounted Grab e-vouchers are also available in Lazada, where you can get them in denominations of RM5, RM10, RM15, RM20, RM30, and RM50. Each e-voucher is offered with a 5% discount, except for the RM30 e-voucher, which is available at a 8% discount. Grab e-vouchers purchased from Lazada are valid for 6 months from the purchase date.
Each unique code is only one-time use only. Do note also that the e-vouchers are not valid with other promotions, and you can only use one Grab promotional code each time you make a ride booking. Finally, just like the Grab e-vouchers sold in Shopee, these codes are only valid for Grab rides.