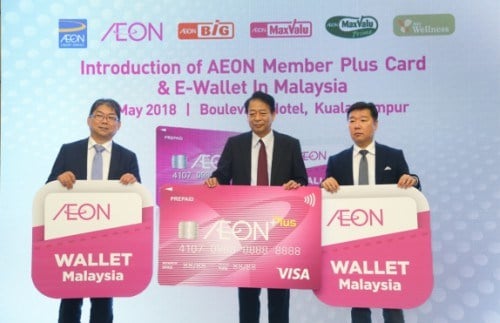 The adoption of cashless transactions in Malaysia is gathering momentum after another company introduced its mobile wallet to the country. AEON Group Malaysia unveiled its e-wallet platform, the AEON E-Wallet, as part of the company's digitisation initiative, and expects to launch in August.
According to AEON Asia Sdn Bhd Managing Director, Shinobu Washizawa, the company introduced the AEON E-Wallet with the intention of providing its customers with a secure and convenient payment system. Just like other e-wallet systems, customers can pay for their purchases at any merchant with the AEON Pay acceptance mark by simply scanning the designated QR code with the mobile wallet.
Shinobu Washizawa added the e-wallet also allows customers to keep their payment cards digitally in their phone, thus enhancing the customers' shopping experience.
With the emergence of the AEON E-Wallet, Malaysians are given plenty of options when it comes to choosing a mobile wallet. Besides that, the introduction of the mobile wallet also shows how cashless transactions is fast becoming the norm.
(Sources: The Malaysian Reserve, AEON Asean and The Sun Daily)