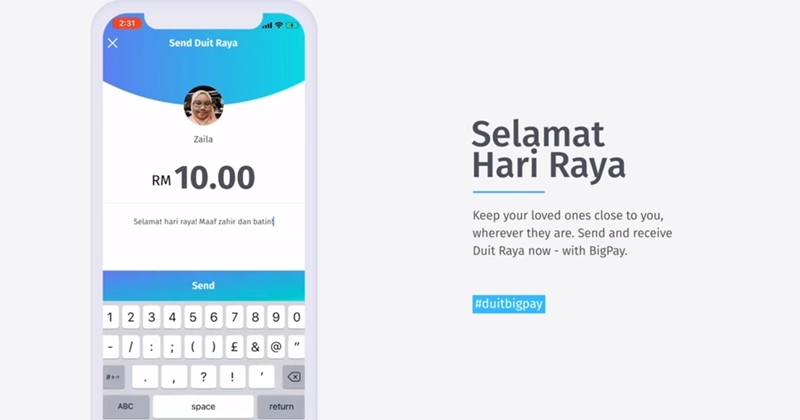 BigPay has released a new feature on its app to allow users to send and receive electronic duit raya to other users, as part of the Hari Raya celebrations.
To send and receive Duit Raya via BigPay, click on Duit Raya option in the Payment page of the app. Select the recipients with the amount you want to give, and input a personalised message (if you want) before sending.
In fact, this is almost a carbon copy of the peer-to-peer (P2P) fund transfer feature, which is a core feature of the BigPay (and virtually all other e-wallet apps).
BigPay is an e-wallet with accompanying prepaid card that's developed by AirAsia, offering the flexibility of an e-wallet combined with a physical card to give the best of both worlds. Its outstanding feature is the zero processing fees for foreign transactions, and an exchange rate that is almost exactly the same as on XE.com. All purchases made with the BigPay card earns AirAsia BIG points (AirAsia's rewards points program), and there is also a credit card surcharge waiver for AirAsia flight tickets purchased with the BigPay card.
Meanwhile the BigPay app has an expense tracking feature as well as a new analytics page that shows the user's spending habits over time.
The BigPay app is available on both the Apple App Store or Google Play. Be sure to update the app to unlock the Duit Raya feature.