The new rewards and loyalty programme by Boost, called BoostUP, is now live. Complete with its own points system, member tiers, and rewards catalogue, BoostUP is designed to be a step up from the e-wallet's original Shake Rewards feature to reward users for using the e-wallet.
Previously, Boost users would get immediate cashback with every transaction from their Shake rewards. With BoostUP, transactions on Boost will earn you both Boost coins and Shake rewards – which now offer other, longer-term incentives besides cashback.
Get Boost Coins And Shake Rewards With Every Transaction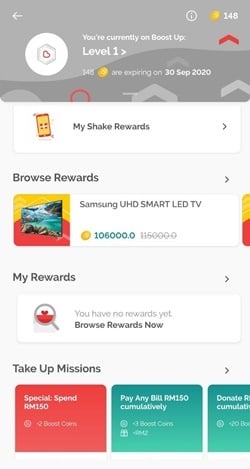 Through BoostUP, users will earn coins with every Boost transaction they make. As regular users of Boost may already know, Boost coins are used to activate Boost Missions, and this remains as a current feature of the Boost app. However, with the introduction of BoostUP, you can now save up coins to claim rewards from the Boost Rewards catalogue.
In addition to the Boost coins, you will also get a Shake reward when you make a transaction. Your Shake reward can contain one of the following incentives:
Cashback. Although it is no longer automatically given for every transaction, you still stand a chance to earn cashback from your Shake reward. The maximum amount of cashback you could earn varies according to your Boost level.
Extra Boost coins. Getting a Shake reward that gives you extra Boost coins will help you rack up your coins faster. Similar with the cashback benefit, the maximum amount of extra Boost coins you could earn depends on your Boost level.
Random prizes. Users can win lifestyle prizes like smartphones or household appliances.
A Golden ticket. Touted as the most desirable of Shake rewards, an elusive Golden ticket can get you a once-in-a-lifetime experience like a Mediterranean cruise or a day out with an A-list celebrity.
BoostUP Your Level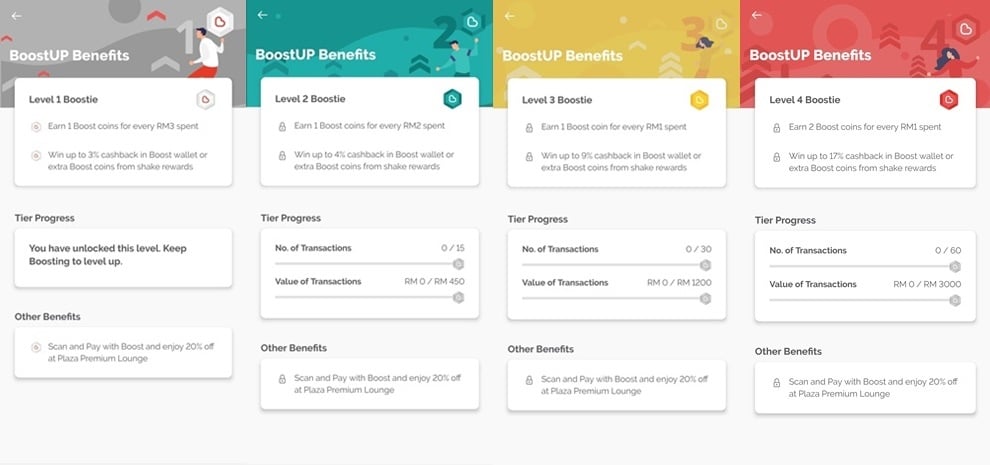 The BoostUP programme has four tiers: Level 1, 2, 3, and 4. The higher your level is, the faster you will earn Boost coins. Moreover, you stand to win a higher amount of cashback or additional Boost coins from your Shake rewards when you have a higher tier.
Tier
Benefits
Level 1

Earn 1 Boost coin for every RM3 spent
Win up to 3% in cashback or extra Boost coins (from Shake rewards)

Level 2

Earn 1 Boost coin for every RM2 spent
Win up to 4% cashback in cashback or extra Boost coins (from Shake rewards)

Level 3

Earn 1 Boost coin for every RM1 spent
Win up to 9% cashback in cashback or extra Boost coins (from Shake rewards)

Level 4

Earn 2 Boost coins for every RM1 spent
Win up to 17% cashback in cashback or extra Boost coins (from Shake rewards)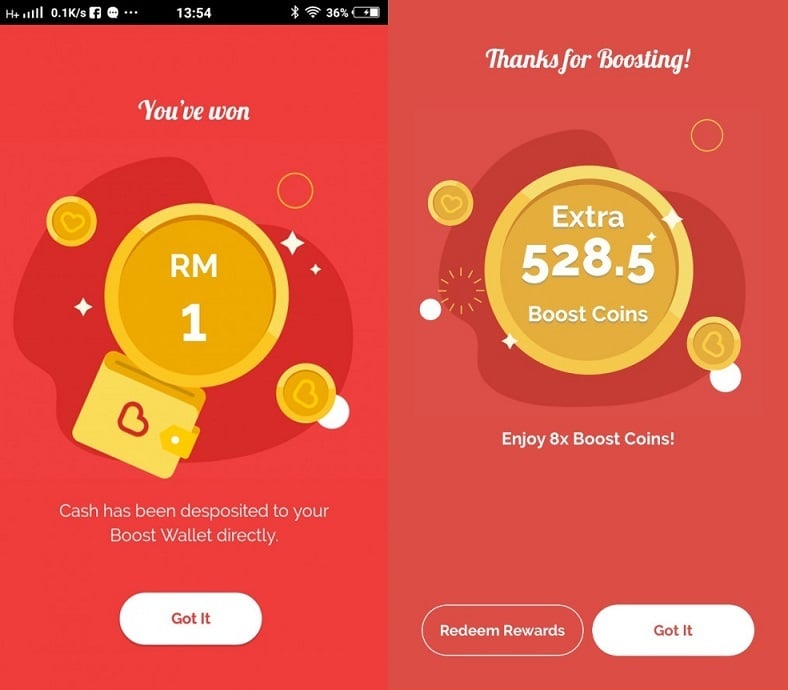 (Image source: Lowyat Forums)
According to Boost, you can level up your tier the by meeting two milestones: hitting a set number of transactions and also a set transaction value within 30 days. Nonetheless, there does seem to be some discrepancy in the progress tiers displayed by Boost. As you can see in each individual level page in the screenshots above, you need to make 15 transactions and spend RM450 to reach Level 2, make 30 transactions and spend RM1,200 for Level 3, and have 60 transactions with RM3,000 spent to reach Level 4. However, if you pull down your personal tier progress on your main rewards page, you will see that the milestones on this bar doesn't add up with the ones on the individual level pages.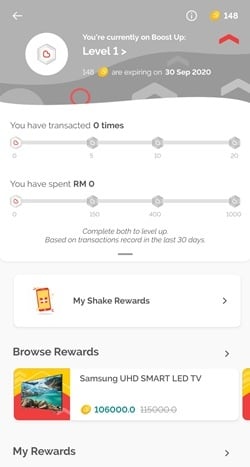 We must say, though, that the two-stage requirement to level up makes it makes it hard for users to level up. Boost has said before that most users use the e-wallet to pay for low-value transactions such as parking, so placing a spending requirement means a large group of users may not be able to level up their membership tier.
What Can You Do With Your Boost Coins?
Your Boost coins are used to redeem benefits from the Boost rewards catalogue. You can claim cash for your Boost Wallet, vouchers for online shopping, prepaid top-ups, and entertainment platforms, and also high-value items like Dyson hairdryers, iPhones, and even a Samsung UHD Smart TV. Of course, Boost coins expire after a year, so you would have to do a considerable amount of spending to earn the 106,000 coins required for the UHD TV.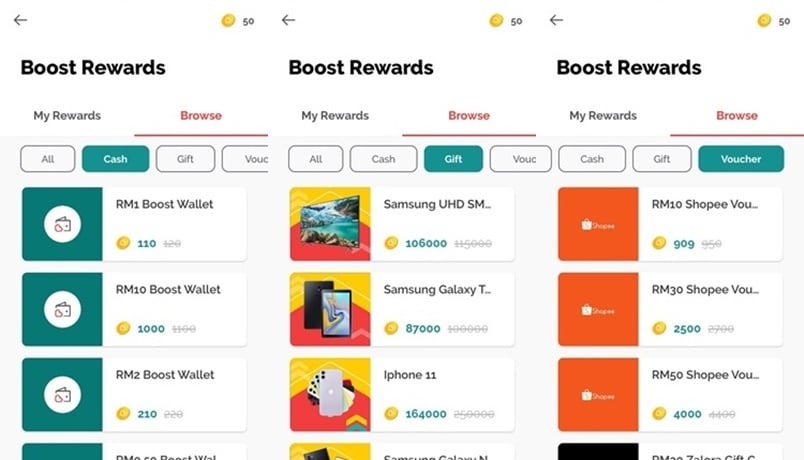 Boost's move away from randomised amounts of cashback towards this consolidated rewards system has a number of significant effects on the user. For one, BoostUP will be more rewarding to those who transact more with Boost – both in terms of number of transactions and transaction value. The structured rewards programme also means that you can now get a better grasp of the actual returns of using Boost (even if the Shake rewards received is still random). We will be breaking down the rewards programme further – specifically on the value of these Boost coins, so keep a look out on that soon. You can also find out more about the two other features introduced by Boost in its latest update, which are CashUp and UnionPay QR.