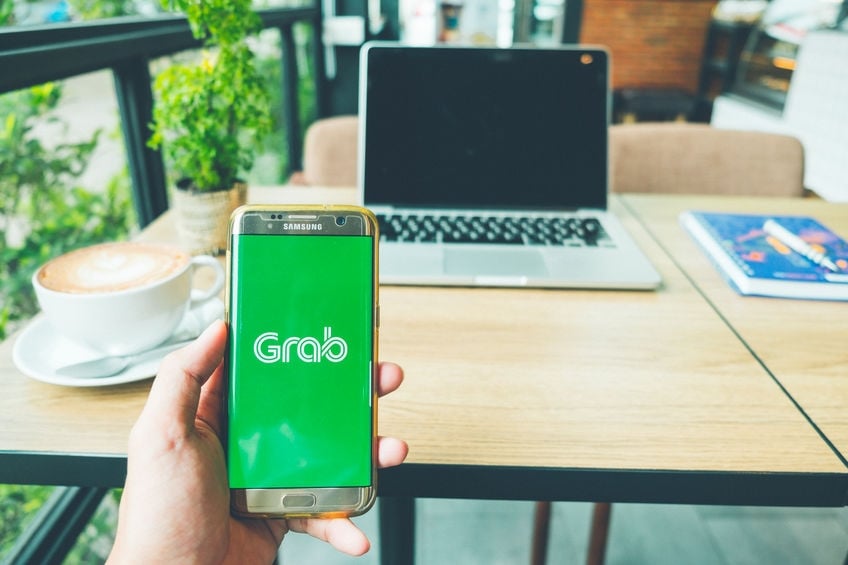 The Grab app has come a long way since it first started out as a ride-hailing app, and so has its built-in e-wallet, GrabPay. Besides being a payment method for Grab services like Grab rides and food delivery, you can now use GrabPay for a variety of other transactions: paying for mobile prepaid reloads and utility bills, buying movie tickets, booking hotels – and making in-store purchases at GrabPay merchants.
GrabPay E-Wallet Benefits
Among all the e-wallets in Malaysia, GrabPay has the most comprehensive and structured rewards system. You earn a certain number of GrabRewards points for every RM1 you spend using GrabPay, which depends on what you spend on and also your membership tier. The more points you earn, the higher up the membership tier you'll climb – Silver members need to earn a minimum of 200 points, Gold requires at least 900 points, and Platinum needs at least 3,500 points to unlock.
| | | | | |
| --- | --- | --- | --- | --- |
| | Member | Silver | Gold | Platinum |
| GrabCar | 4.5x points | 4.5x points | 6.75x points | 9x points |
| JustGrab/GrabShare | 6x points | 6x points | 9x points | 12x points |
| GrabFood/GrabLuxe | 3x points | 3x points | 4.5x points | 6x points |
| In-store purchases | 10x points | 10x points | 15x points | 20x points |
*Note: These rates will be in effect until 31 September 2019.
Effective 1 July, GrabRewards points won't expire as long as you make 1 Grab transaction within 3 months of your last transaction. (Previously, unused points would expire at the end of the following reward period after they were earned.) GrabRewards points can be used to redeem vouchers that offer discounts on Grab's suite of services as well as its various partners. There's also another use for GrabRewards points that some users might not be aware of: your points can offset the price of your purchase at GrabPay merchants (for transactions more than RM4).
What We Like
If you're a Platinum member, accumulating GrabRewards points won't be a problem – especially when you use GrabPay in-store at a merchant partner. At Platinum's accelerated earn rate, you get 20 points for every RM1 you spend in-store. So, if you use GrabPay to pay for your RM60 bill at a café, you instantly gain 1,200 GrabRewards points – which you can use to claim RM10 off your next Grab ride, a free Gong Cha Signature Tea, or a Texas Chicken Combo!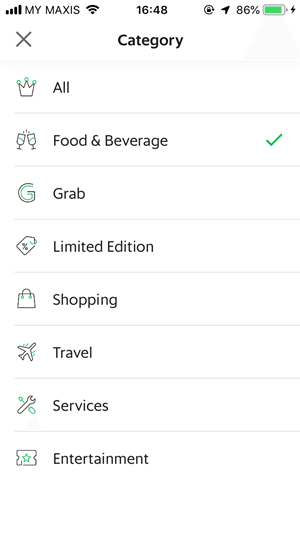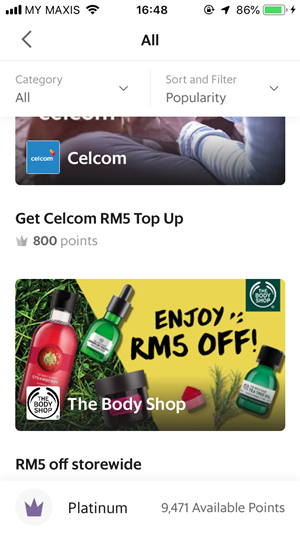 Grab has a variety of vouchers that you can claim using your Grab points, and each of them costs a different amount of points to redeem. To maximise returns, you should redeem vouchers that have the highest "redemption value" – in other words, those that give you the highest value per GrabRewards point.
You can work out this redemption value quite easily by calculating the Ringgit value of a GrabRewards point for any Grab voucher. Let's take a few Grab ride vouchers to illustrate.
RM5 off one Grab ride: 700 points = 0.71 sen per point
RM10 off one Grab ride: 1,240 points = 0.81 sen per point
RM25 off one Grab ride: 2,810 points = 0.89 sen per point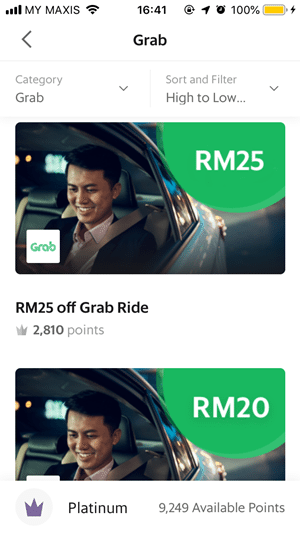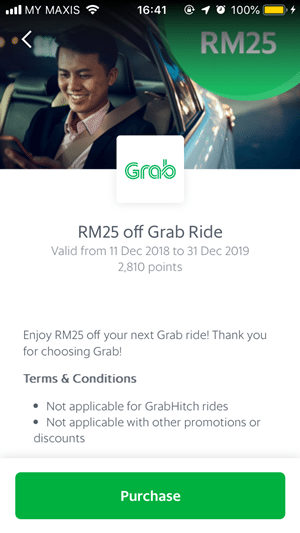 From the three vouchers, the RM25 Grab ride has the best return as each GrabRewards point carries the highest value after redemption. The difference may look tiny, but they will make a difference over time – especially when you're earning points at Platinum tier, where you can get incredibly rewarding rates of return for every Ringgit you spend.
Using the same Grab vouchers above, if above you're a Platinum Grab member earning points at a 20x rate, you get an effective rate of return of 17.80% for the RM25 voucher and 14.29% for the RM5 Grab ride voucher. That tiny 0.18 sen difference in points value translates to a noticeable 3.51% increase in returns. Regardless, the effective rates of return for GrabRewards are extremely good; even the best cashback credit cards rarely offer effective cashback rates above 8%.
Grab also occasionally slashes the amount of rewards points needed to claim a particular voucher – which would in turn make its redemption value go up. For example, if the RM10 off Grab ride voucher only costs 1,150 points to redeem, then that would bring its redemption value up to 0.87 sen per GrabRewards point (17.39% rate of return for Platinum members).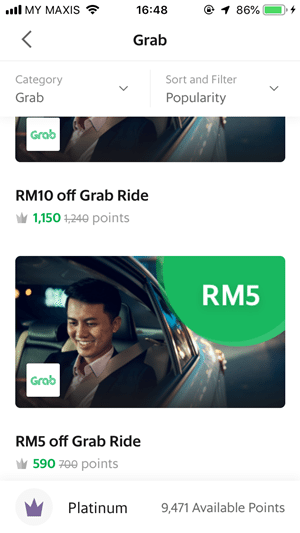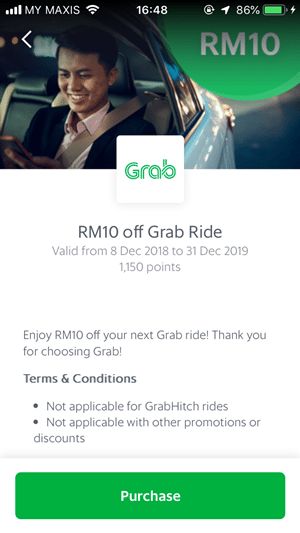 Furthermore, a lot of people overlook the fact that GrabRewards points can be used to get up to 100% instant rebates all its in-store merchants. However, at 165 points required per RM1 rebate, that would yield only a redemption value of 0.61 sen per GrabRewards point – so you would probably be better off redeeming any one of the Grab vouchers listed above instead.
If you still prefer using your points for cash rebates, this is what your effective rate of return would look like: to get RM1 rebate off your bill, you would need to spend RM8.25 (for Platinum tier) in order to earn the required 165 points. This gives you an effective return rate of 12%, which again is still higher than most credit card and e-wallet cashback rates in the market.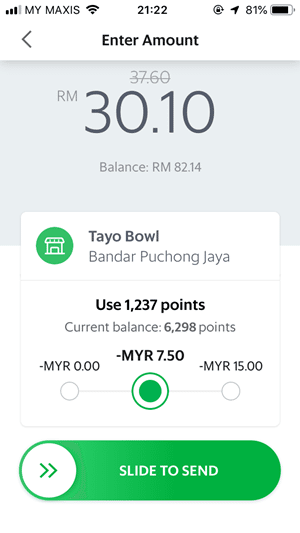 Finally, let's also not forget that Grab accepts wallet reloads using credit cards, allowing you to "double dip" on rewards. Check out our guide on the best credit cards to reload e-wallets, which will yield even higher effective rates of return for every Ringgit you spend.
If you're thinking that these rates of return are too good to last, then you're right – you won't be enjoying them for long. Grab has recently announced that there will be some changes to its points earning system. Effective 1 October 2019, Platinum members will earn 3x GrabRewards points for Grab services and 9x points for other GrabPay transactions.
What We Don't Like
You can use GrabPay at quite a few F&B outlets in general, making it reasonably easy to collect a sizeable number of Grab points from one bill. However, we noticed that fewer small vendors accept GrabPay, and are more likely to accept other e-wallet apps like Boost and Touch 'n Go instead. Neither would GrabPay be your e-wallet of choice at your nearest pharmacy or KK Mart; at convenience and retail stores, GrabPay's reach has plenty of room for improvement.
Should You Use It?
GrabPay scores major points with us because it is genuinely rewarding to use the platform. It has a huge advantage of having a tight integration of its services, allowing it to offer valuable vouchers and discounts.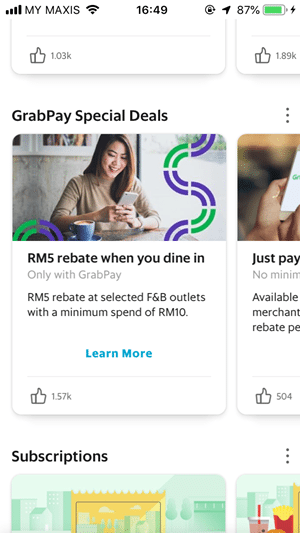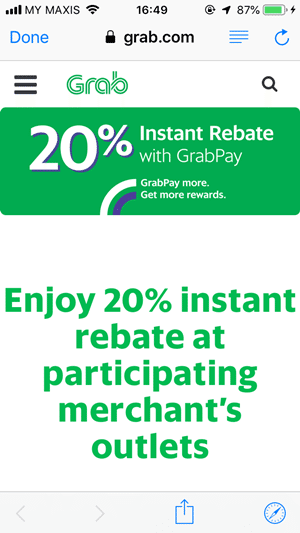 In addition to the GrabRewards catalogue, GrabPay also offers discount codes and automatic rebates that you don't even need points to claim, like rebates for bubble tea orders, movie tickets, or online shopping. There are also festive discount packs such as the recent Pek Senang Raya, which cost just RM2 but offered a variety of promo codes worth up to RM600. These promotions will hopefully help cushion the blow of the upcoming reduced earning rates as you don't need to use your points to enjoy their benefits.
If all this talk of points and rebates have given you the impression that GrabPay is a complicated affair, don't overthink it. It's easy enough to use the app to top up and pay – and that's really all you need to know to get started. In any case, now is the best time to use GrabPay and earn points before the earning rates are revised on 1 October.