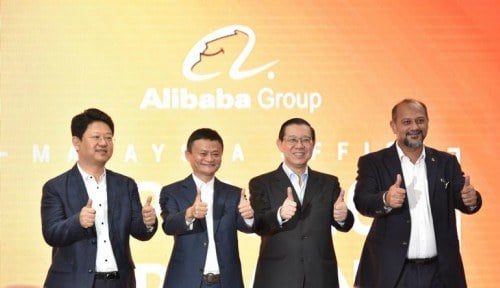 Alibaba Group, one of the ten biggest and most valuable companies in the world, has taken root on Malaysian soil. The Chinese conglomerate behind the popular online shopping website Taobao has opened its first Southeast Asian office in Kuala Lumpur. The office will also act as Alibaba's first Electronic World Trade Platform (eWTP) facility outside China.
Located in Bangsar South, the office was officially opened yesterday (18 June) and was officiated by Jack Ma, co-founder and executive chairman of the company. The event was also attended by Finance Minister Lim Guan Eng, Communications and Multimedia Minister Gobind Singh Deo, as well as Chinese ambassador Bai Tian. Ma also took the opportunity to meet the new Prime Minister, Datuk Seri Dr Mahathir Mohamad, before the event.
With its presence here, Alibaba is looking to enable the growth of small and medium enterprises (SMEs) and create more employment opportunities in Malaysia. "Alibaba is committed to improving the digital economy of Malaysian entrepreneurs who want to change their business concept in order to enhance their business internationally," said Ma during his speech. He also mentioned that the new office will function as a training centre.
To mark the occasion, Alibaba has launched a Malaysia Week online promotion from 6–12 July with the aim of highlighting Malaysia's tourism attractions and products to Chinese customers. The campaign will showcase over 50 Malaysian brands across a wide range of categories on Alibaba's platforms.
The above initiatives are part of Alibaba's strategic partnership with Malaysia and its ongoing commitment in expanding digital economy in the nation and region, with Ma speaking confidently of a sustained trade relationship between Malaysia and China. Looking ahead, Finance Minister Lim Guan Eng said that Alibaba's continued initiatives in the country would open new investments, new job opportunities, and boost the local economy.
(Sources: New Straits Times, The Star) (Image: Lowyat.NET)