Wouldn't travelling be way more fun if all we had to do was jump on an airplane and deal with whatever happens next? Real life isn't this simple of course. Before we even head for the airport, we need to choose somewhere to go, plan an itinerary, book tickets, and all other sorts of hassle.
Well what if we told you that you can do the bulk of your holiday pre-planning right from the Google homepage in your phone's browser? Here are what Google Destinations has instore for you to simplify any pre-trip phase.
Google Destinations: An All-In-One Destinations Discovery
Capturing the main areas of people's interests when they search for vacation-related terms, Google has designed a specific search function named Google Destinations, which will instantly display a collection of information based on a searcher's questions about his or her trip.
By typing in the queries like "Japan destination" or "Japan vacation", or any location for that matter, you will see the search result in grid that summarises its most popular cities, states, or things to do and more.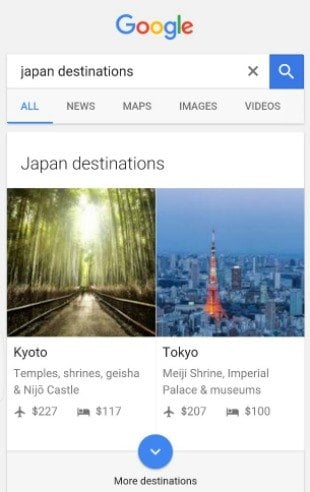 Travelling Made Cheaper And Smarter With Google Destinations
This platform integrates both Google Flights and Hotel Search functions to help users plan out their budget as well as itineraries more effectively. What we find to be the most valuable benefits that anyone can enjoy are the customized filter and travel inspirations.
If you are unsure of where to spend your next holidays, Google might just be the
best place to start. Simply go to Google Flights to evaluate all of the suggestions based on your history searches and the popularity of the countries or cities.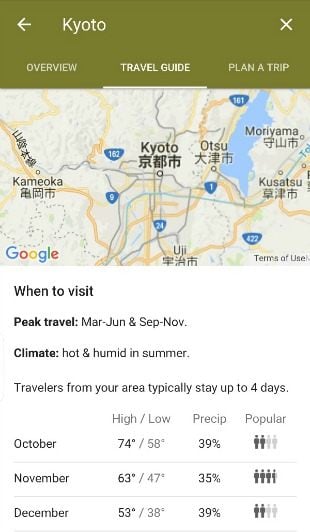 Along with the basic information on flights and hotel rates, Google will also let you know when is the best time to visit as well as the recommended length of stay for your chosen destination.
As for the airline tickets, Google has recently launched a new price-hike alert for some flights routes. It means that you will be notified if the current fare is likely to increase in order for you to make wiser booking decision now rather than later.
Furthermore, you can save a great amount of money on accommodation with Hotel Search's "Deals" feature. It shows hotels listings with rates are much cheaper than their usual prices. If you have any loyalty cards, be it travel credit card or hotel membership, do register them into Google Wallet so that you will also get updates from hotels or flights' exclusive deals for members!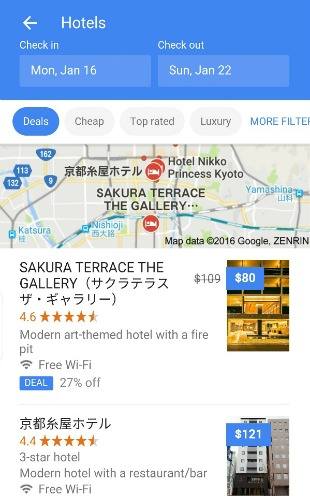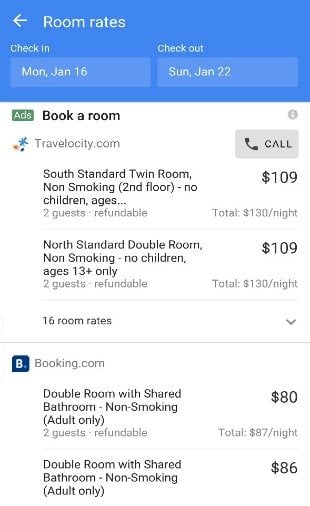 If you already have a desired holiday schedule, Google Destinations will then help you to create the best itineraries without having to scroll through countless of articles. Better yet, the results can be filtered by your favourite activities.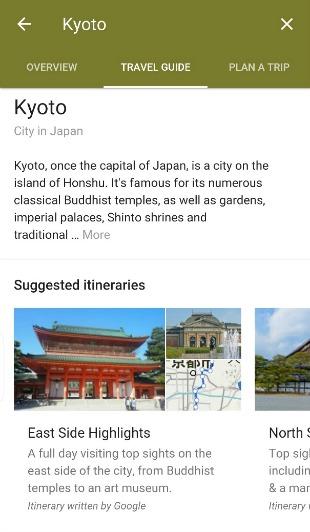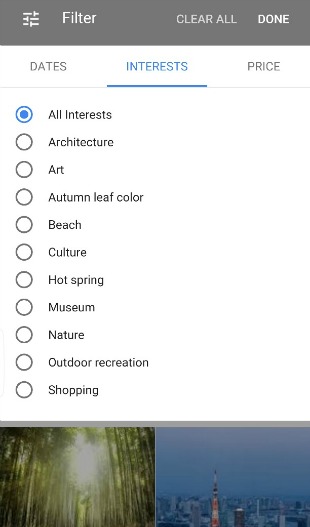 From all of your selections, the search engine will provide you with an estimation of the budget for your basic expenditures.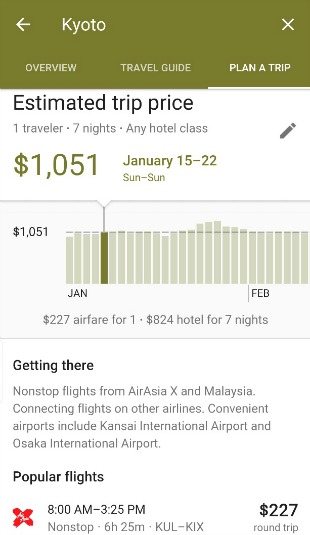 You can also make your bookings through Google, after which you will be redirected to the respective airlines or hotel booking sites. The good news is that your vacation plans will be neatly organized right in your Gmail inbox so that you can access and modify them anytime you want.
For this coming year-end holiday, instead of going through several guide books or paying some extra cash to travel agencies, why not planning out your vacation hassle-free right on Google? Not only will it save you time, the engine also makes sure you get the best prices!
Get some travel inspiration from these budget travel destinations to kick off your holiday plans. Don't forget to equip yourself with travel credit cards and travel insurance to ensure a worry-free vacation!
Speaking of worry free vacation, why not participate in our Travel Getaway Campaign and get a Free return flight ticket to places like Phnom Penh or Macau?