CIMB has launched a new campaign that offers cashback and Boost e-wallet funds for using its credit cards for auto-billing, card-on-file payments, and e-wallet transactions.
The Pay With CIMB Cards campaign, which starts today and ends on 14 October 2019, looks a lot like a subtle dig at recent news of other banks limiting rewards for e-wallet reloads. That said, the campaign doesn't offer outright rewards for e-wallet transactions, but instead they count as entries to be in the running to win prizes.
There will be a total of 400 monthly prizes as well as 15 Grand Prize rewards to be given away, and winners are randomly selected based on the amount of eligible transactions made during the campaign. For example, every e-wallet transaction (such as adding wallet funds) on Boost and TNG eWallet counts as 10 entries, while existing auto-bill transactions count as 1 entry. Naturally, the more entries posted, the higher the chances of winning for that month.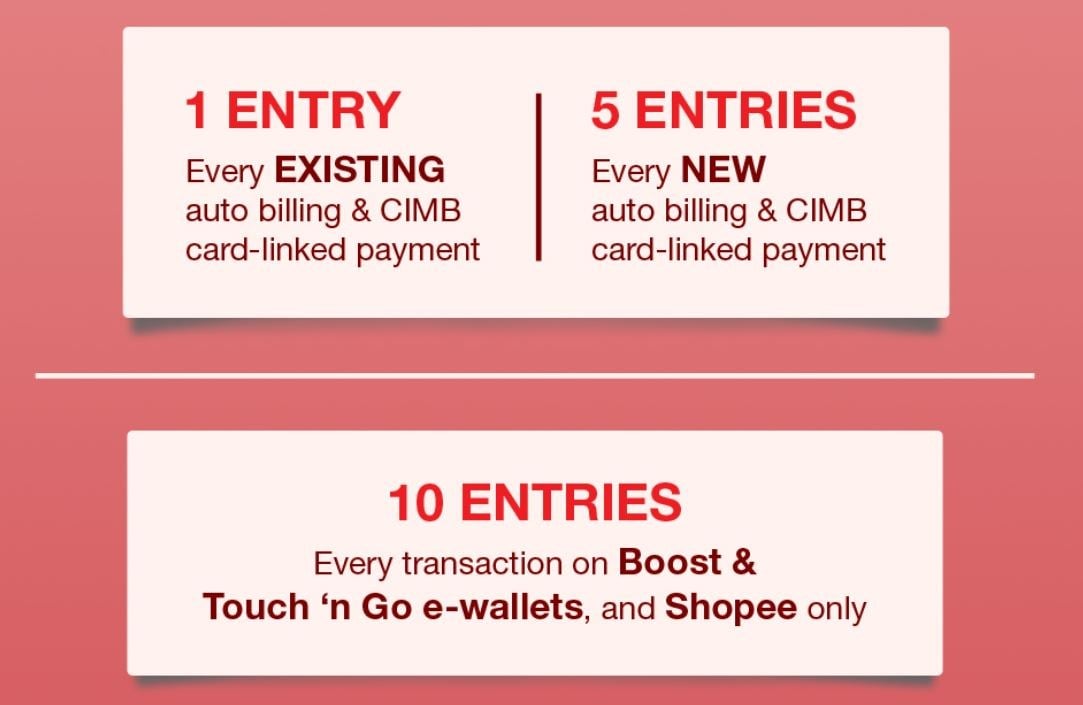 According to the campaign's terms and conditions, a card-on-file transaction is one where the user has previously stored their card details and authorised a merchant to charge it. E-wallets such as Grab and BigPay, e-commerce platforms such as Shopee and Lazada, and virtually any merchant that lets you save card details for future transactions are considered card-on-file transactions – for this campaign, the merchants are tied to a list of MCC codes that is detailed in the T&C.
Meanwhile, for auto-bill transactions, eligible merchants go beyond utility bodies to include services such as Astro and Netflix, gyms, and insurance companies – eligible transactions are based on the merchant's MCC code as well.
Monthly prize winners will receive 100% cashback for the amount spent on eligible transactions for each campaign month, capped at a maximum of RM500 per winner. Meanwhile, each Grand Prize winner will receive 100% cashback on all eligible transactions from 15 October 2019 until 14 April 2020 (capped at RM5,000) plus an additional RM1,500 in Boost e-wallet funds.
Each winner can only win one monthly prize and one grand prize, which means an individual can win up to RM7,000 in prizes – RM500 monthly and RM6,500 (RM5,00 cashback + RM1,500 Boost wallet funds).

Interestingly, CIMB is also including its debit card in the campaign with specific prize allocations for debit card entries. Almost all CIMB credit cards are eligible for the campaign, from its high-end World Elite Mastercard and Preferred Visa Infinite, mid-range offerings such as the Visa Signature and Petronas Platinum Credit Card, to the popular entry-level Cash Rebate Platinum Credit Card. The only cards that are not eligible for this campaign is the CIMB Platinum Business Card and the CIMB Fuel Tanker Card.
Find out more about the campaign on the CIMB website.