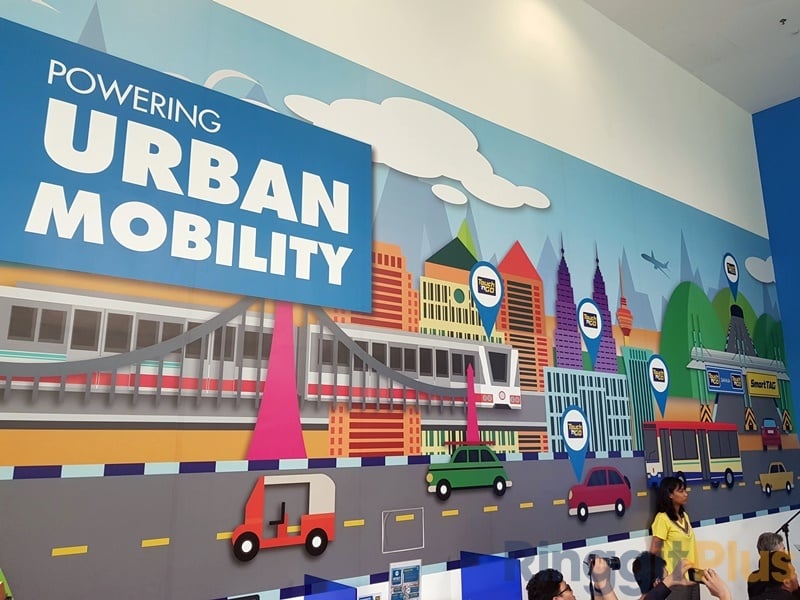 Recently, TNG Digital invited us to be one of the testers of one of the company's new products: TNG RFID. The successor to the aging SmartTAG, TNG RFID promises a future where toll booths have no barrier gates, where drivers do not need to drive at a snail's pace to make sure the sensors caught your tag. After just over a week using this new technology, I'm happy to report that TNG RFID carries a lot of promise, but in its current form it doesn't quite impress.
We covered TNG RFID and its underlying technology previously, so we won't go into detail here. Essentially, TNG RFID uses radio frequency tags attached to the car, and is picked up by overhead scanners at the toll booth, lifting the barrier gate as we drive along. The RFID tag is linked to the Touch N Go e-Wallet, where the toll fare would be automatically deducted.
The entire process is cashless, and in theory, drivers would not have to stop their cars to have their RFID tags scanned. After using it for a week in my daily commute to work, here are some observations from my experience using TNG RFID.
Setting Up TNG RFID
I had my TNG RFID sticker fitment done at the Bangsar South fitment centre, which was basically in the lower-ground car park below the Touch n Go Experience Centre in Bangsar South. I was told that this is one of only five fitment centres currently available for the 100,000 pilot testers, but as the program continues more fitment centres would be opened. TNG Digital says there will also be "mobile" fitment centres in popular areas with adequate space, such as petrol stations.
The entire process is actually really quick. First, you'll need to provide verification of your car (such as an insurance cover note), as well as your IC. You can link multiple RFID tags to a single TNG eWallet account, and that will require a written permission from the car owner. Once verification is complete, a technician would examine your car. Currently, TNG is offering two different RFID sticker options: one to be place at your headlamp, and the other that's placed on the inside of the car's windscreen.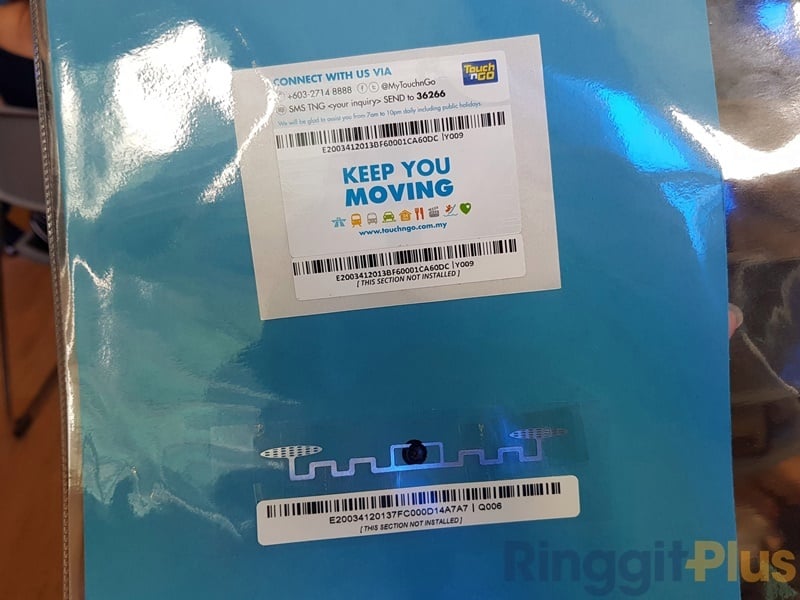 Users won't have the choice to pick which sticker they want, as it is dependent on whether the car is tinted or not. Most users would prefer sticking it on the windscreen, but if your car is tinted the SOP is to use the headlamp sticker. Those using premium ceramic-based tinting may get to use the windscreen sticker, however. In extreme cases, if your headlamps are tinted, the technician would proceed to sticking the sticker on the outside of the windscreen.
Once that's done, the technician will test the RFID sticker's responsiveness by using a handheld RF scanner and aiming at the sticker from various angles to see if its signal can be picked up.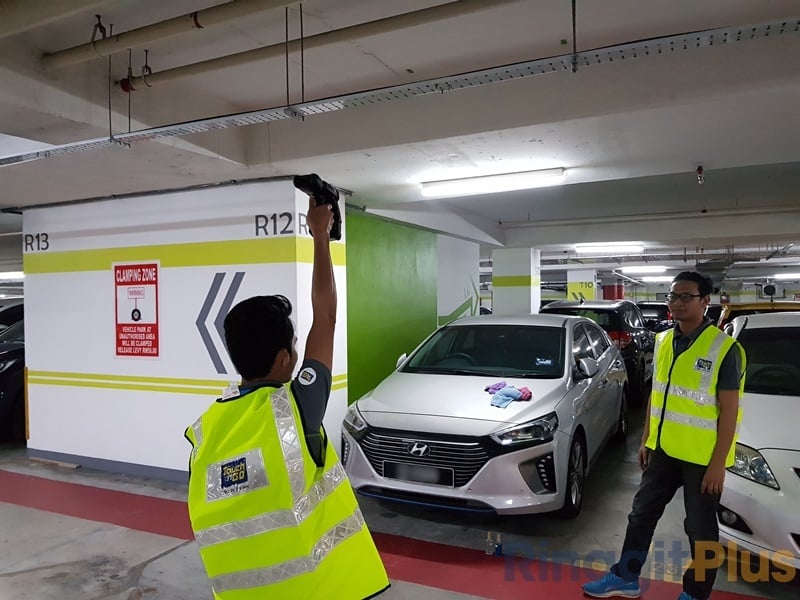 In all, the entire fitment process only took about 15 minutes – with five of those at the verification counter. Before I could use the system, I'd have to wait for an activation SMS to inform me that I can start using TNG RFID, which came several hours later. When it is activated, you'll be able to see the RFID option with your registered car number plate in the TNG eWallet.
How Good Is TNG RFID?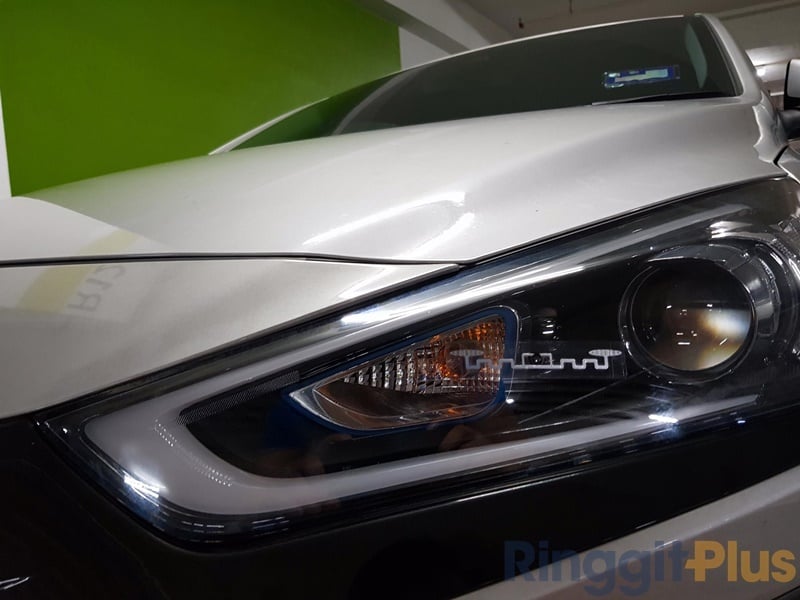 I use two highways in KL that has RFID lanes on my daily commute to and from work: Sprint and the Kerinchi Link. Throughout the week, both lanes work and detect the RFID tag on my car, but there was one pretty glaring issue: the RFID scanner would only pick up my car's sticker's signal dangerously close to the barrier gate.
From its FAQ section, TNG says that its RFID system has a range of 27m, and a response time of just 10 miliseconds. While this may be theoretically correct, the reality is nowhere near this figure. Kerinchi Link's RFID lane, in particular, consistently scanned the tag successfully only when my car was inches away from hitting the barrier gate. Even when approaching the lane at a steady 20km/h, the system never gave me the confidence that I could maintain my 20km/h speed and lift the gate in time, forcing me to jump on the brake pedal in panic moments before the barrier gate lifted.
The RFID lane in the Sprint, on the other hand, is more forgiving, though I still had to be driving around 15-20km/h. That speed is almost the same speed at which we drive into SmartTAG lanes, so that's still not exactly an improvement.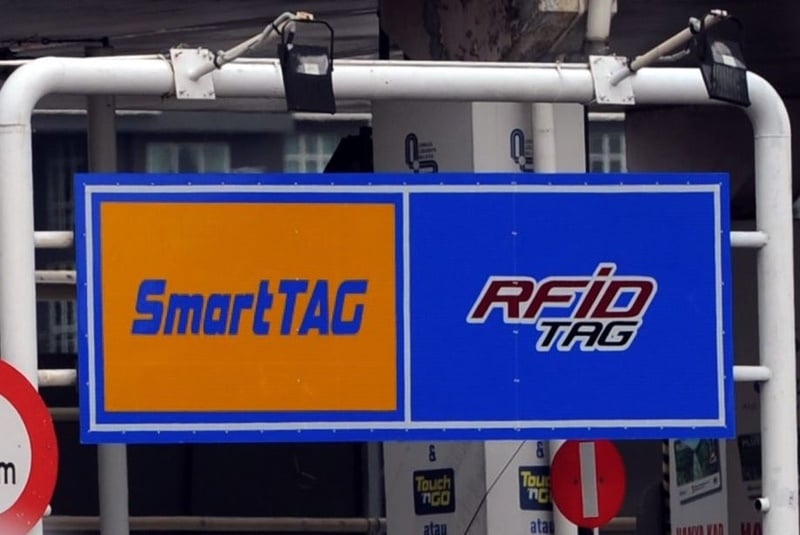 I spoke to some other pilot testers and found that they too had similar experiences in other highways with RFID. It appears that different highways installed the RF sensors at different locations of the booth, so even if it works, the point at which the sensor detects your car's RFID tag will be different.
Interestingly, this isn't all down to poor implementation on TNG Digital's part. At a media briefing for the system, we were told that the company took the unusual step of reducing the overhead sensor's sensitivity so that it would only focus on a single lane. Normally, three sensors would be enough to scan five lanes, but since there is only one dedicated RFID lane, the decrease in sensitivity also means RFID-equipped cars have to drive slower than normal.
This lower sensitivity is the biggest pain point of the entire TNG RFID experience. Many countries use RFID scanning technology for their gateless toll systems as the technology is reliable enough to track even when cars are cruising at moderate speeds. So for Malaysia to have RFID tolls that still have gates and reduced sensitivity to the point where it is about as good as SmartTAG, it somewhat defeats the purpose of the upgrade. Of course, this is an issue that will eventually go away when our tolls are fully upgraded to be RFID-only, but in the meantime, we're stuck with a sub-par experience.
Paying Tolls With TNG RFID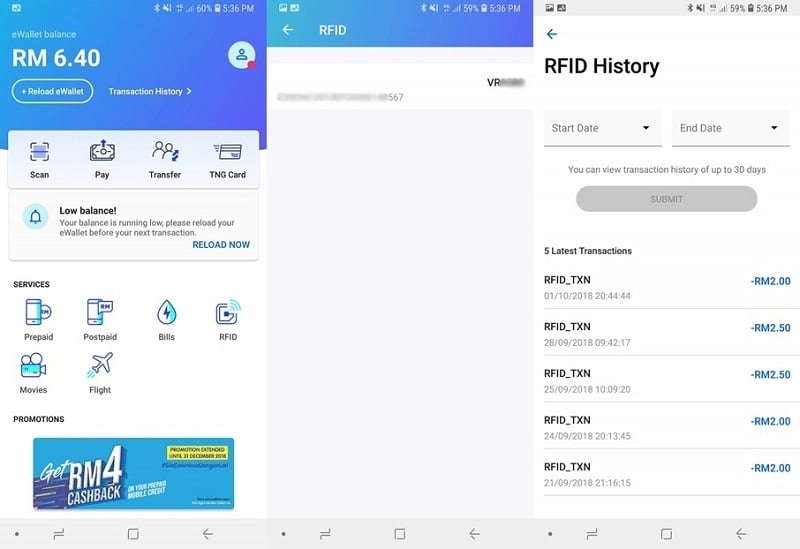 TNG RFID is linked to the user's Touch n Go eWallet, where the fare would be deducted automatically. In my week of testing, there was absolutely no issue with the app correctly deducting the fare. It would be nice if I could see my wallet balance at the toll gate display though, because I don't usually remember how much balance I have at any given time.
Which leads us to the question: what would happen if there is insufficient funds in your eWallet, and you drive through the RFID lane?
For now, drivers would be stuck in the embarrassing situation where the barrier gate will not open if you have insufficient funds in the TNG eWallet, and would be required to pay via other forms. In future, however, TNG Digital will enable a feature that will allow you to pass at least once without paying the toll fare – the amount would be automatically deducted the next time you top up your eWallet.
How Safe Is The TNG RFID Sticker?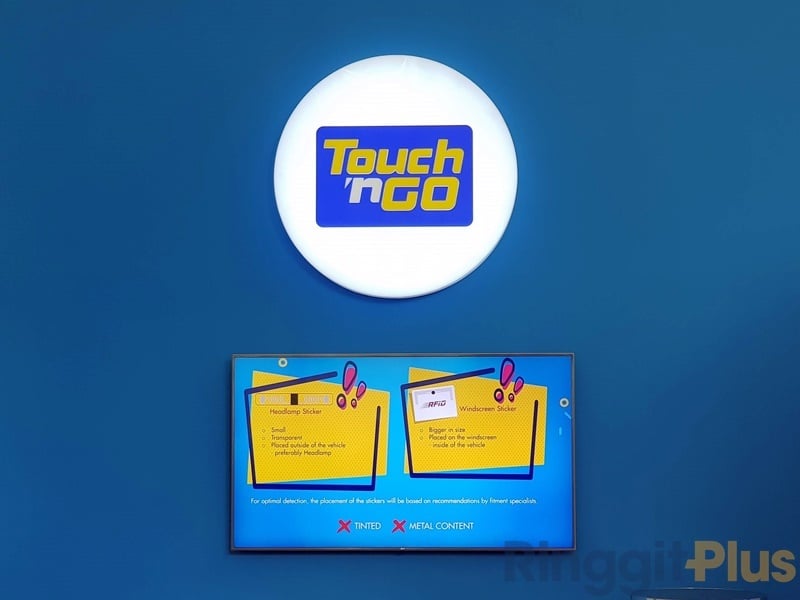 One aspect that took up plenty of questions during the TNG RFID was about the RFID sticker itself. Many took issue with the fact that the only place where it can be installed is on the car's headlamps. How safe is it? Could it fall off? What happens if someone takes it off and puts it on their car?
While the durability of the sticker will remain unanswered for now, TNG Digital reps did a great job with explaining and addressing our concerns. Here are a few of them:
The RFID sticker has security measures in place to render it unusable if it is peeled off.
The RFID sticker chosen by TNG Digital is designed to withstand temperatures between -20°C and 55°C.
The RFID sticker is also dirt- and weather-proof, and works passively – no batteries needed.
The RFID sticker has an average lifespan of five years.
Is TNG RFID The Future?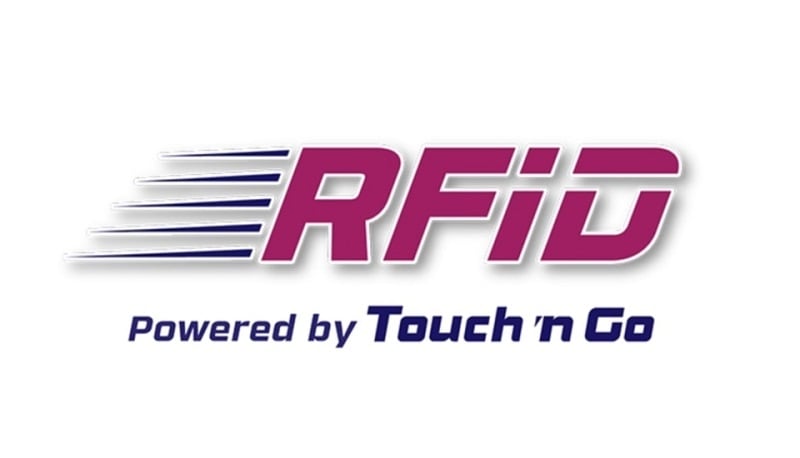 TNG RFID is just one of the ways TNG Digital is encouraging a cashless society that Bank Negara Malaysia is actively pushing for. Being reliant on a physical card and a proprietary reader for tolls doesn't cut it at a time when everything is done digitally with the most powerful device we have in our hands: the smartphone.
Thankfully, it isn't, and TNG RFID is one solid effort to enable this shift to a cashless future. However, there are socio-economical barriers to the implementation of a fully-cashless system, which means progress will be slow. It has taken the unusual step of reducing the sensitivity of its RFID sensors during this trial program, and mentioned that it will not enable a full RFID toll system until the public is ready to do so – and that's going to be a while more.
But that first time when the barrier gate magically lifted – though I almost drove into it – was an eye-opening experience at how seamless this process can be when it is properly implemented. TNG RFID is a glimpse of how new technology can enhance an experience as mundane as paying tolls, and I'm genuinely excited to see the end product at all toll booths in Malaysia in the future. The only question is, how long will we have to wait?