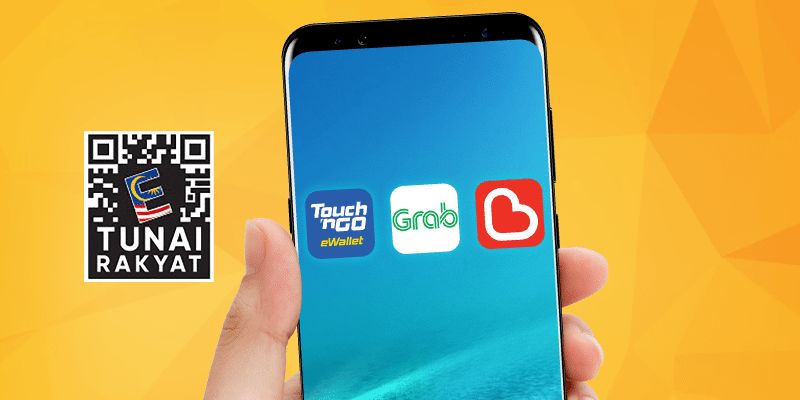 From 15 January 2020, the government is giving out a one-off RM30 digital incentive to eligible Malaysians as a way to encourage e-wallet usage. If you're not sure what this is about or how to get your share of the RM450 million allocation, you can get your questions answered below.
What is the e-Tunai Rakyat e-wallet initiative?
e-Tunai Rakyat is a government initiative designed to encourage Malaysians to increase their use of e-wallets. Eligible recipients will get RM30 worth of e-wallet credit as an incentive under this programme.
Who is eligible for e-Tunai Rakyat?
To qualify for the incentive, you must be:
Malaysian
Aged 18 years and above as of 31 December 2020
Earning less than RM100,000 in the year 2018 (RM8,333 per month)
As the requirements do not touch upon whether you have to be working or not to receive this incentive, it seems likely that students, retirees, and the unemployed also stand to benefit from e-Tunai Rakyat as long as they fit the criteria.
Which e-wallets can I claim this initiative from?
Touch 'n Go (TNG) eWallet, Boost, and GrabPay are the three official e-wallet partners for the e-Tunai Rakyat initiative. You can choose to receive your RM30 credit from any one of these e-wallets.
How will I receive the e-Tunai Rakyat incentive?
The e-Tunai Rakyat incentive can be claimed directly through the GrabPay, TNG eWallet, or Boost app – depending on which e-wallet you choose to claim it from.
What is the claiming process for the e-Tunai Rakyat RM30 credit?
First of all, download the app of a participating e-wallet partner (if you haven't done so already). To claim your RM30 from the e-wallet app, you will need to provide details of your MyKad – which will be used to verify whether you fit the eligibility requirements.
Upon successful verification, the RM30 will be credited to your e-wallet account. Grab has stated that its users will receive their RM30 one day after being verified.
Can I claim the RM30 incentive from more than one e-wallet?
No, you cannot. Once you have received the e-Tunai Rakyat from one e-wallet, any applications through other e-wallets will be rejected.
When can I claim the initiative?
You can make your claim for e-Tunai Rakyat between 15 January – 14 March 2020.
Is there an expiry for the e-Tunai Rakyat?
You will need to spend the RM30 credit by 14 March 2020. The e-wallet partners have stated that any e-Tunai Rakyat balance that is not utilised will expire after this date.
What can I use the RM30 e-wallet credit for?
Once you have received the e-Tunai Rakyat incentive, you may spend it on goods and services within Malaysia that can usually be paid for using your e-wallet of choice. However, you will not be able to transfer it to any other users or withdraw the incentive from your e-wallet.
Can I claim my incentive from an e-wallet that isn't Boost, TNG, or GrabPay?
No. You may only receive the e-Tunai Rakyat incentive from Boost, TNG, or GrabPay. According to Khazanah Nasional, these three e-wallets were selected for the e-Tunai Rakyat initiative based on four criteria: a large number of active users, large merchant networks, a high level of capability, and a significant level of investment in their own services in Malaysia.
***
The RM30 e-wallet incentive was first announced by Finance Minister Lim Guan Eng during the tabling of Budget 2020. According to Lim, the digital incentive is intended to help speed up Malaysia's adoption of e-wallets amongst both users and merchants, especially for small businesses. The selection of Grab, Boost, and TNG as the official e-wallet partners for e-Tunai Rakyat was announced by Khazanah Nasional last week.
More on the e-Tunai Rakyat initiative:
Malaysians Can Start Claiming RM30 E-Tunai Rakyat From Today, Here's How To Claim It
Boost, TNG, Or GrabPay: What RM30 e-Tunai Rakyat Incentives Are They Offering?
Your E-Wallet's P2P Transfer Feature Will Be Disabled Upon Receiving RM30 Credit