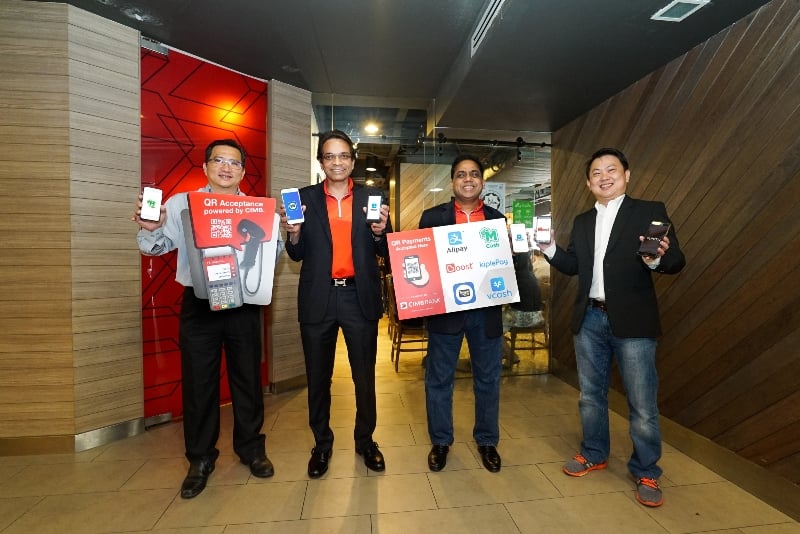 CIMB Bank has become the first bank in Malaysia to accept QR payment at some of its payment terminals. Supporting up to six e-wallets in a single platform, this roll-out is the result of a collaboration between CIMB Bank and GHL System.
The six mobile wallets that are supported are Alipay, Boost, Touch N Go e-wallet, KiplePay, Mcash, and vcash. Combined, these e-wallets have an estimated 4.5 million users in Malaysia, and another 520 million in China. Currently, QR payments for the six e-wallets are already accepted at certain outlets of House of Leather, NSK, and Super Seven. The list is definitely short, but CIMB stated that more merchants are expected to come onboard, with bigger names such as Tesco, Boost Juice, and Sunshine mentioned in its press release. According to local tech website Soyacincau, the bank is also looking to expand its list of supported e-wallets.
Unlike SGQR, which is the Singapore government's solution to reducing the fragmentation issue in mobile wallets, this solution is more similar to what's being practised in China, where the QR scanners are build into the payment terminals. Customers need only to flash their unique QR code for the merchants to scan, and the payment will be processed immediately. This clears the clutter of displaying multiple QR codes for the various e-wallets that the merchant accepts payment for, and is definitely safer for both the merchant and customer, since the entire transaction is cashless. And of course, this annoucement is another step towards fulfilling Bank Negara Malaysia's vision of a cashless society by 2050.