BR1M applicants rejoice! For the convenience of current and future BR1M claimants, the Lembaga Hasil Dalam Negeri (LHDN) have developed Semakan BR1M, a mobile application to assist applicants to monitor the status of their application.
So yes, if you are always wondering whether your application has gone through to the right sources, you can now do it remotely via the Semakan BR1M app minus the need to queue at BR1M service counters or contacting the BR1M representatives via their dedicated hotline.
What is BR1M?
BR1M, otherwise known as "Bantuan Rakyat 1 Malaysia", began in 2012 as a part of the government's ETP (Economic Transformation Program). If you are wondering as to whether or not do you qualify for BR1M, here are the requirements that you would need to fulfill:
Malaysian citizens residing in Malaysia only
Household breadwinners (men or women) with a monthly household income of RM4,000 and below
Spouseless senior citizens (aged 60 years and above) with a monthly income of RM4,000 and below
For single individuals aged 21 years and above, you must have a monthly income of RM2,000 and below
For BR1M applicants, you must be a MyKad holder.
For husband/wife or dependents of the BR1M applicant, you will need to provide details of your spouse/family member's MyKad/MyPR/MyKid/Birth Certificate/Passport.
If your status is 'widowed' or 'divorced', you will need to provide your spouse's divorce or death certificate.
Should you fulfill the criteria stated above, you can then apply for BR1M and the amount that you receive will be in accordance with the category that you fall under. You can find out more about this at the official e-BR1M website.
Read Also : 7 Government Subsidies You Could Be Missing!
What Are The Features of Semakan BR1M?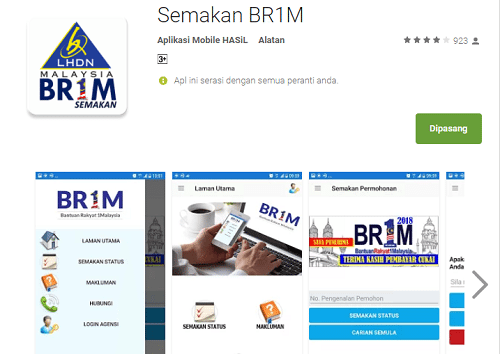 Through Semakan BR1M, you can now monitor the status of your form submission, whether the payment of BR1M has been disbursed as well as file an appeal in the situation that your BR1M application is rejected.
Photo courtesy of LHDN
How Do I Download the Semakan BR1M Application?
Semakan BR1M is now available via Play Store for Android and App Store for iOS.
Open the Play Store (Android) or App Store (iOS) application.
Tap the Search field, then enter the keyword 'Semakan BR1M'.
Download the application.
Once the application has been downloaded, you can then proceed to use the application to check on your BR1M application status.
Help, I Can't Find My IC Number On Semakan BR1M!
No worries, all you need to do is to contact LHDN's BR1M to inform them about your issues and their representatives will attend to it. Their contact details are as follows :
Toll Free Number : 1-800-88-2716
Operation Hours : 9.00 a.m – 5.00 p.m
Email : [email protected]
What Are the Applications That Are Available Via LHDN?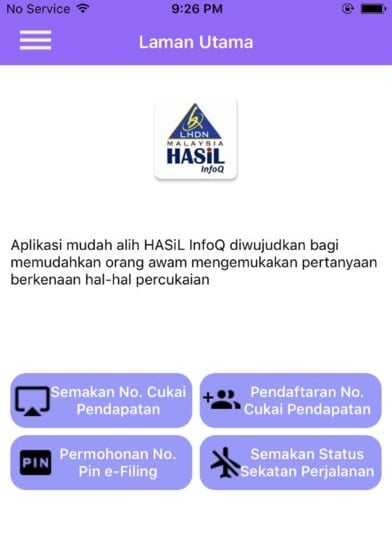 Don't be surprised by there are also other mobile applications that have been developed by LHDN for public use such as the Kalkulator PCB, an income tax calculator that helps you calculate the amount of income tax that you will need to pay. Apart from that, there is also Hasil InfoQ , an application that allows you to ask questions related to tax matters that you do not have an answer for (although you may want to check our income tax guide and tips as we have already have those questions answered on your behalf).
Anything Else That I Should Know?
Regardless of whether your BR1M application gets approved or rejected, do note that it is always wise to stay sensible whenever you have some extra money in hand. And if you are relying on BR1M to cushion the financial burden that you're facing and that you would like to have some extra funds in hand, there is always the option of relying on personal loans.
Our <a href="https://ringgitplus.com/en/personal-loan/"target="_blank"> comparison tool
allows you to choose and compare between a selection of personal loans in Malaysia, all you need to do is to decide on the amount that you would like to go for, make your pick and we'll do the rest.
Have anything to add to this article? Do share your thoughts and ideas with us in the comments section below!