Overview of Public Bank Credit Cards In Malaysia
Malaysians love the fact that Public Bank's extensive range of credit card offerings provides value for users. 
From cashback, premium lifestyle offerings, and travel-ready cards, you can't go wrong with Public Bank credit cards.
Public Bank Credit Card Campaign FAQs:
For a limited time only, all approved applicants of eligible Public Bank credit card(s) will receive a guaranteed sign-up gift of a URBANLite Ledge 24" Luggage.
This campaign runs from 14 November 2023 to 4 December 2023, subject to the campaign's terms and conditions.
Who is qualified for this promotion?
This campaign is open to new customers applying as the Principal cardholder only. Existing principal cardholders and those who have cancelled their Public Bank credit card within 2 years from the date of the current application are not eligible.
How to be eligible for the free gift?
Once your Public Bank credit card is approved, you must subsequently make an accumulative of RM250 retail transactions within 60 days upon the card's approval date before being eligible for the free sign-up gift.
Which credit card(s) can I apply for?
You can apply for:
Public Bank Visa Infinite
Public Bank World Mastercard
Public Bank Quantum Visa
Public Bank Quantum Mastercard
Public Bank Visa Platinum
Public Bank Petron Visa Gold
Public Bank Visa Signature
Public Bank AIA Visa Gold
Public Bank Platinum Mastercard
Public Bank Gold Visa
Public Bank Gold Mastercard
Public Islamic Bank Visa Platinum Credit Card-i
Public Islamic Bank Visa Gold Credit Card-i
Public Islamic Bank Mastercard Platinum Credit Card-i
Public Islamic Bank Mastercard Gold Credit Card-i
Where can I reach out to you for more information?
For any questions, please get in touch with us via email at [email protected]. We're happy to help!
---
What are the features of a Public Bank credit card?
From cashback to VIP points to air miles conversion, Public Bank credit cards can help level up your lifestyle even better.
If you're browsing for your first credit card or if you want to add another credit card from a different bank to your wallet, look no further than Public Bank cards!
Earn cashback for everyday spending
A good cashback credit card is determined by how rewarding its cashback policies are. 
In that regard, Public Bank's cashback credit cards such as the Quantum Mastercard, Quantum Visa and Visa Signature stand out.
Earn cashback on dining, online, department store, and even grocery purchases!
Get VIP points and air miles points
What other benefit is there besides cashback? Public Bank cards let you earn VIP Points for every Ringgit spent. 
The Public Bank Visa Signature not only offer cashback, but you also earn Green Points (New!) and VIP points PLUS free access to participating local airport lounge! How's that for an all-rounder card?
For the elite, the Public Bank World Mastercard lets you earn air miles points that can be converted into—you guessed it—your favourite airline's rewards program. 
Accelerate your miles accumulation by spending your card overseas, and fly for free in no time.
Enjoy comprehensive travel insurance coverage
Managing an emergency while abroad is a daunting task. 
With that in mind, PBB credit cards cover you and your supplementary card members with complimentary travel insurance when you purchase your full travel arrangement with your Public Bank cards.
Enjoy coverage of up to RM500,000 for travel inconveniences, including luggage delay, luggage loss, flight delay, missed connecting flights, trip cancellations, and repatriation expenses.
Flexible balance transfer via an instalment plan
It's always a good idea to keep the outstanding balance of your credit card at the lowest interest rate where possible.
Enjoy low and flat interest rates when you consolidate your outstanding balances from other credit cards to your Public Bank card with a Public Bank balance transfer. 
You can choose flexible tenures from up to 48 months with zero interest rates and small one-time upfront fees.
Public Bank Mastercard E-Commerce Purchase Protection Programme
Enjoy complimentary protection for your Mastercard World credit card.
Receive USD200 coverage for all your online purchases worldwide against incomplete deliveries, the wrong items delivered, non-delivery of items, and physical damage to delivered items—all when you pay with your Public Bank World Mastercard.
Public Bank Credit Card Promotion
Another perk of owning a PBB credit card is helping you save money while enjoying life to the fullest.
The Public Bank credit card promotion offers irresistible deals and discounts on online shopping, dining, dessert, health and beauty, gadgets, travel and many more.
If this makes you excited, go to the bank's website to view the list of Public Bank credit card promotions.
Remember to 'bookmark' it on your laptop so you'll never miss a deal!
What are the interest rates for Public Bank credit cards?
Like most banks in Malaysia, Public Bank adopts a tiered interest rate in the range of 15% to 18% per annum as recommended by Bank Negara Malaysia. 
Credit card interest rates will commonly be higher if you have a history of inconsistent repayments and vice versa and lower interest rates if you are prompt in repayments.
What are the minimum monthly repayments for Public Bank credit cards?
Public Bank cardholders are required to make minimum monthly repayments of 5% of the current balance or a minimum of RM50, whichever is higher. 
Monthly repayments will have to be made within the stipulated due date.
Failure to do so may result in a late payment charge of a minimum of RM10 or 1% of the total outstanding balance (excluding interests and fees), whichever is higher and up to a maximum of RM100.
How much does it cost to get a replacement Public Bank card?
If your Public Bank card gets lost, stolen or damaged, you can get a replacement credit card for RM50 per card within five to seven working days from the date of issuance.
Am I eligible to apply for Public Bank credit cards?
To apply for a Public Bank credit card, the principal cardholder will have to be at least 21 years old, while the supplementary cardholder is to be at least 18 years old. 
Minimum annual income, on the other hand, differs from card to card.
APPLY FOR PUBLIC BANK CREDIT CARD - ELIGIBILITY
Age of Principal Cardholder
Minimum 21 years old
Age of Supplementary Cardholder
Minimum 18 years old
Nationality
Anyone
Income Requirement (monthly)*
*Please note that the minimum income requirement for expatriates might be different.
How do I apply for a Public Bank credit card?
Apply for Public Bank credit cards from the comfort of your home—or anywhere, as the application can be made online on RinggitPlus! 
All you have to do is compare all the Public Bank credit cards and apply now. Be sure to also check out the latest credit card promotion.
What are the documents for the Public Bank credit card application?
You can compare and apply for a Public Bank card online on RinggitPlus. 
To speed up your credit card application, it's best to prepare the general documents required for a credit card application. They are as follows:
DOCUMENTS FOR PUBLIC BANK CREDIT CARD APPLICATION
Salaried Employee
Self-Employed
Salaried Expatriate
✔ Copy of your IC (both sides)
✔ Latest 3 months' salary slips* OR latest EPF statement
✔ Latest BE Form with an official tax receipt
✔ Latest 3 months' bank statements

✔ Copy of your IC (both sides)
✔ Copy of Form 9, 24 and 49 OR Business Registration form
✔ Latest 6 months' company bank statements
✔ Latest B Form with an official tax receipt

✔ Copy of Passport
✔ Latest 2 months' salary slips*
✔ Copy of work permit valid for at least 6 months at the time of application
✔ Copy of letter of employment

*The number of months of salary slips required will depend on the nature of your work. Have your commission slips with you if available.
Top Public Bank Credit Cards in Malaysia 2023: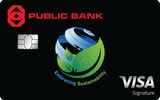 An all-rounded credit card with cashback, Green Points (New!), VIP Points, and local airport lounge access—what more do you need? Enjoy 8% cashback on utilities, insurance and overseas transactions with no minimum spend and 3% cashback on groceries, online transactions, and dining, with a minimum spending of RM100. 
Travel in comfort with 2x complimentary access to selected Plaza Premium Lounge in Malaysia—and safe in the knowledge that you are also covered with up to RM500,000 travel insurance. 
Finally, earn 10x Green Points on every RM1 spent on selected Green Category transactions, 3x VIP Points on other overseas retail purchases and 1x VIP Points on other local retail purchases (spending exclusions included). Did we mention that this card's annual fee is waived when you use it 12 times a year?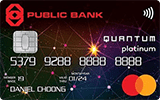 Public Bank Quantum Mastercard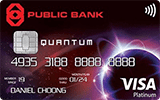 Some say good things come in pairs, and with the Public Bank Quantum cards, that cannot be truer: these are the best Public Bank cashback credit cards. 
Enjoy cashback when you shop overseas or make contactless transactions, capped at RM20 per card—with a minimum spend of RM100! 
This free-for-life Public Bank card also has a low minimum income requirement and has one feature exclusive among all PBB credit cards: a flexi payment plan with low one-time upfront fees for up to 48 months tenure with a minimum retail purchase of RM1,000.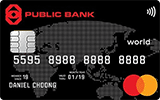 Taste the sweet life with the Public Bank World Mastercard. 
This Public Bank travel credit card offers 3x complimentary passes to participating Plaza Premium Lounge in Malaysia and lets you travel with peace of mind with up to RM500,000 complimentary travel insurance when you pay for your trips with this card, and Wallet Guard. 
Earn 3x Air Miles Points for every RM1 spent on retail overseas, and take full advantage of the perks offered by this free-for-life premium card.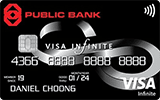 Another premium credit card with zero annual fees, the Public Bank Visa Infinite is yet another solid offering. 
Enjoy a 0.3% cash rebate and 2% Cash MegaBonus on all retail spending locally and overseas, complimentary travel insurance of up to RM500,000 coverage, and 3x complimentary Plaza Premium Lounge access in selected airports in Malaysia.