It's nearing June, which means the school holidays are just around the corner. Have you planned out your holidays yet? With the global economic downturn, the weakening Ringgit, and the usual way Malaysians are about spending too much money, it can be tough to decide where to bring the family out for holidays.
We've covered some tips on how to take a vacation on a budget, tips on saving money while travelling, and even how to plan your entire trip from a single browser tab. However, what if the only thing you know for now is your budget and nothing else? It would be a lot easier to just tell somebody how much you plan to spend and have them let you know how far across the oceans your budget can take you.
Wherefor
Wherefor is a free-to-use web app that does exactly that. All you need to do is fire it up on your browser, input your budget, number of travellers, dates, and the city you're departing from, and the web app takes care of the rest.
It takes a bit of loading time, but once that's done you'll be presented with potential destinations on a map, some of which you may not even think you'd be able to afford on your budget. It certainly takes the headache out of figuring out where to go.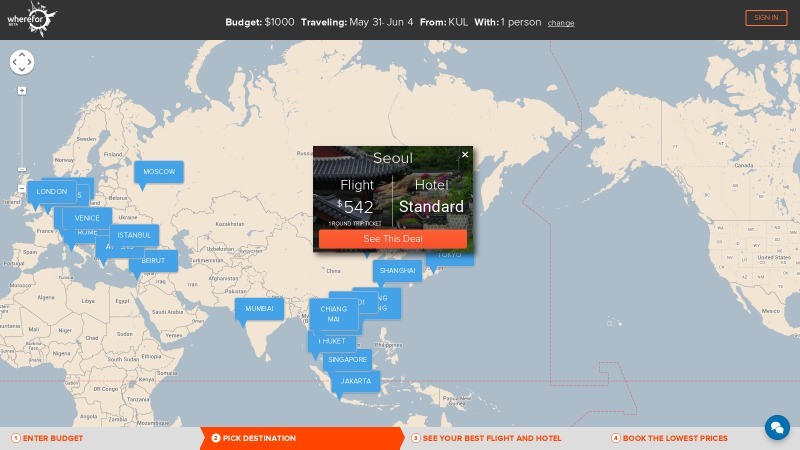 The web app also lets you sign up via Facebook (you don't have to) so you can share and invite your friends to see or book the same flights and hotels so you can travel together. Handy.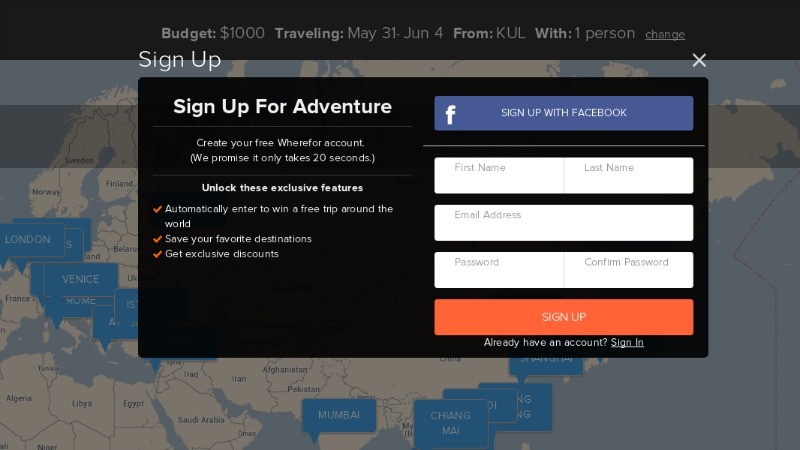 However…
The web app is still in beta and sometimes the "best deals" final price go over by about 10 to 20 dollars. Oh, and yes you have to convert your budget into USD before putting it into the web app for their algorithm to use. Besides these two niggles though, Wherefor is definitely a handy tool for you to use to discover travel destinations that fit your budget.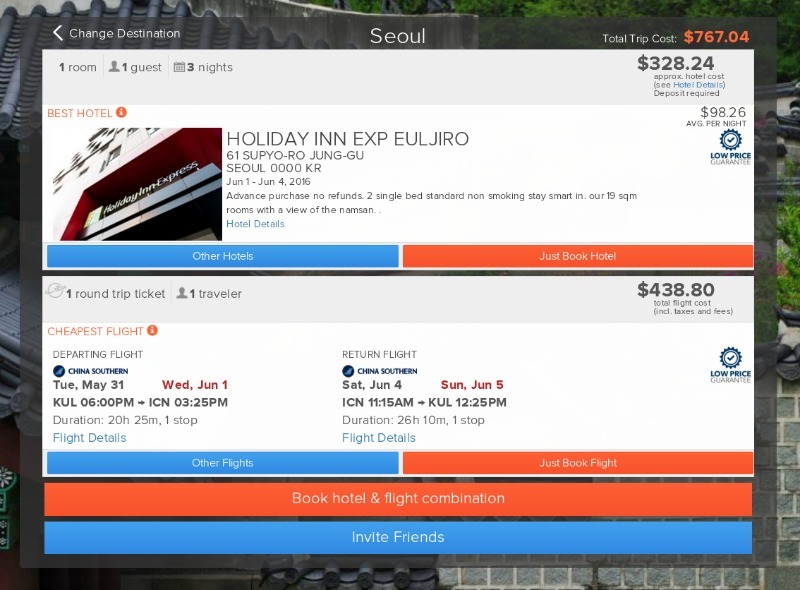 As with all services like this, we suggest you use it as a handy jumping-off point to begin your research instead of treating it as the start and end of your research. While Wherefor may be able to point to destinations you didn't know you had the money for, it's still important for you to do the price comparisons yourself to be sure you're really getting the best deals and for the price that's stated on the web app. It's still in beta after all.
Speaking of travelling and comparisons, you can check out our credit card comparison tool as well to see which credit cards offer the best rewards for travel junkies like yourself. Our final tip? Take part in this Travel Getaway Campaign to get more value out of your travels. Bon voyage and safe travels!
Do you have any other tips on how to find the best travel destinations on a budget? Share your thoughts with us in the comments section down below!