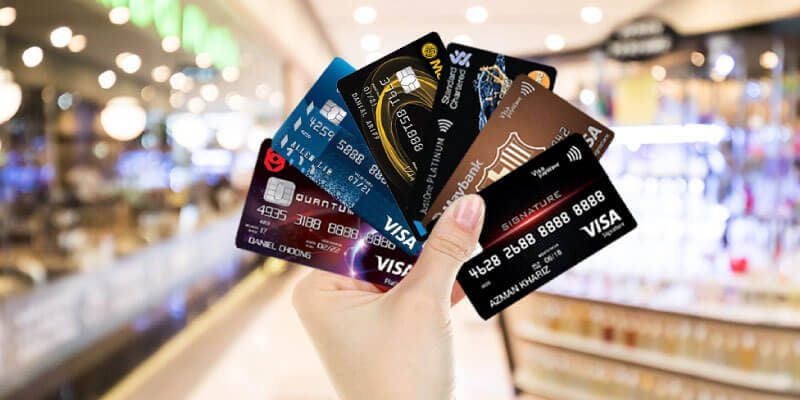 Last update: 18 May 2020
At RinggitPlus, we constantly get bombarded with questions about the best credit card to apply for. In reality, there is no "best" credit card out there – there are many variables that need to be considered, as well as the spending habits of the individual to be taken into account. Most of the time, a credit card that's great for one person may not be so for another individual.
That said, with over 300 credit cards to choose from in Malaysia, there are some good credit cards to look out for when it comes to one of the main perks of a credit card: cashback or cash rebates. This perk isn't the most rewarding benefit of a credit card, but it is the most immediate and quantifiable.
Here, we take a look at 10 credit cards that are great for cashback. Each card has its own cashback mechanism, which we'll explain alongside our reasons why we think they're worth taking up a slot in your credit card arsenal.
Note that this list is presented based on the salary requirements of each card. Remember, there is no "best" credit card for everyone.
Benefits: 8% cashback on petrol, groceries, & dining on weekends, max RM18/month per category
Minimum income requirement: RM24,000/year or RM2,000/month
Annual fee: RM98
Like the Citi Cash Back, the Hong Leong Wise offers cashback for basic expenses that one would spend on every month – petrol, groceries, and dining. However, the Hong Leong Wise is only a rewarding cashback credit card when used on the weekends, as it offers an 8% cashback rate on Saturdays and Sundays. On other days of the week, the cashback offered is much lower at 1%.
The Hong Leong Wise also requires you to spend a minimum of RM500 to unlock the 1%/8% cashback rate; all spends below that amount in a month (or on other categories) will only earn you 0.25% in cashback. However, if you were to earn the full RM54 in cashback available each month, you'd be spending more than RM500 anyway, so hitting the minimum spend would not likely be a problem.
Benefits: 5% cashback on petrol & groceries, and 2% cashback on telco on weekends, max RM24/month
Minimum income requirement: RM24,000/year or RM2,000/month
Annual fee: RM68
The UOB ONE Card can be the cashback card for you if you're looking for a credit card with no minimum spend requirements to unlock cashback rates. With petrol, groceries, and telecommunication spend as its cashback categories, the UOB ONE card is a steady option for fresh graduates who are looking for their first credit card to cover their most basic and minimal expenses. 
Do make sure that you're willing to limit your expenses to the weekends, as the weekday rates offered by the UOB ONE Card are not very enticing. On the weekends, you can get up to RM10 in cashback per category for petrol and groceries, and up to RM4 in cashback for telecommunication expenses.
When taking into consideration whether to get the UOB ONE Card, don't forget to factor the RM68 annual fee into your cashback returns calculations.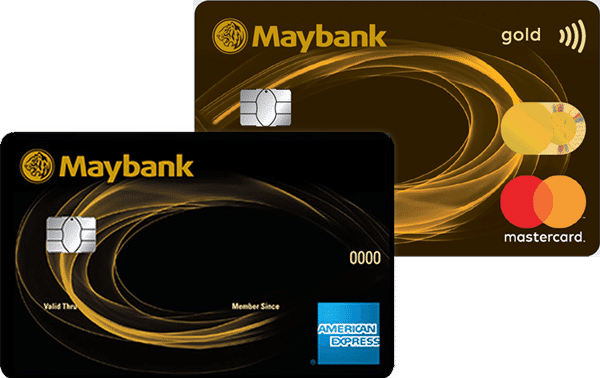 Benefits: 5% weekend cashback (Amex), max RM50/month
Minimum income requirement: RM30,000/year or RM2,500/month
Annual fee: Free for life
The Maybank 2 Gold is arguably the most popular cashback credit card in Malaysia. It's an easy card to recommend because of its "clean" fine print – there's no other requirement to be eligible for cashback beyond using the American Express card on weekends. There are no specific categories to adhere to (besides an exclusion for transactions made to utilities, government bodies, and e-wallet top-ups), nor is there a requirement to spend a specific amount every month. On weekdays, you can earn 5x TreatsPoints for every RM1 spent with the Amex card.
The Maybank 2 Gold's low income requirement also means fresh grads may start enjoying the benefits of this card. But if you're eligible for the Platinum, you should always apply for that, as it adds travel insurance when you make your travel-related purchases with the card.
The only drawback is the fact that Amex cards are still not as widely accepted as Visa or Mastercard, though it is much less of an issue today. Do note however that with the re-introduction of SST, every credit card you own will be charged RM25 per year – because Maybank 2 cards come in a pair (non-negotiable), you'll be forking out RM50 a year in SST.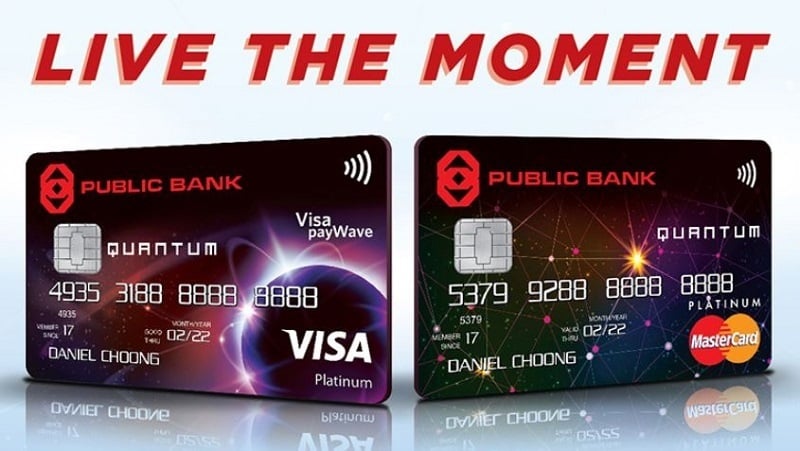 Benefits: 5% cashback for contactless and online transactions, max RM30/card per month
Minimum income requirement: RM36,000/year or RM3,000/month
Annual fee: Free for life
Public Bank's answer to the Maybank 2 credit cards, the Quantum credit cards also come as a pair: a Visa and a Mastercard. Both offer cashback for a specific category, with cashback capped at RM30 per card per month. This means the maximum cashback you can receive for these cards is RM60 a month.
The Visa offers cashback for contactless transactions, while the Mastercard cashback category is online shopping. However, do note that the Quantum Visa's cashback has an extra requirement of a minimum of RM30 per transaction.
In our review, we found the Public Bank Quantum cards to be a great combination for online and offline expenditure, giving it a better balance compared to the Maybank 2 Cards. Finally, like the Maybank 2 cards, the re-introduction of SST means you'll have to pay RM50 in tax for these cards, as they also come as a pair.
Benefits: 10% cashback on petrol, groceries, dining, & Grab rides, max RM10/month per category
Minimum income requirement: RM36,000/year or RM3,000/month
Annual fee: RM120
Here is a credit card for the novices looking for something basic and simple, but with high effective cashback returns. The Citi Cash Back Credit Card is pretty straightforward, offering 10% cashback for four categories (but capped at RM10 a month for each category), and 0.2% cashback for everything else. You'd need to hit RM500 spend every month with this card to activate cashback, however.
All four categories are sensible, as they are usually what most Malaysians would spend money on every month. The cashback cap per category is definitely low, and is easily hit thanks to the high 10% rate. If you hit all four cashback caps and spend RM500 a month, you're looking at an effective cashback rate of 8%, which is very rewarding for such a low spend amount.
The RM120 annual fee is high for a card at this level, but Citibank is offering a 3-year annual fee waiver for most of its credit cards for new applications.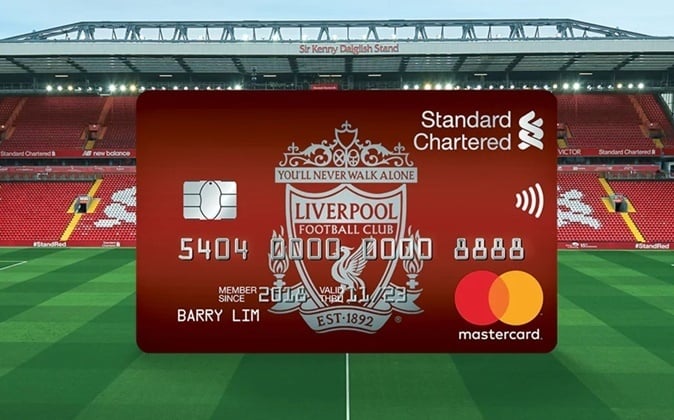 Benefits: Up to 5% cashback on all retail, max RM50/month
Minimum income requirement: RM36,000/year or RM3,000/month
Annual fee: RM175
A rebranded version of StanChart's old cashback credit card, the Liverpool FC Cashback Card is a solid card to earn cashback across a variety of categories. The LFC Cashback card offers cashback on all retail transactions except for petrol, insurance, and government-related transactions, while the maximum 5% cashback tier is unlocked with a minimum monthly spend of RM2,000.
Petrol and insurance transactions are not applicable for cashback, but still count towards the minimum retail spend amount. All told, this is a solid cashback card for general spending, including for online shopping. However, the Liverpool FC Cashback credit card does come with a pretty hefty annual fee of RM175, and this is only waived for the first year.
Benefits: Up to 15% cashback in auto billing, online, and petrol, max RM60/month
Minimum income requirement: RM36,000/year or RM3,000/month
Annual fee: RM250, eligible for waiver upon spending of RM20,000/year
The Standard Chartered JustONE Platinum Mastercard is the practical family man's credit card of choice. The 15% cashback promise may be a gimmick, since it's only capped at RM60 and you'd need to spend RM2,500 a month to unlock the 15% cashback tier.
That said, the RM60 cap is one of the highest monthly cashback returns you can get from credit cards in Malaysia. This card is one of the few to offer cashback for utility bills and insurance premiums as long as you set them for auto-billing. Its other cashback categories are online transactions and petrol – essentially, all payments every breadwinner would make for their family. A revision to this card's cashback features saw the introduction of a sub-cap of RM30 a month for online transactions on the card, which means cardholders need to plan their transactions to effectively hit the RM2,500 spending and maximising cashback.
Therefore, it's quite clear that this card isn't for everyone. If your essential expenses don't make up a huge chunk of the RM2,500 required to unlock the 15% cashback, there are better cashback credit cards in the market.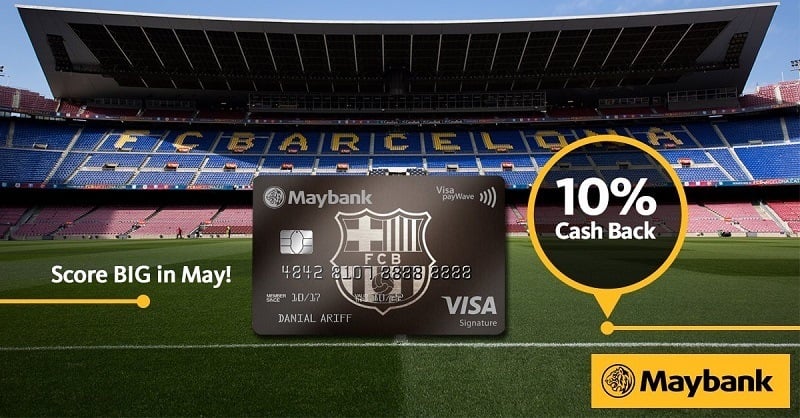 NOTE: Effective 1 August 2020, the Maybank FC Barcelona Visa Signature will be revised to offer fixed 1% cashback throughout the year.
Benefits: 10% cashback in May & August, 2% cashback for other months, max RM100/month (May & August) or RM50/month (other months)
Minimum income requirement: RM48,000/year or RM4,000/month
Annual fee: Free for life
The Maybank FC Barcelona Visa Signature credit card is our top choice as the best "conditional" credit card, and we love this card for its straightforwardness. This is an especially useful card that should only be used under specific circumstances and is best used as a secondary card – except for May and August.
This card offers a whopping 10% cashback with a maximum monthly cap of RM100 on any retail purchases made in May and August – easily the best return you can find on any credit card on any tier. This should be your go-to card for all transactions during these two months – and stop once you've hit RM1,000 in spending. That's because you'd hit the monthly cashback cap, so spending more on this card has zero benefits. Do note that the card does not offer cashback for utilities, government bodies, and e-wallet reloads.
For other months, you should use other credit cards with better benefits first and maximise the benefits there – the Maybank FC Barcelona Visa Signature should be a backup option only. 2% cashback is not much to merit usage as a main credit card, but if you've already hit the cashback cap for another card, this is a great option to use instead of a debit card (or even cash).
There are also no annual fees for this card, so there's no reason not to own this card as a backup from now until next May.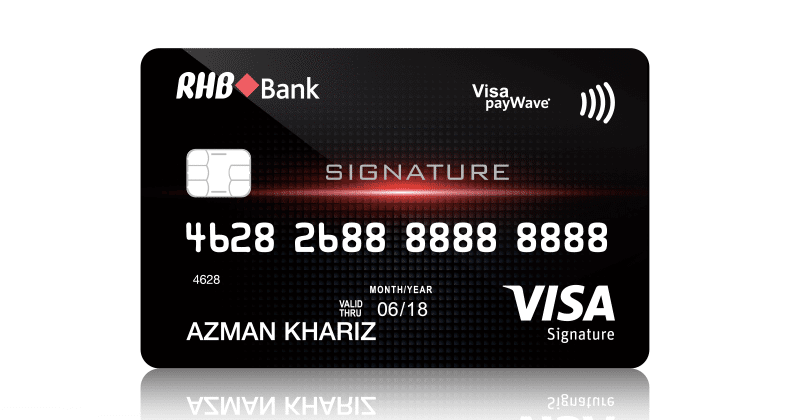 Benefits: Up to 6% cashback (local, 3 categories), up to 2% cashback (overseas), max RM90/month (local), RM100/month (overseas)
Minimum income requirement: RM80,000/year or RM6,667/month
Annual fee: Free for life
The RHB Visa Signature is an interesting card, and it's clearly designed for the more affluent consumers. You'll need to spend at least RM3,500 in a month if you want to get the 6% cashback for the local categories and 2% cashback for overseas spend.
Given that more than half of the available card's available cashback comes from the overseas spend category, it's certainly a card better suited to those who are frequent travellers as well. The RHB Visa Signature offers up to RM100 in cashback for overseas spending, and RM30 per category for online, entertainment, and shopping expenditure locally. There's also an unlimited 0.2% cashback for all local categories.
As added perks for travellers, you also get 5x free access to any Plaza Premium Lounge outlets in Malaysia, complimentary travel insurance coverage up to RM600,000, and even golfing privileges at selected courses in Malaysia.
Oh, it's also free for life, with no conditions.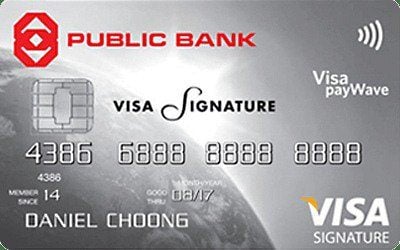 Benefits: 6% cashback on online, dining, and groceries, max RM38/month
Minimum income requirement: RM80,000/year or RM6,667/month
Annual fee: RM338, waived with 12 transactions in a year
Like the RHB Visa Signature, the Public Bank Visa Signature is one of the rare premium cards that offer cashback and complimentary premium lounge access. Unlike RHB's offering, the Public Bank Visa Signature cashback has no minimum spend requirements, and has a higher monthly cashback cap (it doesn't offer cashback for overseas transactions though). Cashback is eligible for three common categories: 6% for online, groceries, and dining transactions with no minimum spend.
For that, it is commonly seen as a higher-end variant of the Public Bank Quantum Mastercard. This card is also basically free for life, as long as you use it at least once a month.
Pro Tip: Maximise cashback by combining credit cards!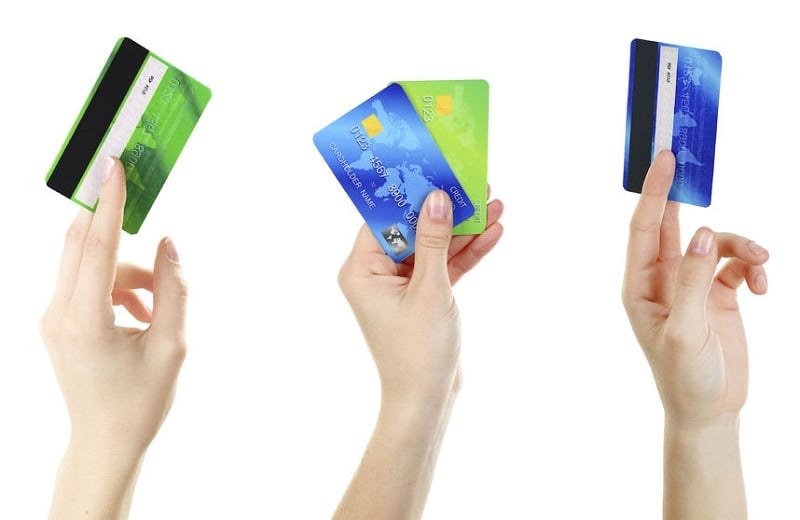 Now that we've given our recommendations, we've got one final tip before we end this guide. Bank Negara Malaysia has a stipulation that limits those who earn less than RM3,000 a month to a maximum of just 3 credit cards.You don't actually need that many – but having multiple credit cards for different types of purchases go a long way in saving you money in the long run.
Credit card combinations are a great way to circumvent the cashback restrictions set by individual credit cards. For example, you can complement your Maybank 2 Gold (which earns cashback only on weekends) with, say, the Public Bank Quantum or the Citi Cash Back Visa to be used during the weekdays. The Maybank FC Barcelona Visa Signature is useful as a secondary card when you've hit the cashback cap of your main card, whichever it may be.
We'll delve deeper into this complex chemistry of credit card combinations for a later guide. Stay tuned to our credit card reviews in the meantime!
Maximise your ringgit with RinggitPlus! Be among the first to apply, be approved, and fulfil the minimum requirements upon receiving your credit card and be rewarded with RM1,000 CASH! Find out more about the RinggitPlus #RPBonusRaya campaign. Terms and conditions apply.