Southeast Asian e-hailing giant Grab has unveiled its own usage-based e-hailing insurance coverage for its driver partners. Grab drivers need only pay for their Grab Daily Insurance coverage when they go online on the app at rates from as low as RM1 per day.
With Grab Daily Insurance, coverage lasts for 24 hours from when drivers come online and start driving with Grab. All Grab rides during this period will be insured, covering loss or damage to vehicles, liability to third parties, personal accidents for the driver, legal liability to passengers, and legal liability of passengers for negligent acts. The extent of the coverage varies from insurer to insurer, as does the premium – although the range of price for the premium stays between RM1 to RM2.
To opt in, drivers must ensure that their current motor insurance policy is under one of Grab's panel of insurers. After that, drivers just need to opt-in on the app with a few taps. Once drivers have opted in, the premium for 24 hours will automatically be deducted from their Credit Wallet when they go online. The insurance coverage is activated upon the deduction of the daily premium.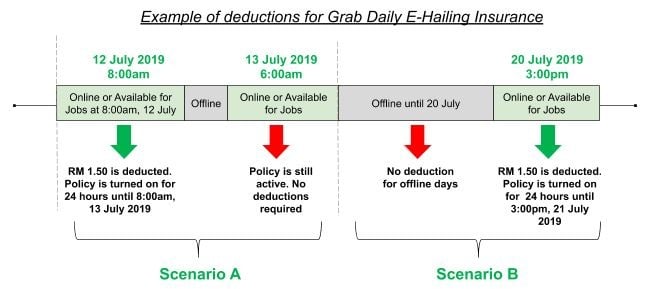 Drivers who have a motor insurance policy with the following insurers can opt in for Grab Daily Insurance. Those who do not have an insurance policy on Grab's insurance panel will have to cancel their existing motor insurance policy and convert to one of these panel insurers instead:
Under the government's current e-hailing regulations, Grab drivers are required to get an e-hailing insurance add-on on top of their existing private motor insurance policy. Grab Daily Insurance is a flexible and affordable solution as drivers need only pay for coverage when they need it. It removes the need to pay for an annual add-on that may cost up to RM400-500 per year, which can be a heavy financial burden especially for part-time drivers.
(Source: Grab)